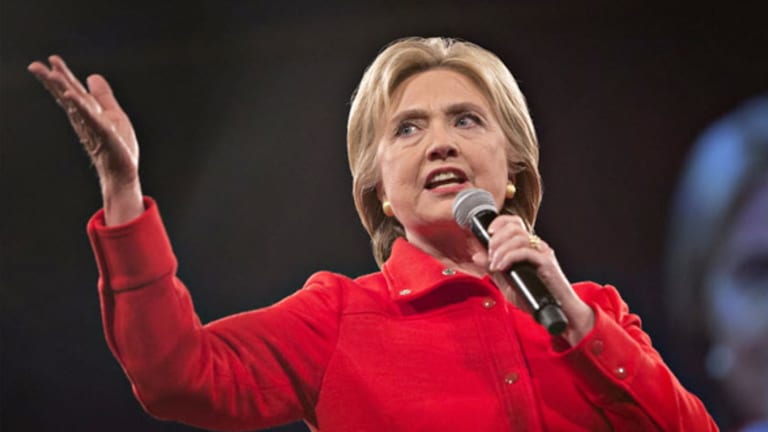 Who Do Undecided Voters Prefer? Trump or Sanders. Sounds Crazy but Here's Why
Despite huge advantages, establishment campaigns are getting muffled by a surge of populist anger coming from voters in both parties.
Editors' Pick: Originally published Jan. 26.
Interviewing a roomful of undeclared voters recently, Neil Levesque, executive director of Saint Anselm College's New Hampshire Institute of Politics, asked which presidential candidate they were most likely to support when the state holds the country's first primary in two weeks.
The majority of these New Hampshire voters, he said in a phone interview from Manchester, cited the Republican real estate developer, Donald Trump. Their second choice? Bernie Sanders, the self-styled social democratic senator from Vermont.
"These two people have completely different views on every issue, so why are they your first and second choice," Levesque asked rhetorically. "And they will tell you, because they're not the same old thing, they're going to break up the system, they're outsiders -- we're sick of the same old political stuff."
Levesque's focus group reflects the national mood. According to a CNN/ORC survey released late last month, about 75% of U.S. adults said they were dissatisfied with national leadership while 69% said they were at least "somewhat angry" with the country's direction.
For Hillary Clinton, the former secretary of state, U.S. senator and high-profile first lady, getting heard above that din of voter rage has been challenging -- and not for lack of trying. Even before Sanders began to rise in the polls, Clinton had made a concerted effort to appeal to the party's progressives.
She's called for comprehensive immigration reform and tougher gun laws, raising the minimum wage to $12 (though Sanders is pushing for $15), widening regulations on hedge funds, increasing taxes on the wealthiest and opposing the Keystone XL pipeline while supporting renewable energy development to deal with climate change.
In Des Moines on Monday at the CNN-hosted Democratic Town Hall, Clinton sought to affirm her progressive bona fides.
"I have been on the front lines of change and progress since I was your age," Clinton told an undecided Iowan, just days before the Feb. 1 caucus. "I have taken on the status quo time and time again."
Politically, Clinton has positioned herself as the experienced heir to President Barack Obama's mainstream liberalism. With an approval rating at 48%, history says she's smart grab this incumbent's coattails.
She's embraced Obamacare as a project she helped start, called for tougher rules on pharmaceutical drug pricing, higher taxes on capital gains and taken shots at the "quarterly capitalism" practiced by corporations that spend their profits to buyback their shares rather than invest in their employees.
"Hard-working Americans deserve to benefit from the record corporate earnings they help produce," Clinton said in a economic policy speech in July.
Yet, Clinton's efforts have hit a ceiling. A huge lead in the national polls over Sanders to start the race in August (as much as 40 points) has fluctuated but hit single-digits in mid-January. It now sits in the low double-digits, according to the RealClearPolitics average of polls.
Clinton's name recognition, campaigning and ideas are slowly succumbing to populism. 
"There is a significant minority on the Left and the Right that deeply distrusts government, parties, labor and business institutions," Mark Jones, a political scientist at Rice University's Baker Institute, said in a phone interview from Houston. "They view the current system as designed to benefit a select few, and they're expressing anger or distrust via these unconventional candidacies."
Trump and Sanders, said Levesque, have been able to tap into the same wellspring of anger that fueled the Tea Party and Occupy Wall Street movements.
Sanders is delivering a simple message: The system is rigged against you. More wealth, he says, is going to a smaller number of people. At the root of "the system" is a political process that allows the very wealthy to use their money to buy political influence. Sanders often rails against the super PACs that largely finance Clinton and leading Republicans (though not Trump, who is financing his own campaign).
On the campaign trail, the Vermont senator doesn't have to spell it out. They know he's referring to people like Clinton, who along with her former-president-husband Bill, have made millions for themselves and their Clinton Foundation speaking to audiences of bankers and corporate executives.
Republicans are having similar problems facing Trump. Despite moving toward Trump's ideas on immigration, trade and taxes, they can't seem to dent his poll numbers, which are near all-time highs. Only Ted Cruz, the Texas senator, has been a challenge to Trump of late, and he, too, has been effective at casting himself as an outsider. His Republican colleagues have even helped the image, heaping derision on him at every opportunity. 
Jeb Bush, Marco Rubio and the other Republicans running might not stand a chance by virtue of their prior political successes. Meanwhile, Clinton's well-oiled campaign can do little but forge ahead.
"I honestly don't think this has anything to do with Hillary Clinton," Levesque said. "She's running a great campaign, she has gotten every single type of endorsement, her ground game is good, her staff is the best I've ever seen, and I've seen them all. Sanders has been able to reach out to Democrats who believe that even the government that Barack Obama, a Democratic populist, has put together, the system is still rigged against them. That's an amazing statement."