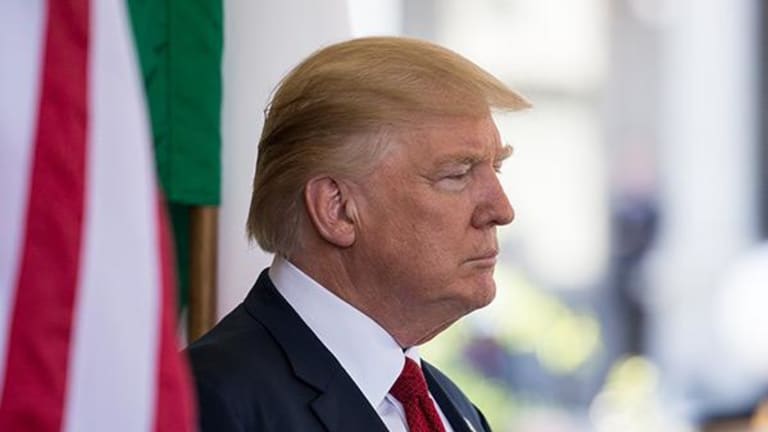 White House 'Taxpayer First' Budget Seeks to Slash $3.6 Trillion in Spending
The 2018 budget proposal outlines plans to make deep cuts to some programs while upping spending on border security and defense.
The White House hopes to sell its 2018 budget proposal as a "taxpayer first" plan that makes deep cuts to a number of programs while upping spending on border security and defense.
The Trump administration sent its 2018 full-year budget proposal to Congress on Tuesday, outlining its wish list for how the federal government will spend its money next year. The plan, titled "A New Foundation for American Greatness," will include $3.6 trillion in spending reductions by slashing funds for entitlements and discretionary programs while increasing allocations for items including law enforcement, defense and school choice.
Office of Management and Budget Director Mick Mulvaney in a call with press on Monday sought to cast the proposal as one that focuses on where funds are coming from instead of how they're being spent.
"If I had a sort of subtitle for this budget, it would be the taxpayer first budget," he said, adding that he believes this is the first time in a long time an administration has written a budget "through the eyes of the people who are paying the taxes."
The budget calls for billions of dollars of cuts to food stamps, disability insurance and Medicaid. It also calls for requiring those seeking child care and earned income tax credits to provide social security numbers to collect them, a measure intended to block undocumented immigrants from benefiting from such credits.
"There's a certain philosophy wrapped up in the budget, and that is that we are no longer going to measure compassion by the number of programs or the number of people on those programs," Mulvaney said. "We're going to measure compassion and success by the number of people we help get off of those programs to get back in charge of their own lives."
As anticipated in the skinny budget unveiled in March, Trump requested $54 billion more in defense spending. He will also for $2.6 billion in border security investments, $1.6 billion of which will go to the construction of the wall at the U.S.-Mexico border. The other $1 billion will go to investments in infrastructure and technology.
The White House will present the budget as one that balances and will make a number of assumptions to do so.
Its proposal assumes the passage of the American Health Care Act, the bill to repeal and replace Obamacare that has passed the House. It also assumes tax reform legislation will be deficit neutral. The one-page set of principles unveiled by the administration last month is not detailed enough for economic scoring, but even in its current form, most economists agree it would increase the deficit by trillions of dollars. It also requires non-defense discretionary spending to be reduced by 2% each year.
Perhaps most importantly, the budget projects 3% annualized economic growth. GDP grew by 1.6% in 2016, and the Congressional Budget Office currently forecasts 1.9% growth over the next decade. The U.S. hasn't seen annualized GDP growth of more than 3% since 2004.
Mulvaney cast the Obama administration's and CBO's estimates for economic growth as "sad," channeling his boss. "That assumes a pessimism about America...that we're simply refusing to accept," he said.
He emphasized that cutting entitlement programs are part of the administration's growth projections. "We need folks to work, we need people to go to work. If you're on food stamps and you're able-bodied, we need you to go to work," Mulvaney said.
The proposal seeks to change grants for some foreign military programs to loans and include a measure for six weeks of paid family leave to new parents. It provides for Trump's infrastructure proposal.
To be sure, the president's budget proposal is largely a symbolic measure meant to signal the White House's priorities. Congress is charged with crafting the government budget and largely ignored Trump's recommendations when it passed a continuing resolution to temporarily fund the government earlier this month.
"There's a certain message here, and it is the message from the president of the United States to the Congress that says, 'Look, here are my priorities in terms of where I want to spend more, here's why I think we shouldn't be spending nearly as much, and here are some of the big-ticket items, and one of the big ticket items is I want more money for defense, I want more money for border security, I want more money for the vets and school choice, and I don't want to add to the deficit this year. And I want to be responsible to taxpayers in a way that we haven't been before,'" Mulvaney said. "If Congress has a different way to get to that end point, God bless them."
He will testify before the House and Senate budget committees on Wednesday and Thursday of this week.
RealMoney's James DePorre on why the markets don't care about anything. 
Jim Cramer has a private investment club. Try Action Alerts PLUS for free.