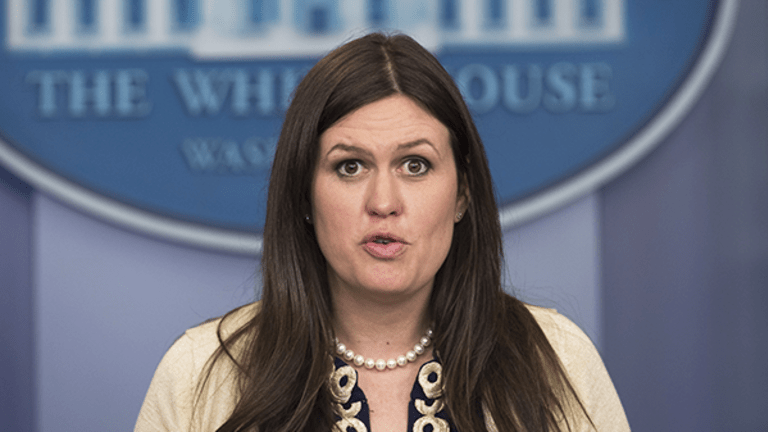 White House Says FBI Upheaval Won't Deter Rest of Agenda
The White House says turmoil over the decision to fire James Comey won't affect the rest of its agenda, even as onlookers say otherwise.
The White House says turmoil over the decision to fire James Comey won't affect the rest of its agenda, even as onlookers say otherwise.
Deputy Press Secretary Sarah Huckabee Sanders said in a briefing with reporters on Wednesday that the Trump administration isn't concerned the backlash over Tuesday's surprise dismissal of the FBI director will harm its ability to make progress on items like health care reform, tax reform and funding the government.
"Frankly, I'm surprised that it did create a divide since you've had so many Republicans and Democrats repeatedly calling for Director Comey to be gone," Sanders said.
She said Dems will always fight with Trump, regardless of what he says or does.
"That's one of the things that's wrong with Washington," she said. "We've got to go back to focusing on those issues."
Sanders' insistence business as usual continues at the White House despite upheaval on Capitol Hill over Tuesday's events mirrors the apparent attitude among investors. Stocks were mixed on Wednesday, showing no strong reaction one way or another. The Dow ended the day down 0.16%, while the S&P 500 climbed 0.11% and the Nasdaq gained 0.14%. 
Sanders, standing in for Press Secretary Sean Spicer, told reporters that Trump had been considering firing Comey since the day he was elected. She pointed to a number of factors as contributing to the decision, including Comey's performance in last week's Congressional hearing and the FBI's correction of his statements later.
"It's been an erosion of confidence," she said, emphasizing that Trump wanted to give Comey a chance.
Sanders avoided giving definitive answers on the FBI's investigation into collusion between Russia and the Trump campaign but said that Trump wants the agency to "continue with whatever they appropriate and see fit" on the matter.
"Any investigation that was happening on Monday is still happening today," she said.
Robert Cattanach, partner at Dorsey & Whitney and former U.S. Department of Justice trial attorney, said the FBI's correction of Comey's testimony on Huma Abedin's emails was probably "the straw that broke that particular camel's back" on the director's dismissal.
"His credibility was so damaged already that they said, 'Enough,'" he said. "All of the intelligence investigative agencies right now are a little bit under siege, their credibility has been stressed, and they need to start turning that tide around."
Sanders on Wednesday played down the FBI's Russia probe. "That's probably one of the smallest things that they've got going on their plate," she said.
When asked about the puzzling paragraph in Trump's dismissal letter to Comey saying that the former FBI director had told him three times he is not under investigation, Sanders ended the briefing. She said the matter is above her pay grade.