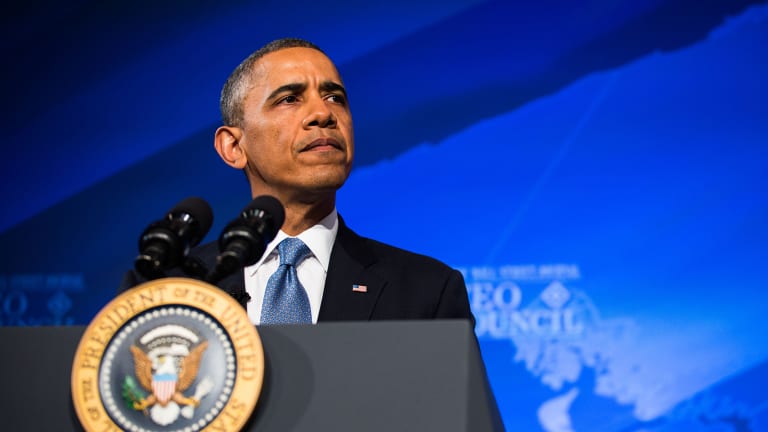 White House Retaliates for Russian Hacking
The Obama Administration said efforts 'sow doubt about the integrity of our electoral process, and undermine confidence' in U.S. institutions 'will not be tolerated.'
The Obama administration on Thursday moved to eject 35 Russian government officials from the U.S. as part of retaliation for cyber operations aimed at influencing the 2016 U.S. presidential election and the Russian government's 'aggressive harassment' of U.S. officials.
"Russia's cyber activities were intended to influence the election, erode faith in U.S. democratic institutions, sow doubt about the integrity of our electoral process, and undermine confidence in the institutions of the U.S. government," the White House said in a fact sheet detailing the actions taken. "These actions are unacceptable and will not be tolerated."
President Obama in his personal statement said more actions are still to come "at a time and place of our choosing," some of which will not be publicized. He added that a detailed report to Congress on Russia's attempt to interfere in last month's election will be submitted to lawmakers in the next few days.
Although Thursday's actions appear to be primarily a response to CIA assertions that Russian intelligence operatives hacked both Democratic and Republican Party data and delivered information stolen from the Democratic Party to Wikileaks, they are also aimed at a broader campaign against the U.S. by the Russian government.
Moscow said the sanctions were counterproductive and would harm restoration of bilateral ties, reported the Interfax news agency, citing Konstantin Dolgov, Russian Foreign Ministry commissioner for human rights, democracy and the rule of law.
Addressing reporters' questions Wednesday as the White House was preparing the actions, President-elect Donald Trump said, "I think we ought to get on with our lives." Trump spoke outside his Mar-a-Lago estate in Palm Beach, Fla. "I think that computers have complicated lives very greatly. The whole age of computer has made it where nobody knows exactly what is going on."
Trump transition spokesman Sean Spicer told reporters on a conference call Thursday that the Obama Administration should make known any proof of foreign interference in the election. "Right now we need to see further facts based on what we do know and what's in the public domain," Spicer said.
President Barack Obama sanctioned nine entities and individuals: two Russian intelligence services, the Main Intelligence Directorate and the Federal Security Service, known by the acronyms for their Russian names, the GRU and the FSB; four individual officers of the GRU, and three companies that provided material support to the GRU's cyber operations.
In addition, the Department of the Treasury designated other two Russian individuals for using cyber-enabled means to cause misappropriation of funds and personal identifying information.
Finally, the State Department declared 35 Russian government officials from the Russian Embassy in Washington and the Russian Consulate in San Francisco as "persona non grata" in retaliation for of harassment of U.S. diplomatic personnel in Russia by security personnel and police.
The White House said harassment of U.S. personnel in Russia "has increased significantly and gone far beyond international diplomatic norms of behavior." Other Western Embassies have reported similar concerns, according the Obama Administration.
The four individuals sanctioned by the White House are GRU officials Igor Valentinovich Korobov, the agency's current chief; Sergey Aleksandrovich Gizunov, deputy chief; and two first deputy chiefs, Igor Olegovich Kostyukov and Vladimir Stepanovich Alexseyev.
The two individuals designated by the Treasury Dept. are Evgeniy Mikhailovich Bogachev, who is alleged to have engaged in the cybertheft of over $100 million from U.S. financial institutions, Fortune 500 firms, universities, and government agencies,  and Aleksey Alekseyevich Belan, who is said to have stolen personal identifiers for private financial gain and compromised the computer networks of at least three major United States-based e-commerce companies.
The individuals declared persona non grata and their families were given 72 hours to leave the U.S. and the Department of State has provided notice that as of noon on Friday, December 30, Russian access will be denied to two Russian government-owned compounds, one in Maryland and one in New York. President Obama said the two facilities were used by Russian personnel for intelligence purposes.