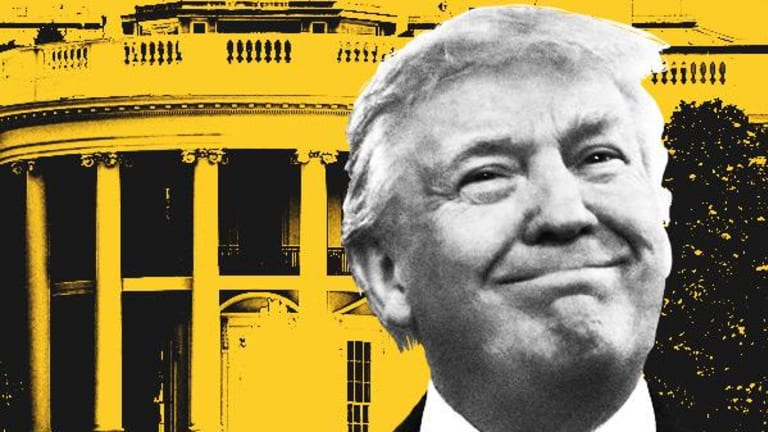 White House Promises 3% Growth as Economic Uncertainty Surpasses Financial Crisis Levels
The White House is setting a high bar for growth, even as one indicator evidences a U.S. economy on edge.
The White House is setting a high bar for growth, even as one indicator shows a U.S. economy on edge.
The Trump administration will project that United States economic growth will rise to 3% by 2021 when it unveils its full budget proposal next week, a senior official told the Wall Street Journal. The figure is well above what Congressional budget experts and most mainstream economists believe is realistic. It also arrives at a time when economic uncertainty is higher than it's been in years.
President Trump and his team have long insisted that through tax cuts and deregulation they can get the economy buzzing. Trump on the campaign trail often cited 3.5%, even 4% growth, though since taking office the administration has focused its rhetoric on 3%.
"I believe that a goal of 3% GDP, or higher economic growth, is achievable if we make historic reforms to both taxes and regulation," Treasury Secretary Steven Mnuchin said in a Senate Banking Committee hearing on Thursday.
The figure is well above the 1.9% forecast under current policy by the Congressional Budget Office. It also exceeds what economists say is realistic.
"I know of no independent economist who thinks that is possible," Steven Rattner, the chairman of Willett Advisors LLC who steered the Obama administration through the auto crisis, said in a hearing on tax reform before the House Ways and Means Committee Thursday.
"The only way to go from 2% from 3% is a combination of deficit-neutral tax cuts, more infrastructure spending, and most importantly of all, more immigration," Moody's Analytics economist Mark Zandi said in a recent interview with TheStreet. "His policy mix isn't the right one to get to sustained higher growth, although it might juice things up temporarily."
The U.S. hasn't seen annualized GDP growth of more than 3% since 2004, and it hasn't surpassed 4% since 2000, according to the U.S. Bureau of Economic Analysis.
Even Commerce Secretary Wilbur Ross has acknowledged Trump's growth plans are aggressive, telling Reuters in an interview last week that the White House GDP target is "certainly not achievable this year."
A parallel narrative to Trump's economic growth promise is the rise of economic uncertainty, which according to one measure is at near-historic levels.
Unease about the state of the U.S. economy is currently at higher levels than during the 1987 stock market crash and the 2008 financial crisis, according to the Economic Policy Uncertainty Index, cited by CNBC. Devised by economists from Stanford, the University of Chicago and Northwestern, the index uses factors such as newspaper headlines, economic forecasts and tax laws to gauge uncertainty. It has accurately indicated moments of major economic turmoil over the past 30 years.
The index spiked after Trump's election and has come back down since, though it remains significantly above its long-term average. The only time it has been higher than election levels over the past three decades was after the September 11 terrorist attack and the battle over the fiscal cliff in 2011.
While jumps in the index have not necessarily precipitated recessions, increases in policy uncertainty "foreshadow declines in investment, output, and employment in the United States," the index creators wrote in a 2016 paper.
Editors' pick: Originally published May 19.