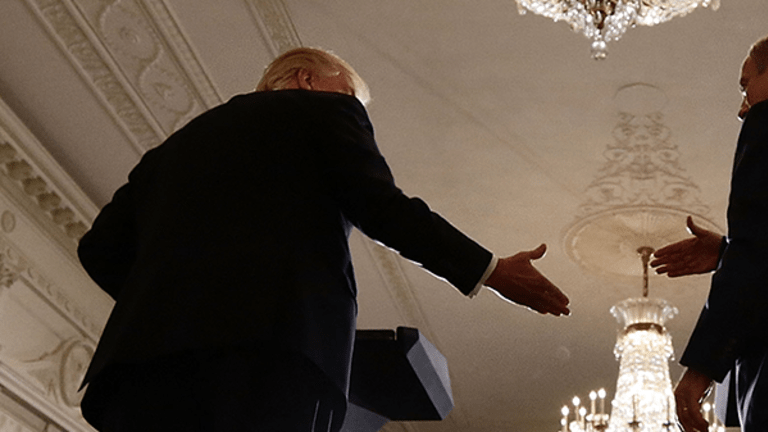 White House Name-Checks Infosys, Cognizant Ahead of H-1B Order
The Trump administration is taking its boldest steps yet in promoting its "Buy American, Hire American" policies, and corporate America may find itself in the crosshairs -- especially tech.
The Trump administration is taking its boldest steps yet in promoting its "Buy American, Hire American" policies, and corporate America may find itself in the crosshairs -- especially technology companies.
President Trump on Tuesday is expected to sign an executive order on a visit to Wisconsin pushing federal agencies to buy American-made goods and services and review visa programs to hire foreign workers. In a call with the press on Monday, senior administration officials name-checked a handful of companies it expects to specifically target with the immigration maneuver. The officials briefed reporters on Monday on the condition that they not be identified because cabinet-level officials who could discuss the matter on the record were not available. 
The Trump administration plans to explore ways to weight H-1B visa approvals toward higher-skilled, higher-paid workers and away from the current lottery system, an official said, in hopes that it would "make it much more difficult to use [the program] to replace American workers."
The official listed consultancy and outsourcing firms Tata, Infosys (INFY) and Cognizant Technologies (CTSH) as those the White House hopes to target.
"They will apply for a very large number of visas, more than they get, by putting extra tickets in the lottery raffle, if you will, and then they'll get the lion's share of visas," the official said. "Which is very different than I think how most people think of the H1B program -- they imagine it for more -- being for -- again, they would think of it as being for skilled domestic work, rather than contract work."
Infosys and Cognizant are among those companies filing the most H-1B petitions, according to the Department of Labor, along with Deloitte Consulting and Wipro (WIT) . But other tech giants lean on H-1Bs as well, including Apple (AAPL) , Amazon (AMZN) , Alphabet (GOOGL) and Microsoft (MSFT) .
The Departments of Justice, Labor, State and Homeland Security will be tasked with finding ways to crack down on fraud and abuse in visa programs. The administration may seek avenues like increasing application fees and giving advantages to masters' degree holders.
Height Securities analyst Peter Cohn in a note on Tuesday said the executive order's release fits with the anticipated timeline for Trump's first 100 days in office, which he will reach next Friday. He pointed out that the move does not include specific steps but is instead a way to put H-1B dependent firms "on notice" that it is considering future action.
"Changes to existing regulations, if any, will still require a lengthy rulemaking process subject to notice and comment, and any recommended changes to statute will have to come from Congress, which we believe is unlikely to act prior to the 2018 elections," he said.
Todd Schulte, president of tech-backed lobbying firm FWD.us, in a series of tweets late Monday called the H-1B visa a "critical part of our high-skilled immigration system" and called for its reform and expansion. He outlined a number of measures, including increasing the wage floor for such visas and, seemingly echoing Trump administration officials, targeting super-dependent companies and sending them to the back of the line.
"This will BOTH protect American workers AND make it easier to bring in best [and] brightest who create jobs and raise wages for native-born," he said.
Trump often criticized the H-1B program on the campaign trail and called for its reform. During the Republican primaries, he referred to rival Marco Rubio as Facebook (FB) CEO Mark Zuckerberg's "personal Senator" over his support for such visas.
Starting this month, U.S. Citizenship and Immigration Services temporarily suspended premium processing for all H-1B visa petitions. The number of visa applications fell below 200,000 this year for the first time since 2014.
As USA Today notes, other visa programs, including the H-2B seasonal worker visa that Trump uses to staff his Mar-a-Lago resort, will be largely unaffected.
Tuesday's executive order will also task Commerce Secretary Wilbur Ross with overseeing a 220-day review of several "Buy America" federal laws designed to boost the procurement and use of American-made products. It will scrutinize government procurement provisions in trade agreements as well.
Trump is expected to sign the order on Tuesday afternoon in Kenosha, Wisconsin - in House Speaker Paul Ryan's district and Chief of Staff Reince Priebus' hometown.