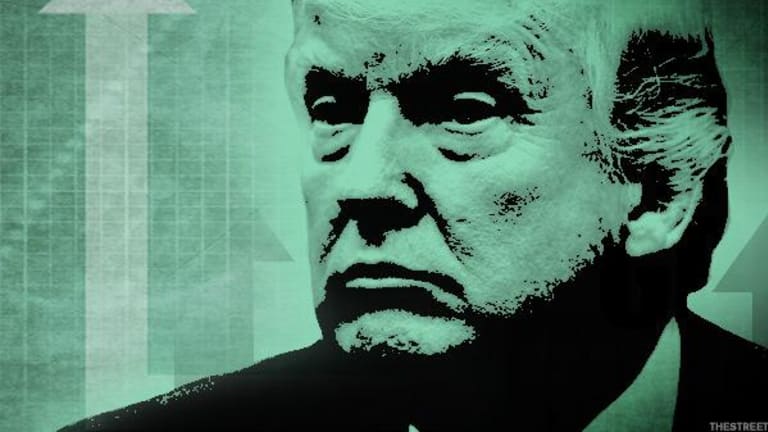 U.S. economic growth slowed to its lowest pace in three years during the first quarter, underlining the challenges the Trump administration faces in its pledge to accelerate the economy.
Real gross domestic product increased at an annual rate of 0.7% in the first quarter of 2017, according to Commerce Department data released on Friday. The figure marks the economy's weakest quarter since early 2014 -- not exactly what Trump was hoping for in closing out his first 100 days in office.
"Today's GDP figure--- in keeping with recent history of slower Q1 growth -- shows that we still have work to do to get the economic growth President Trump wants and expects for the American people," a White House spokeswoman said in an email. "That's why this week the administration presented a bold, aggressive plan for tax reform that will keep more money in the pockets of hardworking Americans, make America more competitive on the world stage and encourage domestic investment by businesses."
The White House this week released a one-page set of principles for tax reform, including a 15% corporate tax rate and a reduction in the individual tax code to three brackets from seven. The administration touted the plan as a central pillar of Trump's promise to boost economic growth to 3%, while observers noted it would balloon the deficit by trillions of dollars and is is highly unlikely to make it into law in its current form.
University of Michigan economist Justin Wolfers on Twitter concurred with the White House's assessment that first-quarter GDP quarter is historically weak. "There looks to be problems with Q1 GDP numbers, generally," he said.
U.S. GDP grew by 0.8% in the first quarter of 2016, 2.0% in the first quarter of 2015 and fell by 1.2% in the first quarter of 2014.
"The economy's fine, the numbers notwithstanding," said Moody's Analytics economist Mark Zandi. "The economy was growing at two percent-ish before the eleciton, it's still growing at two percent-ish after the election."
Larry Fink, head of fund management firm BlackRock (BLK) - Get BlackRock, Inc. Report , slammed the figure at the Morningstar Investment Conference in Chicago and lamented that the U.S. is the slowest-growing country in the G7, even being outpaced by France. "That's really terrible," he said.
Consumer spending appears to be the biggest drag on the U.S. economy. It rose by 0.3%, its worst performance since 2009, as consumers bought fewer big-ticket items and spent less on home heating during an unseasonably warm winter.
"This Q1 was affected by late tax refunds and a late Easter, so that depressed consumer spending in the quarter," said Zandi. 
Fourth quarter GDP grew at a 2.1% rate.
The White House has said it hopes to boost economic growth to 3%, a figure it won't be able to achieve given its current policy mix, Zandi said. 
"The only way to go from 2% from 3% is a combination of deficit-neutral tax cuts, more infrastructure spending, and most importantly of all, more immigration," he said. "His policy mix isn't the right one to get to sustained higher growth, although it might juice things up temporarily."
Editors' pick: Originally published April 28.