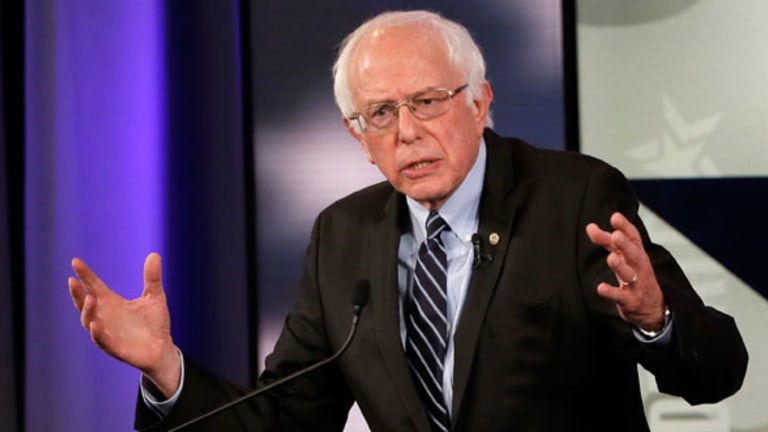 Where Did Bernie Sanders' Two Million Donations Come From?
Bernie Sanders has amassed a huge number of individual donations -- but who is donating? We take a closer look.
Editor's Pick: Originally Published Monday, Dec. 21.
Regardless of what you think of Bernie Sanders, there's no denying he has a talent for grassroots fundraising. The U.S. Senator from Vermont hit the two million donations mark this week thanks to a diverse group of small-money supporters and the internet. 
Pinpointing the source of much of Sanders' campaign funds is difficult, in large part because of campaign laws that allow small donations to be kept under wraps.
"The vast majority of his money comes from donors with $200 or less, and he doesn't have to disclose who they are," said Viveca Novak, editorial and communications director of the Center for Responsive Politics, a non-profit research group that operates campaign funding website OpenSecrets.
Sanders has raised $41.5 million in the 2016 election cycle through the end of the third quarter and ended the period with $27.1 million on the books, according to the FEC website. About three quarters of the contributions received have been unitemized, meaning individuals have contributed $200 or less during the calendar year and their identities do not have to be disclosed.
This is in stark contrast to frontrunner Hillary Clinton, whose campaign has brought in $77.5 million, roughly 80% being itemized -- as in, bigger-ticket and therefore public -- donations. Her super PACs have raised millions more.
According to the Sanders camp, just 261 backers have contributed the maximum allowable amount of $2,700, accounting for 1.7% of the total reported money raised. This week, a fundraising push brought the campaign an additional $3 million, the average donation being just $20.
The internet has helped to spur much of Sanders' success on the campaign trail, and that has converted into funding, too. For example, through ActBlue, an online fundraising committee that backs Democratic campaigns, FEC filings indicate Sanders has brought in more than $4.5 million. 
"The Sanders campaign has been very effective at coming up with a message that appeals to [the progressive] wing of the party, mobilizing that wing of the party and then using digital media very effectively to translate that enthusiasm into money," said Daniel Kreiss, assistant professor of political communications at the University of North Carolina at Chapel Hill. 
Sanders' widespread grassroots support not only highlights the reach of his campaign but also helps to sustain his core message, explained Bob Schmuhl, professor of American Studies at the University of Notre Dame.
"By...reaching the mark of two million donation, the campaign reinforces its principal theme of economic inequality, with Sanders squarely on the side of those who are struggling to get by today." Schmuhl said.
The Sources
In terms of where donations are coming from, Sanders appears to have found friends in the tech community.
The New York Timesnoted in September that technology professionals from all over America had volunteered to support Sanders and his internet-focused campaign. And tech employees are donating both their time and money.
OpenSecrets' list of contributors to the Vermont senator's campaign (meaning organizations that gave through PACs or individuals donors connected with organizations) is topped by Google parent company Alphabet. Microsoft falls third, Apple fourth and Amazon sixth (the University of California and Columbia University occupy the second and fifth positions). IBM and EMC are listed as contributors as well.
The money is coming from rank and file employees, and not the higher-ups, Politiconoted, pointing out that Sanders has largely avoided courting California's left-leaning tech super-wealthy, a group coveted by most Democrats.
Sanders' lack of concern with the golden state's rich and famous hasn't put much of a dent in his support statewide. California residents have contributed 23% of his campaign contributions, more than any other state (and significant, given that California comprises 12% of the U.S. population). Los Angeles area donors are his top contributors, followed by those in New York, Boston and San Francisco. The leading zip code for Sanders contributors is his hometown of Burlington, Vt., followed by Los Angeles and San Francisco.
Sanders finds his biggest group of supporters among retirees, who have donated $870,161 to his campaign, followed by education professionals ($404,375), health professionals ($232,564) and those employed as lawyers and at law firms ($230,233).
How Clinton Stacks up to Sanders
Tech appears to have an affinity for Clinton, too, though she is getting the bulk of her individual contributions from elsewhere. Alphabet also appears as a top contributor to the former first lady's presidential campaign, but it falls farther down the list. Her most significant contributors are New York law firm Morgan & Morgan, pro-female PAC EMILY's List and materials science company Corning Inc.
Clinton counts California as the top source of her donations as well. Those with zip codes in the Pacific Palisades, Los Angeles and Beverly Hills have contributed the most to her campaign, though it is all of New York City that, as a metropolitan area, has given the former New York senator the most.
Retirees are also Clinton's biggest group of supporters, followed by the law community. But the industry offering her the third highest amount of monetary support is television, music and movies (her birthday well-wishes indicated she has more than a few famous friends), followed by the securities and investment industries (she has been known to have a pretty cozy relationship with Wall Street).
Clinton does have an edge over Sanders when it comes to men and women donating -- 50.2% of her campaign funds have come from women, while just 36.7% of his have. The Vermont senator still beats out former Maryland Governor Martin O'Malley in this regard, as only 28.7% of his campaign donation funds have come from women.
The Data Breach Wildcard
News broke late Thursday of accusations by the Democratic National Committee that Sanders' staffers had improperly reviewed Clinton campaign data made available as a result of a software error could make the going tougher. The DNC suspended the campaign's access to the national voter database.
The database breach won't affect money, said Candice Nelson, professor at American University and expert in presidential and congressional elections, but it could hurt elsewhere. "The data is more related to the ground game and targeting turnout," she said. 
The suspension of database access handed down by the DNC could negatively impact Sanders' field organizing and campaigning efforts. And with the Iowa caucuses just six weeks away, the Democratic debates virtually hidden in plain sight and the media's ongoing obsession with GOP frontrunner Donald Trump, Sanders needs all the resources he can get if he wants a shot at the nomination.
The Sanders campaign has reacted quickly to the events. It fired national data director Josh Uretsky, who allegedly directed three other staffers peruse the information, and hit back at the DNC. Campaign manager David Weaver accused the committee of trying to derail Sanders' bid in an effort to secure Clinton's path to the Democratic nomination in a press conference Friday.
"The leadership of the Democratic National Committee is now actively attempting to undermine our campaign. This is unacceptable," he said. "Individual leaders of the DNC can support Hillary Clinton in any way they want, but they are not going to sabotage our campaign, one of the strongest grassroots campaigns in modern history."
He called on the DNC to release the freeze on campaign data and said the Sanders camp would go to federal court to seek an injunction.
The Sanders campaign sent an email to supporters recently accusing the DNC of "tipping the scales for Hillary Clinton." At the bottom of the email: a "contribute" button.