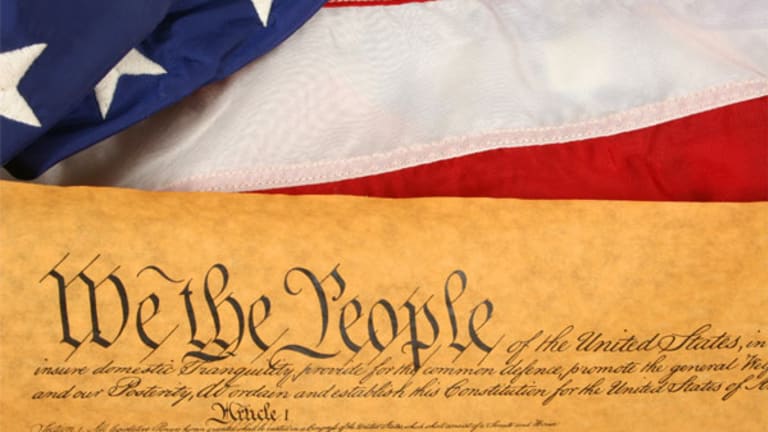 What's in Store for 'America's CTO?'
Despite plenty of publicity, little is known about the role of Obama's all-powerful government CTO.
Despite plenty of publicity, little is known about the role of Obama's all-powerful government CTO.
may be a big step closer to filling his cabinet after the nomination of Republican Sen. Judd Gregg as
Commerce Secretary
on Tuesday, but there is still no sign of the new president's much talked-about chief technology officer.
Despite plenty of
about the possible candidates, it is unclear who will fill the role of government
, a newly created Cabinet-level position pushing the president's bold information technology plan.
After a whole host of
and
were touted for the role, recent news reports suggest that the field has narrowed to two candidates;
Cisco Systems
(CSCO) - Get Report
CTO Padmasree Warrior and Vivek Kundra, the CTO of Washington, D.C.
Somewhat surprisingly,
Symantec
(SYMC) - Get Report
CEO John Thompson's name has not been linked to the CTO's role despite the executive's close links to Obama and Washington.
Thompson, who will retire in April, has repeatedly stated that he has no political ambitions but was hotly tipped for the role of Commerce Secretary.
Jefferies & Company
analyst Katherine Egbert even cheekily wished the 59-year old "good luck in Washington" at the end of Symantec's recent third-quarter conference call, prompting laughter from the other executives on the call.
During his time as CEO, Thompson, a former
IBM
(IBM) - Get Report
veteran, oversaw Symantec's growth from a small consumer-oriented company to one of the world's largest security and storage software firms.
Thompson already has strong links with Washington, and his talents were even recognized by the previous Republican administration. In 2002, for example, President George Bush appointed him to the National Infrastructure Advisory Committee (NIAC) to make recommendations regarding the security of critical U.S. infrastructure. The executive has also served as chairman of the Silicon Valley Blue Ribbon Task Force on Aviation Security and Technology.
Former
Motorola
(MOT)
tech chief Warrior is nonetheless rumored to be the most likely choice for "America's CTO," although there is still relatively little information about the actual role.
"Neither the campaign nor the transition documents provide details such as where a CTO would be located organizationally," wrote John F. Sargent, an expert in science and technology policy, in a recent report to Congress. "
Nor whether a CTO would be a single position or supported by a staff, office, or agency; and how the duties and authorities of a CTO would be aligned and integrated with existing offices and agencies."
Sargent's report for the Congressional Research Service (CRS) explained that early challenges for the CTO will include negotiating areas of responsibility, both formal and informal, within the White House (if that is where the CTO is based) and with other related branches of government.
"Some commentators have expressed concerns about the impact a CTO might have on existing offices and agencies with respect to allocation and co-ordination of authorities and responsibilities," he added.
The White House attempted to shed at least some light on the role in a recent memo published in the
Federal Register
, explaining that the CTO, the director of the Office of Management and Budget (OMB), and the Administrator of General Services will make recommendations for an "open government directive" within 120 days of the tech chief's appointment.
The directive, which will lay the foundations for making information more readily available to the public, will be issued by the director of the OMB, according to Obama's note.
At least one expert told
TheStreet.com
that the CTO must focus on keeping the U.S. at the forefront of the global technology race.
"The CTO really has to foster an environment of innovation," said Phil Asmundson, vice chairman of technology, media and communications consulting at
Deloitte
. "I would like to see
innovation in energy, I would like to see it in communication networks and broadband."
Asmundson explained that broadband access, for example, has a major impact on people's education and economic status and added that health care is another area that would benefit from better use of technology.
Health care IT is one area that will definitely be high priority for the new administration. With a $10 billion plan to implement electronic medical records, Obama is clearly committed to dragging the U.S. healthcare sector into the 21st century.
Even the sole reference to technology during the president's inauguration speech highlighted the importance of this project, when the former Illinois senator promised to "wield technology's wonders to raise healthcare's quality."
There is no question that the tech-savvy president has a big technology agenda, which includes modernizing public safety networks, and making America the world leader in broadband penetration and Internet access.
Ensuring that the Internet is widely accessible & network neutral should be top priority for Obama's technology guru, according to a poll on
ObamaCTO.org
an independent website focused on the new president's IT agenda. This is followed by ensuring privacy and repealing the Patriot Act and Repeal the Digital Millennium Copyright Act (DMCA).
At the moment, however, the appointment of "America's CTO" appears to be taking a back seat while Obama attempts to
the broken-down economy.