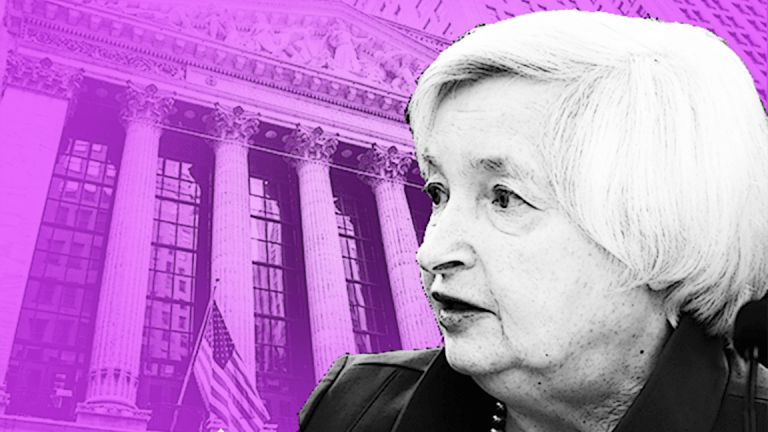 Trump's Five Finalists for Federal Reserve Chief: Pros and Cons
A new (or renewed) Federal Reserve chair is on the horizon. Whoever it is will play a major role in shaping United States monetary policy moving forward.
A new (or renewed) Federal Reserve chair is on the horizon. Whoever it is will play a major role in shaping United States monetary policy.
President Donald Trump has settled on a list of five finalists to head the Federal Reserve and intends to make the announcement before he travels to Asia on November 3, according to published reports. (To be sure, the president is known for underestimating timelines.) While some of Trump's picks have been a bit eyebrow-raising -- Ben Carson for HUD, Betsy DeVos as Education Secretary -- all five are within the mainstream of candidates that would be chosen by a Republican president and, in the case of two of them, a Democrat.
"The fact that Trump's picks in finance/economy have been conventional is clearly a positive for investors," wrote Capital Alpha Partners analyst Ian Katz in a recent note. "It gives a continuity and predictability that markets like."
That being said, there are differences among the final five. Here's a look at the candidates in the mix for Fed chair and some pros and cons about each.
Gary Cohn
Gary Cohn is currently director of the National Economic Council under Trump. The former Goldman Sachs (GS) - Get Goldman Sachs Group, Inc. Report president and chief operating officer was once considered one of the top contenders for the spot, but his criticism of Trump's response to racist violence in Charlottesville, Virginia has raised doubts about his prospects. Cohn, 57, is a Democrat.
Pro: Many on Wall Street would like to see one of their own as head of the Federal Reserve, and the markets seem to like having Cohn in Trump's orbit: stocks wavered over the summer on rumors he might exit the administration.
Con: Cohn has no experience in central banking or monetary policymaking. Trump appointing such a close political associate could draw fire from both Republicans and Democrats.
Jerome "Jay" Powell
Jay Powell, 64, is currently a member of the Federal Reserve Board of Governors and was appointed by President Barack Obama in 2012. He served in the Treasury Department under President George H.W. Bush and was a partner at The Carlyle Group (CG) - Get Carlyle Group Inc Report from 1997 to 2005.
Pro: Powell would provide continuity from current Federal Reserve Chair Janet Yellen, which would be welcomed by financial markets. He is slightly more hawkish than Yellen and could pull the Fed's normalization forward modestly and has passed Senate confirmation twice.
Con: Economists still prefer Yellen, according to a Reuters poll. And those hoping for a shift in Fed policy probably won't get it from Powell.
John Taylor
Stanford University economist John Taylor, 70, served in both Bush administrations and under Presidents Ford and Carter in different capacities. He devised the "Taylor rule," a forecasting model in which interest rates are tied to inflation and growth.
Pro: Taylor has long argued the Fed has kept rates too low for too long and would represent a sharp shift toward hawkish policy, but how drastic a change he would be might be overstated. He said in a Q&A with the Boston Fed that he's "never thought" of rules-based policy as "tying central bankers' hands."
Con: If Taylor is appointed, concerns he would aggressively raise rates could make markets uneasy.
Kevin Warsh
Former Federal Reserve Governor Kevin Warsh, 47, served at the Fed from 2006 to 2011 and in the Bush administration from 2002 to 2006. Before that, he was a member of the mergers and acquisitions department at Morgan Stanley & Co. MS. He is currently a fellow at Stanford's Hoover Institution and a member of the Group of Thirty, an international body of financiers and academics that examines economic and financial issues.
Pro: Warsh was at the Fed during the financial crisis and while there was often tasked with explaining the body's policy debates to policymakers. He has been critical of the Fed's monetary easing and would be a more hawkish choice, though the extent to which is unclear.
Con: Warsh isn't an economist and could be too aggressive if there is another downturn. His family connections may also raise eyebrows: he's married to a wealthy heiress whose father, Estée Lauder's Ron Lauder, has been a major Republican donor and is friendly with Trump.
Janet Yellen
Janet Yellen, 71, became the first woman to lead the Fed when she was sworn in as chair in February 2014. Trump was critical of Yellen, an Obama appointee and former member of the Clinton administration, on the campaign trail but has since changed his tune. "I like her. I respect her," he said in an April interview with The Wall Street Journal.
Pro: If continuity is what's wanted, continuity is what Yellen will deliver, and markets would likely welcome her nomination. She would have an easy time with Senate confirmation as well.
Con: Much of Trump's agenda seems based on overturning President Obama's agenda, and it is unclear whether he would be willing to stick with his predecessor's pick.
Watch: Billionaire David Rubenstein Says Yellen Staying as Fed Chair Is Good for Markets
More of What's Trending on TheStreet:
Editors' pick: Originally published Oct. 19.