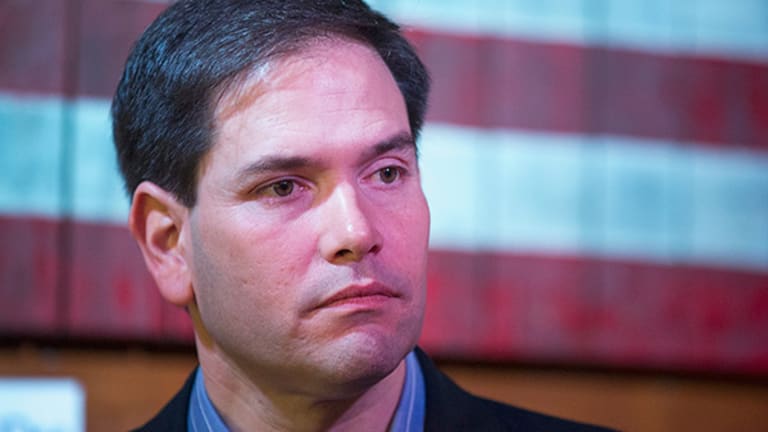 Publish date:
What Will Become of Marco Rubio's Campaign for President?
Marco Rubio would seem to be the runaway favorite to overpass Donald Trump and unify the Republican Party. So what's holding it up?
Marco Rubio would seem to be the runaway favorite to overpass Donald Trump and unify the Republican Party. So what's holding it up?
The next six days are critical for Marco Rubio if he has any chance at the Republican presidential nomination. At least for now, though, things seem to be looking up for the man known as #RobotRubio.
The conservative Florida senator can take solace from edging rival Texas Senator Ted Cruz for second-place finishes in Nevada and South Carolina over the past 10 days. He's also been racking-up high-profile endorsements from nationally-known Republican senators like Orrin Hatch and GOP's 1996 nominee, former Kansas Senator Bob Dole.
And he's apparently won the support of the Koch Brothers' network of political operatives and deep pockets of "dark money" which initially backed Wisconsin Governor Scott Walker. Politico reported this week that Marc Short, the Koch brothers' top political adviser in Washington, has joined the Rubio campaign. Rubio's fundraising has also picked-up support from Wall Street.
Yet, before voters in 11 states including Texas vote on Tuesday, Rubio needs a solid debate performance Thursday night in Houston, when the five remaining Republican candidates face-off in a gathering hosted by CNN. Rubio still needs to put some distance from his embarrassing debate performance three weeks ago when New Jersey Governor Chris Christie made him stammer as he infamously repeated the exact same prepared line four times in about 20 minutes. That was a hard one to play down.
Nonetheless, Rubio has finally emerged as the preferred choice of the party's leaders in part because he's not Donald Trump or Cruz, who famously has few real friends in the U.S. senate. 
"Senator Rubio is on the right track with that message of 'I can put together a winning coalition'," said Eric Woolson, a Des Moines Republican who had been working on Walker campaign. "He's going to bring in more young voters, maybe more women, though Mr. Trump is doing okay with women. But Republicans want a winner, and Rubio is one who could unify the party."
But What About Trump? 
Trump's success at securing the lead among Republicans reveals a leadership -- elected officials and intellectuals -- that have underestimated the frustration that conservative voters feel about their jobs and communities and Washington politicians.
"Trump is telling people he knows how the system works, he doesn't need Super PAC money and he can be their savior," Mark Jones, a political science professor at Rice University in Texas, said in a phone interview. "It's a very populist message, a message you're more likely to hear in a Latin American election, in places like Argentina, Bolivia or Ecuador."
But this is the U.S. in 2016. Ironically, Rubio's conservative record has largely failed to tap into the angst of a large segment of the Republican electorate. Rubio's problem, Jones emphasized, is that he's become the Establishment candidate despite a record that is more conservative than 77% of Republicans serving in Congress this term, according to analysis by FiveThirtyEight.
Rubio is proposing tax cuts twice as large as those of George W. Bush, cuts that would equal 2.6% of U.S. GDP, according to the Tax Policy Center. (Bush's cuts equaled 1.4%). He proposes ending taxation of investment income, a favorite demand of hedge fund managers and wealthy individuals. He also wants to lower the corporate tax rate to 25% from 35% despite economic evidence that cutting taxes on the wealthy doesn't necessarily lead to growth.
Rubio rejects most curbs on domestic spying by the National Security Administration, has a perfect score from the National Rifle Association, opposes gay marriage and a women's right to choose whether to have an abortion and has called for freezing government spending on everything but the military and veterans' care at 2008 levels.
"It is ironic that we're referring to Marco Rubio as the Establishment candidate when his record is that of a movement or Tea Party conservative," Jones added. "But running against Trump and Cruz, Rubio is no longer the outsider. He has two people who are further to the outside than he is. Trump is the ultimate outsider candidate and there isn't anyone in the U.S. senate who is more of an outsider than Ted Cruz."
Rubio and Immigration
Nothing has hurt Rubio's campaign quite like his inability to explain to Republicans why he helped draft the 2013 "Border Security, Economic Opportunity, and Immigration Modernization Act" that passed the senate with support from Republican Senators John McCain and Lindsay Graham. The words "immigration reform" and "amnesty" have become verboten in the GOP race.
To be sure, Rubio was arguably following through a call by Republican party leaders following Mitt Romney's 2012 defeat to appeal to Latino voters. But 2016 is far from 2012 and supporting immigration reform has proved to be an albatross he can't shake. The right-wing National Review was unequivocal: Support for the 2012 bill is a deal-breaker.
Conversely, Trump won early and enthusiastic support by calling Mexicans "rapists" who traffic in crime and drugs. Trump's nativism is in contrast to unspoken truth that "a large number of Trump supporters will not rally to a Cuban," referring to the Cuban-Americans Rubio and Cruz, wrote the conservative media personality Erick Erickson earlier this week on his blog, The Resurgent.
Clearly, Rubio needs some wins on Super Tuesday. At a minimum, he needs higher tallies than Cruz while hoping Trump wins in Texas. Were Cruz to lose Texas, he may be forced out of the race.
"As this field narrows, the party is going to coalesce behind whoever the nominee may be," Woolson said. "For Rubio, that means widening his base and showing that he can win in November."