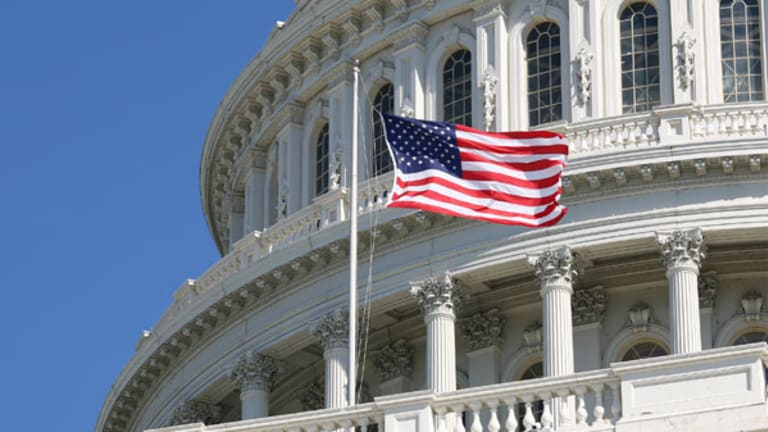 What to Expect From Stocks After Election
With stocks largely pricing in a Republican takeover of the House of Representatives, the midterm elections may get only a ho-hum reaction from the markets in what promises to be a very exciting week.
NEW YORK (
) -- With stocks largely pricing in a Republican takeover of the House of Representatives, the midterm elections may get only a ho-hum reaction from the markets in what promises to be a very exciting week otherwise.
With the highly anticipated
Federal Reserve
policy meeting a day after the election on Wednesday, a steady stream of quarterly results and the nonfarm payrolls number later in the week, investors will have an overload of information to digest.
Barring a GOP takeover of the Senate or the Democrats maintaining the House, stocks are likely to sell on the news, according to market strategists.
Market experts expect quantitative easing and other factors to play a bigger role in the stock market at this point than the midterm elections.
"A shift to a more Republican Congress will just be a tailwind for an economy that faces many challenges," says Lawrence Creatura of Federated Investors."Share prices are determined by a soup of different variables, and politics is only one of the ingredients."
From a longer-term perspective, stocks might make a decisive move upwards only once uncertainty on taxes and health care costs are resolved. That might come down to how the new Congress behaves in January, which means markets could still be in limbo during the interim period.
Stocks have run up 15% since July lows, partly on expectations that Republicans will win more seats in the House. Latest polls suggest that this outcome is likely, with the Senate promising to be a close fight as well.
There is history to suggest that stocks do well in the third year of a president's term following a congressional shift in the midterm elections. The
S&P 500
has on an average rallied 15% when there was a Democratic president and a Republican majority in Congress. Stocks rose 35% in 1995 after the 1994 congressional elections saw the Democrats lose their majority in both the House and the Senate.
"There is an assumption that in a gridlock both parties will move to the center," says Art Hogan, chief market strategist of Jefferies. "There is likely to be less aggressive taxing and spending plans, more business-friendly policies."
Significantly, Hogan notes, this could be the first time there is a change in House and not the Senate. Republicans could have greater access to writing policy, given that the House is the birthplace of all legislation.
The extension of the Bush-era tax cuts is the biggest issue that Congress will have to debate in the near term. It's unclear whether the uncertainty will be resolved during the "lame duck" session following the midterm elections or whether the issue will be taken up in the new session in January.
According to Peter Tuz of Chase Investment Counsel, the sooner the uncertainty is resolved the better for markets. "You have to start telling people soon how much their withholding will change because of the reversion to the old system. A couple earning $240,000 a year will have an additional $560 withheld (from their semi-monthly paycheck). That money at the margin would go towards spending."
The other concern has been the uncertainty around a likely rise in health care costs. President Obama has been criticized for making health care his primary agenda in a recession, unwittingly adding uncertainty to a foundering economy.
Republicans have been calling for a repeal of health care reform. But Americans, while viewing the health care law less favorably, are divided on the issue of repealing it, according to a New York Times/CBS poll.
"The chance of health care being repealed are very small," Hogan says. "The chances of things(aspects of the bill) being changed are better."
Investors are hoping that the new Congress will curtail the rise in health care costs for businesses. Clarity on these issues would help business make more long-term decisions including, most importantly, hiring.
Sectors to Watch
While the market is hoping that uncertainty on the macro front will be resolved, further policy changes could be in store on energy reform, financial regulation and for-profit education sectors post elections.
But unless the Republicans manage to secure the Senate, investment experts are for the moment reluctant to tweak their sector exposures.
Markets tend to favor energy and defense stocks when Republicans are in power and alternative energy when Democrats hold the lead. But Peter Tuz dismisses these views as "good news stories without real effects."
In reality, he says, sector choices may not be that obvious. For instance, Tuz owns energy service providers that would benefit from an end to the offshore drilling moratorium. But he doesn't believe things will change after the election, because the end to the ban would be an executive branch decision.
A similar case can be argued for financial stocks, currently mired in foreclosure problems. A large part of how that problem is resolved depends on the court system and not Congress, according to some analysts.
Lawrence Creatura says a Republican takeover of both the House and Senate would benefit defense, mineral extraction, coal and for-profit education companies.
Still comprehensive energy reform may be among the top agendas for the Democrats after the midterm elections.
Senator Harry Reid (D., Nev.), who faces an election challenge Tuesday, has taken the lead in trying to pass comprehensive energy reform. If he loses, that could change the fate of this crucial legislation. Natural gas truck and engine stocks may be ones to watch for changes in legislation including
Westport Innovations
(WPRT) - Get Westport Fuel Systems, Inc. Report
,
Clean Energy Fuels
(CLNE) - Get Clean Energy Fuels Corp. Report
and
Fuel Systems Solution
(FSY)
.
Attempts to revoke renewable energy standards in California could impact solar stocks such as
First Solar
(FSLR) - Get First Solar, Inc. Report
,
SunPower
( SPWRA) and
MEMC Electronics
(MEMC)
.
Wind energy producers could be affected if the cash grant program under the Treasury expires.
Broadwind Energy
is a stock to watch in this space.
For-profit education stocks may be a more immediate beneficiary from gridlock in Congress.
The Obama administration
recently released a set of new regulations intended to protect students at for-profit colleges.
But the most controversial proposal involving cutting federal aid to colleges, where less than 45% of students are able to repay their loans is yet to be published.
Midterm congressional elections "could be the tipping point," said markets commentator Herb Greenberg in an appearance on
CNBC
Thursday. He said the gainful employment rules is "key," especially whether or not the rule will be published before Jan. 5 when the new Congress members are sworn in.
Stocks to watch include
Corinithian Colleges
(COCO) - Get Vita Coco Company INC. Report
,
Apollo Group
(APOL)
and
Strayer Education
(STRA) - Get Strategic Education, Inc. Report
Health care stocks especially HMOs, may be another space to follow.
WellPoint
(WLP)
,
Humana
(HUM) - Get Humana Inc. (HUM) Report
and
Cigna
(CI) - Get Cigna Corporation Report
would be among those on the watch list.
--Written by Shanthi Venkataraman in New York. Eric Rosenbaum contributed.
>To contact the writer of this article, click here:
Shanthi Venkataraman
.
>To follow the writer on Twitter, go to
.
>To submit a news tip, send an email to:
.
RELATED STORIES:
>>Best Oil Stocks For Post Election
>>Election Will Cause Defunding
>>Stocks to Trade Post Election
Disclosure: TheStreet's editorial policy prohibits staff editors and reporters from holding positions in any individual stocks.