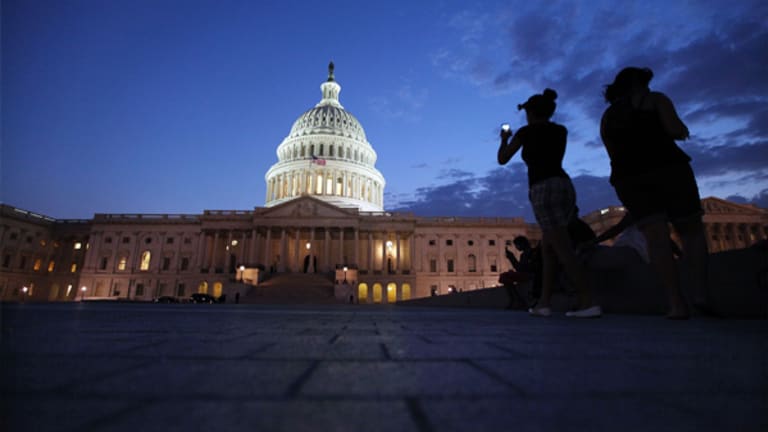 What if Ron Paul is Elected and Kills the Fed?
Ron Paul's radical agenda could lead to a radical change for banks.
NEW YORK (
) -- Ron Paul as President? Hard to imagine.
But let's say he runs as a third party candidate and there's a weak turnout. President Obama and Mitt Romney split what there is of the centrist vote. And Paul's loyal coalition somehow pulls out a victory. What happens to his longtime nemesis: The Federal Reserve and banks.
President Paul has stated so many radical theories that banks--which almost certainly would tank along with the rest of the stock market--would be the least of our worries.
Still, it is kind of amusing to think about a president that has essentially no support whatsoever from the banking industry.
Paul's campaign makes much of the Mitt Romney banking connection.
"The banks own Mitt Romney," declares
Dailypaul
, a website started by a former stockbroker and Ron Paul supporter named Michael Nystrom. The site pointed out on Tuesday, citing data from
OpenSecrets
, that Romney's top ten contributors include
Goldman Sachs
(GS) - Get Goldman Sachs Group, Inc. Report
,
Credit Suisse
(CS) - Get Credit Suisse Group AG Report
,
Morgan Stanley
(MS) - Get Morgan Stanley Report
,
Barclays
(BCS) - Get Barclays Plc Report
,
Bank of America
(BAC) - Get Bank of America Corp Report
and
JPMorgan Chase
(JPM) - Get JPMorgan Chase & Co. Report
.
Maybe needless to say, none of these banks show up among Ron "End the Fed" Paul's top supporters. One banker who did cough up $2,500 to Paul's campaign, though, is iconoclastic Texan Andy Beal, dubbed "The Banker Who Said No," by Forbes in 2009.
End the Fed, stop printing money, move to the gold standard. These "policies" comprise the regular Paul mantra. Paul seems to acknowledge on his website the quixotic nature of these quests, by tempering his language to a degree. Click on "end the Fed" under the section of his website marked "the issues," and ending the Fed is mentioned after several more sober-sounding paragraphs, qualified by an "ultimately."
Less frequently mentioned by Paul is his desire, again stated on his website, to end taxes (though at times he claims he only wants to lower them).
That earned him the grade of D-/F, from budget guru Stan Collender, managing director of Qorvis Commincations.
"Ron Paul wants to eliminate income taxes, which is fine if you're willing to eliminate spending to go along with it but he has hasn't--other than talking about eliminating a handful of government agencies and significantly reducing the Pentagon, he's not talking about eliminating Social Security and Medicare," Collender told
Bloomberg Television
, in an interview this week.
Collender's conclusion: "It's unrealistic, it's not going to happen."
Indeed, the same can be said for most of the things Paul rants and raves about. And you get the sense that Paul knows this, which is why he allows himself to rant and rave as freely as he does. Even if Paul were President, Congress and the courts would move to check his power.
But since we are indulging in a fantasy, let's assume Paul gets everything he says he wants.
All the liberal economists tell us Paul's plan to stop printing money would cause Japanese style deflation. If indeed that happened, one assumes the public would show Paul the door at the first opportunity.
Paul's position on globalization is less clear, but just as Paul wants to end foreign military entanglements, one gets the sense of a strong isolationist streak in Paul's thinking about the economy.
In a Fed oversight hearing he chaired in the House of Representatives in June, he repeatedly questioned Fed officials about the necessity of cheap loans it made to foreign banks during the 2008 crisis.
Fed officials explained that these institutions got dollar-based loans and that they do most of their dollar-based lending in the U.S., but this did not seem to satisfy Paul.
"Maybe the banks in Greece should have had a lot more subsidiaries in New York, and maybe then Greece wouldn't be in so much trouble. The Fed would've bailed them out, too," Paul told Fed general counsel Scott Alvarez.
Hate to sound like a wet blanket, but such showmanship is at best a distraction from more serious policy questions. At worst, carried to its logical conclusion, it would likely crash the global economy. But, heck, we all hate Obama, Congress and all the other Republican candidates, apparently, so what have we got to lose?
--
Written by Dan Freed in New York
.
Follow this writer on Twitter.
Disclosure: TheStreet's editorial policy prohibits staff editors, reporters and analysts from holding positions in any individual stocks.