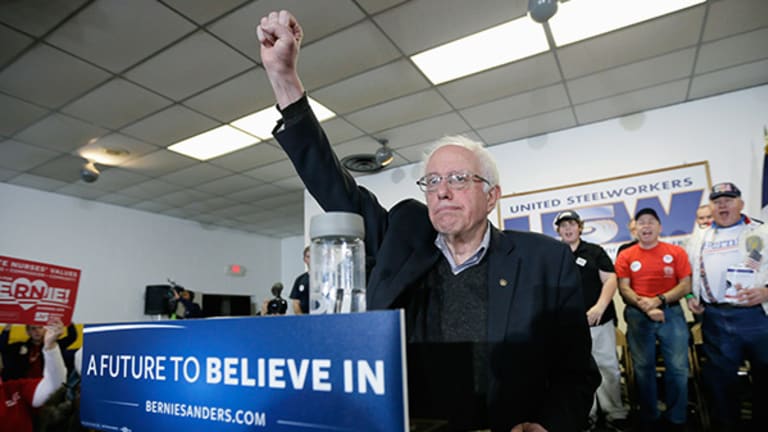 How Bernie Sanders Wants to Tax Your Trades
Bernie Sanders wants to tax Wall Street speculation to help kids pay for college. What does that mean, and how would it work?
"Yes, I do believe that now after the American people bailed Wall Street out, yes, they should pay a Wall Street speculation tax so that we can make public colleges and universities tuition-free," said Vermont Senator Bernie Sanders at the sixth Democratic presidential debate in Milwaukee. But what exactly does such a tax entail?
One of the core parts of the Sanders campaign platform, the Wall Street speculation tax -- otherwise known as a "financial transaction tax" -- aims to raise billions of dollars in revenue by placing a small levy on every stock, bond and derivative bought and sold in the United States. He says such a measure would cover the entirety of his $75-billion-a-year plan to make free college a reality in America.
Sanders' proposal largely mirrors the Inclusive Prosperity Act, a bill put forth by Keith Ellison, a Democratic Representative from Minnesota, in 2015. Under the proposals, stock trades would be taxed at a 0.5% rate, bond trades at 0.15% (in the Ellison plan, 0.10%) and derivatives at 0.005%.
"The idea of taxing trading and financial markets is not especially original. It's been done already in many, many countries," said Robert Pollin, professor of economics and co-director of the Political Economy Research Institute at the University of Massachusetts Amherst. Pollin's research is the source of both Ellison's and Sanders' plans, though he says he has not discussed the issue at length with the Sanders campaign (he has consulted on other topics).
Sanders' Wall Street speculation tax has two functions, Pollin explained: raising revenue and discouraging excessive, speculative trading. "I think it works better as a way for raising revenue. It may discourage trading modestly, but not dramatically," he said.
Just how much revenue Sanders' proposal might raise, and to the extent it will impact trading, is up for debate.
The paper Sanders' campaign website links to, a memo co-authored by Pollin in 2012, estimates the resulting revenue to be upwards of $350 billion. Pollin said that even if current trading volumes drop by an "implausibly large number" of 50%, he believes it could still raise about $300 billion a year -- enough to cover Sanders' free-college plan.
The Tax Policy Center, a joint venture of the Urban Institute and Brookings Institution, offers a more conservative estimate. A study published by the organization found that a revenue-maximizing financial transactions tax could generate about $75 billion a year.
Steve Rosenthal, senior fellow at the Urban Institute and one of the researchers behind the study, acknowledged that the group's lower revenue estimate comes as a result of a different set of assumptions -- namely, those related to the responsiveness of the markets to an increased tax.
"The big picture is, there are a lot of financial transactions, even a small tax would raise a lot of money," he said. "But the corollary to a financial transactions tax raising a lot of money is that somebody is incurring those transaction fees. And in our view, those would be investors, by and large. To increase the transaction fees ... would be reflected ultimately in the price of securities, that is, lower the price of securities, and that would be a burden on investors and the holders of capital in general."
The Tax Policy Center estimates that about three-quarters of the burden would fall on the highest-income 20% of households, and 40% would fall on the top 1% -- an idea that would likely appeal to many, including Sanders' anti-1% supporters. However, it may also produce effects that would impact a broader swath of the American public. 
The Tax Policy Center's research found that a financial transactions tax has just as much a chance of curbing volatility as it does increasing it. It also concluded it would likely create new distortions among asset classes and across industries, impact liquidity and increase bid-ask spread if it substantially cuts market volume.
Financial transaction taxes in other markets have had varying results.
Many detractors point to Sweden's implementation of such a system in the 1980s, which resulted in a major drop-off in trading and an exodus of investors to the London stock market until the tax was abolished. Proponents look to the United Kingdom's system, which entails a 0.5% stamp tax and applies to securities issued by U.K. companies (unlike Sanders' plan, however, the UK tax does not apply to derivatives).
Greenberg noted that while the speculation tax rates put out by the Vermont senator are nominally low, they are relatively high compared to other proposals in the U.S. and globally. Still, the ultimate impact of such a tax would only be seen if and when implemented.
"It's not entirely clear why some financial transactions taxes work and some don't, although how you design the policy is clearly a major factor," he said.
To be sure, there are some who dislike the idea of a tax on all trades more than others. 
"Even though the rhetoric is that it will only affect Wall Street speculators, in fact, [Sanders'] tax would hit pretty much all investments," said Bill Harts, CEO of Modern Markets Initiative, an advocacy group for high-frequency trading -- an industry that would be hard-hit by the implementation of a financial transactions tax.
Harts pointed to the example of the California State Teachers' Retirement System, which announced in September plans to move up to $20 billion out of stocks. Under Sanders' plan, he says such portfolio realignment would cost more than $100 million. "Those are the kinds of numbers that people have to focus on," he said.
Moreover, some perceive the goals of Sanders' plan as being at odds.
"The more that his tax is able to reduce Wall Street speculation, the less revenue it's going to end up bringing in," said Scott Greenberg, an analyst with the Center for Federal Tax Policy at the Tax Foundation. "Conversely, the more revenue that it brings in, the less it will have reduced Wall Street speculation, because that indicates that, if it's bringing in revenue, that means that there are still lots of transactions going on on Wall Street."
Jeremy Scott, editor in chief at nonprofit tax organization Tax Analysts, compared the scenario to a implementing a cigarette tax to fund schools -- if it discourages smoking, as is the intended effect, revenue for the benevolent cause will drop as well. Likewise, a tax on investments that results in a drop in trading or migration of investors abroad could have similar effects. "These taxes in the past have been failures as revenue raisers," he said.