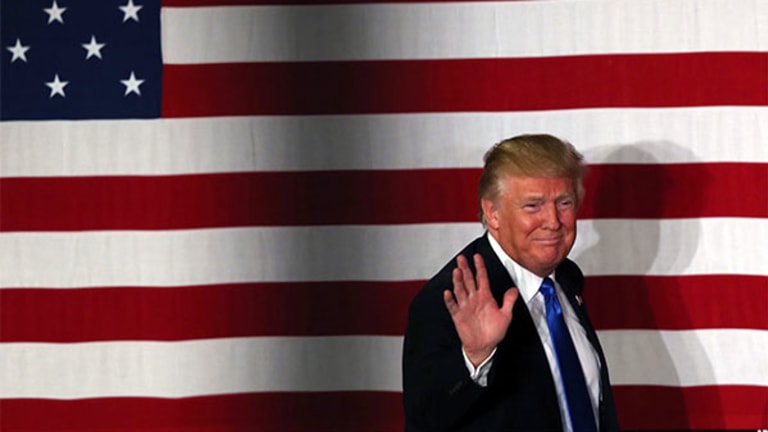 Wells Fargo, Ford and Others Join List of Companies Steering Clear of Trump-Led GOP Convention
More corporations are saying, "Thanks, but no thanks," on sponsoring the Republican National Convention.
Editor's pick: Originally published June 17.
More corporations are saying, "Thanks, but no thanks," on sponsoring the Republican National Convention.
Wells Fargo (WFC) - Get Free Report , United Parcel Service (UPS) - Get Free Report , Motorola Solutions (MSI) - Get Free Report , JPMorgan Chase (JPM) - Get Free Report , Ford (F) - Get Free Report and Walgreens Boots Alliance (WBA) - Get Free Report are among a growing number of U.S. companies to drop, scale back or change their involvement in next month's GOP extravaganza in Cleveland, according to a report from Bloomberg.
All of the companies sponsored the 2012 convention in Tampa, Fla. It is worth noting that many of the companies won't be sponsoring the Democratic National Convention, either. However, the news propels forward the growing narrative of businesses and politicians steering clear of the presumptive GOP nominee Donald Trump.
Wells Fargo, which gave $500,000 to each party's convention in 2012, will give to the Democrats only this time around. A Wells Fargo spokesperson said that the company has a history of contributing to cities in which it has a banking presence to support civic engagement and noted that the event will actually take place at the Wells Fargo Center in Philadelphia. She added that the decision was reached before either nominee was decided and emphasized that the donation was given to the host committee and not to either party committee.
JPMorgan, Walgreens, UPS and Motorola Solutions have reportedly decided not to donate to the host committee of either convention, though Walgreens does plan to host events for officials during both events. A JPMorgan spokesman declined to comment but pointed to two public announcements around the company's philanthropic activities in Cleveland and Philadelphia. A UPS spokeswoman called the Bloomberg article "misleading," noting that it does not mention until later in the piece that the decision was made almost 12 months ago and that the company is not sponsoring either convention. A spokeswoman for Motorola said the company's focus is on supporting its public safety customers in the cities where the conventions are taking place.
Ford's decision not to sponsor the convention is perhaps especially eyebrow-raising, given that the company has been on the receiving end of Trump's ire on the campaign trail over its Mexican operations. A Ford spokeswoman said in an email that the company decided more than a year ago not to sponsor either party's convention, but as Bloomberg points out, as recently as March the automaker was declining to say what it would do. She also noted that Ford will have a presence at both conventions in Cleveland and Philadelphia, mostly engaging via state delegation events.
"The portrayal in stories has been about the companies that are backing away, whereas there's really a positive story in what we have accomplished," said Emily Lauer, a spokeswoman for the Cleveland host committee, in a phone conversation Friday morning with TheStreet.
More than 100 companies have already signed on to sponsor or donate to this year's convention. The committee has raised $57.5 million of its $64 million target and expects the rest of the funding to kick in as the convention date approaches. Lauer noted that fundraising this year has outpaced efforts in 2008 and 2012. Those years, host committees had raised 45%-to-50% of their totals 60 days ahead of the convention; this year, they were at 85%.
"The sky is not falling," she said, repeating what she told Bloomberg.
Trump's place atop the GOP presidential ticket has put numerous companies in a bind this election cycle when it comes to convention sponsorship and involvement.
Coca-Cola (KO) - Get Free Reportdecided to scale back its sponsorship of both parties' conventions earlier this year. Microsoft (MSFT) - Get Free Report announced in a blog post in April that it would provide technology products but not a cash donation to the Republican convention. It said it is providing access to similar technology to the Democrats as well as "some sponsorship" of host committee activities.
Numerous other entities have faced pressure to dump a Trump-led convention, including AT&T (T) - Get Free Report , Xerox (XRX) - Get Free Report and Adobe (ADBE) - Get Free Report . Facebook (FB) - Get Free Report and Alphabet (GOOGL) - Get Free Report have dugin their heels and will sponsor the event despite calls for them to back away.
Wells Fargo, Walgreens Boots Alliance Facebook and Alphabet are holdings in Jim Cramer's Action Alerts PLUS Charitable Trust Portfolio. See how Cramer rates the stock here. Want to be alerted before Cramer buys or sells WFC, WBA, FB or GOOGL? Learn more now.
Rashad Robinson, executive director of ColorOfChange, one of the groups leading the charge for companies to dump Trump, in an interview with TheStreet last month called Alphabet's decision "deeply disappointing" for a company that focuses so much on diversity.
"Black Lives Matter protestors are assaulted, and you have a presidential candidate offering to pay for the legal defense of these violent attackers. And you have Google and Facebook throwing him a party," he said.
Some companies are still holding off on committing to the 2016 Republican National Convention, Lauer said, noting that there are some components that usually tend to kick in closer to the convention date. "We're focused on closing the conversations that are taking place and raising the last $6.5 million to make it a great convention here in Cleveland," she said.
Full disclosure of who does and does not sponsor the Republican and Democratic events won't come until the events are over. Federal Election Commission filings outlining donations aren't required until 60 days post-convention.