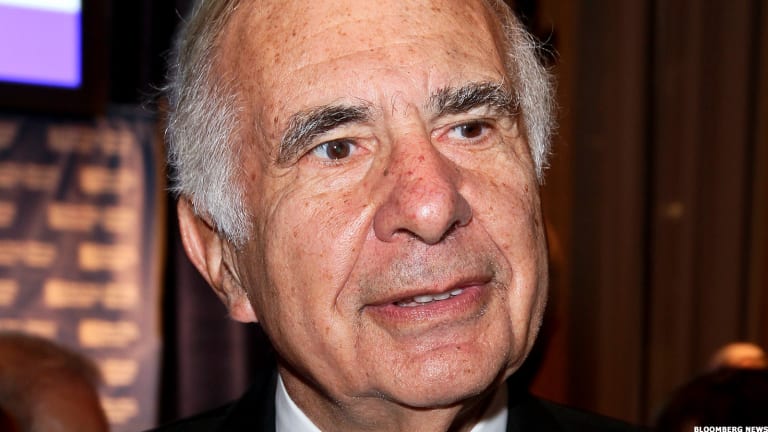 Warren, Democratic Senators Request Probe of Possible Insider Trading by Trump Adviser Icahn
The lawmakers asked three regulators to investigate whether the billionaire activist violated insider trading or other laws in the wake of his "actions in the market for renewable fuel credits."
A group of eight Democratic lawmakers including Sen. Elizabeth Warren on Tuesday demanded a probe into billionaire corporate raider-turned-activist investor and President Trump adviser Carl Icahn's activities in the U.S. biofuel market, focusing on possible insider trading.
"We are writing to request that your agencies investigate whether Carl Icahn violated insider trading laws, anti-market manipulation laws, or any other relevant laws based on his recent actions in the market for renewable fuel credits," the senators said in a letter to the heads of three regulators on Tuesday.
Specifically, the Massachusetts Democrat and the other lawmakers point out that Icahn, as an unpaid adviser to Trump, recommended personnel and policies that they assert caused the price of renewable fuel credits to drop.
The investments resulted in a $50 million turnaround from Icahn's initial investment, the senators alleged in their letter. Icahn's office did not return a request for comment.
At the center of their concerns is Icahn's majority control of CVR Energy (CVI) - Get CVR Energy, Inc. Report , an oil refiner that has a significant interest in the renewable fuel credit market. CVR Energy's shares were down slightly Tuesday afternoon on the news of the letter, trading down 0.04% at $22.28 a share.
The letter was made out to Commodity Futures Trading Commission chief Christopher Giancarlo, Securities and Exchange Commission Chairman Jay Clayton and Environmental Protection Agency head Scott Pruitt, all Trump Administration appointees.
The letter wasn't bipartisan, so it is unclear whether the Trump-installed agency chiefs would take any actions in the weeks and months ahead. It is possible that Warren and the Democrats could escalate their efforts in the coming months if no action is taken by any agency. Warren had previously argued that Clayton's predecessor as SEC chair, Mary Jo White, should be fired over concerns that the agency hadn't moved forward with a political spending disclosure rule. If no investigation is undertaken on Icahn, it is very possible she could urge the Trump Administration to oust Clayton and other SEC chiefs. 
The Democratic letter follows a similar missive sent out by a group of seven Democrat senators in March to Icahn, arguing that the billionaire corporate-raider turned activist may be breaking federal conflict of interest laws because of his position as special adviser to the Trump administration for overhauling federal regulations.
President Donald Trump tapped Icahn for the role in December, arguing that he's "one of the world's great businessmen" and "not only a brilliant negotiator but someone who is innately able to predict the future especially having to do with finances and economics."
However, the role has raised questions among Democrats, some of whom have been arguing for weeks that Icahn's ownership of specific companies and stakes, in Herbalife International (HLF) - Get Herbalife Nutrition Ltd. Report  and Bristol-Myers Squibb (BMS) - Get Bemis Company, Inc. Report , in addition to CVR Energy, for example, raises "alarming" questions about how the billionaire investor is handling his conflicts of interest.