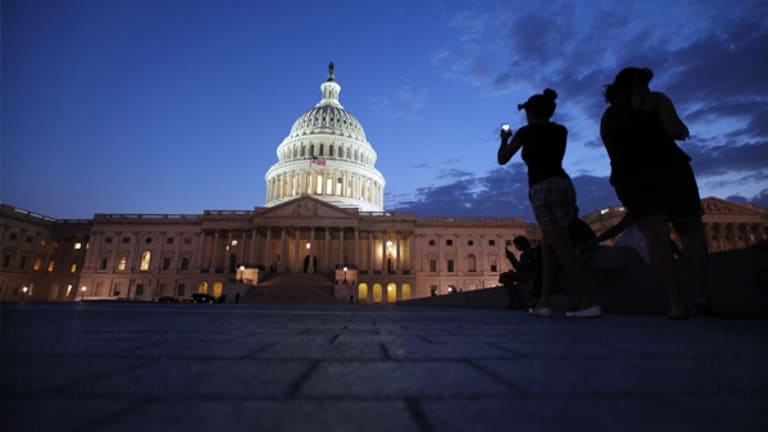 Wanted: Secretary of the Treasury
The financial meltdown on Main Street and Wall Street requires that the next president choose a Treasury Secretary with a steady hand in crisis and a strong understanding of complex financial instruments.
The
on Friday faces another vote on the $700 billion financial-rescue bill, which the
approved overwhelmingly Wednesday night.
If the plan were to pass, it would authorize broader power to the Secretary of the Treasury, who will then be in charge of hundreds of billions of dollars to purchase toxic debt for the newly created Troubled Asset Relief Program (TARP). But 2008 is an election year, and the cast of players on Capitol Hill will soon change.
The next president's administration will inherit the current financial crisis. As the economy continues to weaken, tight credit markets could further hamper business growth for months if not years to come. Thus, choosing the next Secretary of Treasury -- the president's top financial adviser, manager of public debt and formulator of fiscal policy -- will prove a critical decision for the president-elect on Nov. 5.
What qualifications should the next Treasury Secretary have? Bill Gross, famed bond fund manager for Pimco, offered a profile of the ideal candidate in
Financial Week
:
"The next Treasury secretary should be like a thoroughbred horse with the following lineage: one-fourth statesman to be able to navigate congressional rapids in ensuing years, as well as explain developments to the American people; one-fourth mathematician to be able to compute the cost of the rising federal deficit and its effect on the dollar and interest rates; one-fourth economist to be able to diagnose the state of the U.S. economy and the required level of stimulation to keep it above water and return it to positive real growth; and one-fourth horse trader to be able to understand the financial markets and their complexities and be able to recommend appropriate solutions."
Someone who fits Gross' list of credentials would make Wall Street happy and instill confidence in the financial markets. However, Gross left out a key point that many on Main Street might want: a reformer.
discussed the growing complexities of the market in a recent op-ed piece for
The Financial Times
:
"Because of a greater regulation of banks, most financial intermediation in the past two decades has grown within this shadow system whose members are broker-dealers, hedge funds, private equity groups, structured investment vehicles and conduits, money market funds and non-bank mortgage lenders."
All of these entities act like banks but skirt the regulations placed on banks. The current financial crisis and past ones -- such as Long Term Capital Management in 1998 -- demonstrate the necessity for regulating obscure financial derivatives such as credit default swaps.
McCain's Possible Short List
Sen. John McCain (R., Ariz.) has expressed on various occasions that the economy isn't his strong suit. Over his career, he has repeatedly voiced support for deregulation of Wall Street, that is until he changed his tune with the announcement of Treasury Secretary Henry Paulson's $700 billion bailout.
McCain believes in Paulson. Last December, he said: "But I do have some confidence in Paulson. And I'm glad to see him more and more active in this issue. But I'd love to give you a solution, but I don't know one." McCain could keep Paulson on the job. Not only has Paulson tried creative solutions, he has also proposed a plan for new regulatory structures for Wall Street. The only downside would be Paulson's perceived conflicts of being a Wall Street insider with his former ties to
Goldman Sachs
(GS) - Get Goldman Sachs Group, Inc. (GS) Report
.
Wall Street insiders often top the list for Treasury Secretary, however.
John Thain
, CEO of
Merrill Lynch
(MER)
is another possibility for the position. Thain was an early supporter of McCain, contributing the maximum donation amounts to both his primary and general election campaigns, according to the Center for Responsive Politics.
Thain certainly has the Wall Street experience. His performance at Merrill has been generally lauded. He steered his firm clear of the brink of disaster by removing much of the toxic debt from the balance sheet and maneuvered a
by
Bank of America
(BAC) - Get Bank of America Corp Report
.
Thain also was CEO of the
New York Stock Exchange
(NYX)
and made a fortune while at Goldman Sachs. However, his Wall Street experience could taint him as pick for the Treasury Department considering his hefty pay package at Merrill and money made at Goldman.
McCain's best choice could come from another current Bush appointee: Sheila Bair, chair of the Federal Deposit Insurance Corp. Bair has received rave reviews during her tenure at the FDIC. Despite the stress the FDIC has faced with both major and minor bank failures, Bair has coordinated several takeovers without a hitch. Her successes in this current crisis include
IndyMac
,
and most recently
(WB) - Get Weibo Corp Sponsored ADR Class A Report
.
Furthermore, Bair has served under both the Bush and Clinton administrations. She has worked at the NYSE, the Commodity Futures Trading Commission and the Treasury Department. Finally, she has a background in regulation, serving as a professor of financial regulatory policy at the University of Massachusetts.
Bair was ranked by
Forbes
as the second most powerful woman in the world. She would appear to be an excellent pick for McCain because of her genuine respect from both Democrats and Republicans.
McCain might want to steer clear of Phil Gramm. The former senator has become infamous in this campaign for his comments about a mental recession and has a highly partisan record on Capitol Hill.
Obama's Possible Short List
Sen. Barack Obama (D., Ill.) has consistently run on a message of change and crusaded against the influence of lobbyists and corporate insiders. For him to be effective in Washington, he must continue on this course if he were to become president. This might obviate some choices for Treasury Secretary who would normally be top choices.
In the last two decades, it seems Goldman Sachs has had its hand in the Treasury Department with Paulson and before him Robert Rubin. The most prominent Democrat with ties to Goldman would be New Jersey Governor Jon Corzine. He also served New Jersey as senator for six years.
Corzine knows a little something about financial crisis. During the Long Term Capital Management crisis in 1998, he headed Goldman. He played an important role in the negotiations and resolution of that crisis, which also included the New York Federal Reserve and Warren Buffet, et al. He left Goldman abruptly after the crisis concluded.
Corzine made a fortune in Goldman stock after the company went public in 1999. Again, his Wall Street ties may keep Obama from choosing him. Moreover, it's unclear whether Corzine would want the job. He is accustomed to being in charge after serving as a CEO and now as governor.
Another prominent Democrat with Wall Street ties is Roger Altman. Altman has experience as an investment banker at
Lehman
, a VP at
Blackstone Group
(BX) - Get Blackstone Group Inc. Class A Report
, and he presently heads
Evercore Partners
(EVR) - Get Evercore Inc Class A Report
. He also served as Assistant Secretary of the Treasury under President Clinton.
Altman may be overlooked for two reasons. First, he was an adviser to Sen. Hillary Clinton (D., NY). Despite public appearances, the road has been rocky between the Obama and Clinton camps. Second, he has been a strong supporter of deregulation and run several firms benefitting from the "shadow banking" system on Wall Street. In a recent interview with
CNBC's
Maria Bartiromo, he commented on whether the current crisis could be avoided:
"No. Not anywhere near in its entirety. This was the type of speculative excess we see periodically. We saw it in the dot-com bubble in the late '90s and in the S&L crisis in the late '80s and early '90s. It's the natural excess of markets."
Such opinions fail to jibe with the regulations Obama has proposed.
One name has often been mentioned as the top choice at the Treasury under an Obama administration: Timothy Geithner. Geithner has the requisite experience to head the Treasury after serving under both Rubin and Lawrence Summers. Despite being a Democrat, he was named to lead the New York Fed in 2003 by President Bush. He's also a vice chair and permanent member of the
Federal Reserve's
Open Market Committee.
Geithner has assumed the hefty responsibility carried by many former New York Fed chairs, like Gerald Corrigan, to comb through the books of major banks and avert crisis. He has been up to the challenge. He was criticized and then lauded for his actions earlier this year in resolving the
Bear Stearns
crisis, where he aided in negotiating that firm's sale to
JPMorgan
(JPM) - Get JPMorgan Chase & Co. (JPM) Report
, mitigating much of the crisis.
Not only is Geithner seen as free of Wall Street ties, but as
Robert Kuttner
wrote in the
American Prospect
, he's respected for his interest in greater regulation. Geithner said at the New York Economic Club that regulators "need to make it much more difficult for institutions with little capital and little supervision to underwrite mortgages."
The troubled economy and the expanded power of the Treasury require a strong selection for the job. The preferable candidate should have both the appropriate understanding of the world economy to steer our way out of the crisis and the gravitas to demand sufficient regulatory change to keep clear of future crisis.