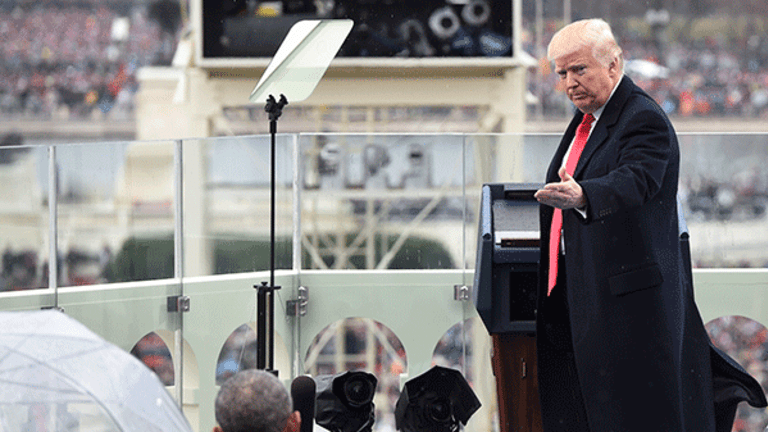 Why Investors Now Have President Trump on a Short Leash
He has to deliver.
Editors' pick: Originally published Jan. 20.
If Donald Trump wants to keep the market rally going past his inauguration, he's going to need to do a lot more than tweet.
Trump's proposals for tax reform, infrastructure spending and deregulation have been cause for enthusiasm on Wall Street. The Dow has rallied nearly 1500 points since Election Day, and the Nasdaq and S&P 500 indexes kicked off 2017 hitting all-time highs. But investors have cooled on the Trump rally in recent days. The S&P 500 has declined about 10 points this week, and the Nasdaq has fallen more than 33 points. The Dow, which just two weeks ago came within 0.37 points of hitting the 20,000-mark, closed the day Thursday at under 19,750.
The message from Wall Street is clear: Trump will be on a short leash and tight timeline to show progress once he's in the Oval Office and keep investors happy.
"Investors are hungry for results right away," said Jack Ablin, chief investment officer at BMO private bank.
Once he's in office, Wall Street analysts and traders give Trump varying timelines to show he's advancing on his campaign trail promises that would boost the economy and improve earnings.
Dick Bove, an analyst at Rafferty Capital Markets with five decades of experience, said the timeframe could be as tight as a month.
"[Investors] are going to want to see something within the next 30 days which indicates that the programs to stimulate economic growth are in fact being put in place," he said.
Ablin said he expects early indicators in March. "The quarter's earnings results," he said. "We'll have to see if investors are getting what they expect."
Greg Daco, head of U.S. Macroeconomics at Oxford Economics, was more lenient in his allotment.
"If we get the right sense of momentum, then I think investors and commentators in general will have a better sense of direction. But if we don't, after 100 days, then we will see some pretty substantial corrections from stocks, yields and probably the dollar, too," he said.
The Trump administration will reach the 100-day mark on April 29, just ahead of the "sell-in-May" mark.
"Unless they can get some assurances that the hype that they bought into right after the election and early in the New Year is justified, I think investors might take their profits and run," said Sam Stovall, chief investment strategist at CFRA Research.
U.S. markets have rallied during the first 100 days of every new president since the Kennedy administration, with the exception of Jimmy Carter and George W. Bush, who saw the S&P 500 decline.
Trump at his inauguration 
Rich Barry, senior director and trading floor governor of the New York Stock Exchange, gave the most generous timeframe for Trump to deliver to investors.
"You've got to give him some time to get going. If we don't start seeing something around September, the end of summer, people will get a little nervous, and we might see the market get hit by that," he said.
The takeaway: investors want progress this year.
As to where Wall Street will be looking, taxes will be the main point of focus. Trump and Congressional Republicans have promised major tax cuts and an overhaul of the corporate tax code, which investors hope will boost the economy and spur earnings growth.
The president-elect huddled with House Speaker Paul Ryan and advisers Steve Bannon, Jared Kushner, Steve Mnuchin, Reince Priebus and Gary Cohn on Monday to discuss tax reform. Border-adjustability, a measure that essentially subsidizes exports and taxes exports, was among the items discussed, Bannon told Reuters.
"That really has the potential of creating big winners and big losers," Ablin said.
Infrastructure will also be in the spotlight. Trump campaigned on a trillion-dollar infrastructure spending bill, and his election-night promise to rebuild American infrastructure is often attributed as a major factor in the market's positive reaction to his win.
Trump has not publicly commented about infrastructure spending plans since November, and perhaps for good reason: paying for it won't be easy.
"Look, we don't have the details," House Transportation Chairman Bill Shuster told Politico in December, adding he is working with the Trump's transition team to figure out a scheme that is "fiscally responsible."
"Investors are expecting some real forward push on reducing taxes to the 25% level or lower and coming up with some sort of an infrastructure spending plan that will improve our roads, bridges, tunnels and airports without adding dramatically to our debt level," Stovall said. As to whether that's realistic, he added, "That's what remains to be seen."
Trump speaks to the nation
Repealing the Affordable Care Act appears to be Congress' primary item on the agenda thus far, and Trump, too, says he is eager to repeal and replace the legislation. Though it have major implications for companies in the healthcare sector, but for the broader markets, it's not the major change they're expecting.
"Maybe some health investors care about it, but who cares about it in terms of institutional investors?" Bove said. "Healthcare reform is not what got the stock market moving, and neither did bank reform, and neither did intelligence agencies or these threats from the Iranians or the Russians or the North Koreans."
Trump's tweets targeting companies like Lockheed Martin (LMT) - Get Free Report , Boeing (BA) - Get Free Report and General Motors (GM) - Get Free Report have temporarily tanked single stocks, but the real estate magnate's social media habits don't have Wall Street as enthralled as some reports might suggest.
"Real economic data is going to have more impact than a tweet," Barry said, adding traders are "more amused" by Trump's Twitter habits than anything.
The consensus: Trump will need to quickly and continually show progress and, eventually, results in order to keep the Trump rally going. The markets' reaction to his Trump Tower presser show investors are paying attention.
"If we don't start to see right after the inauguration some movement towards a package as promised, then there's rapidly going to be a sentiment of unnerve from the investor community, because they have banked, essentially, on all the positives so far and very little of the negative," Daco said.
Trump will obviously have to avoid wading into major disasters, too.
"As long as he doesn't get crazy, I think we're good," Barry said.