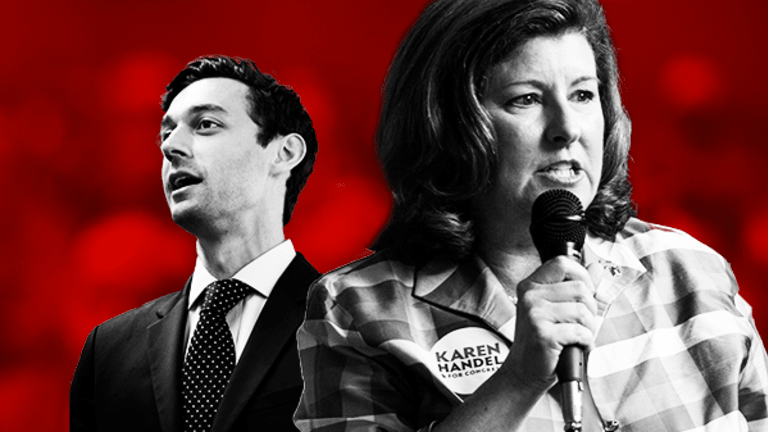 Wall Street Weighs What Georgia Results Mean for GOP Agenda
Georgia voters threw a curveball on Tuesday, delivering Republican Karen Handel an unexpectedly handy victory over Democrat Jon Ossoff in a Congressional special election.
Georgia voters delivered Republican Karen Handel an unexpectedly handy victory over Democrat Jon Ossoff in a Congressional special election, the fourth straight special election loss for Democrats since Donald Trump won the presidency.
Handel won 51.9% of the vote compared to Ossoff's 48.1%, according to The New York Times, and will assume the House of Representatives seat vacated by Health and Human Services Secretary Tom Price. The result of the race -- the most expensive House contest in United States history -- is a demoralizing blow to Democrats, who have also came up short in races in Kansas, Montana and South Carolina. While candidates have come close to winning - the South Carolina election, also on Tuesday, wound up being surprisingly narrow -- they have yet to eke out a win.
Cowen analyst Chris Krueger digested the Georgia results in a note on Wednesday, pointing out that Democrats need more than an "anti-Trump primal scream" following the party's fourth loss in a row but anticipating the "Herbal Tea Party" -- the left's version of the Republican Tea Party movement -- will continue to rise.
"Expect [a] circular firing squad in [the] Democratic Party -- with [a] continued lurch to Left as [the] Herbal Tea Party gains momentum with autopsies on race highlighting Democratic candidate's lack of progressive credentials," Krueger said.
Democrats poured more than $30 million into the Georgia Sixth District race, only to see their candidate lose by about 3.8 percentage points. The sleeper South Carolina Fifth District race to occupy the seat vacated by Office of Management and Budget Director Mick Mulvaney, on the other hand, saw just a 3.2-point gap between Republican Ralph Norman and Democrat Archie Parnell.
"That's gonna leave a mark," Krueger said.
Wall Street analysts offered varying opinions on Wednesday as to what the Georgia results will mean for the legislative agenda, even as U.S. markets largely shrugged off the results, opening marginally higher.
Krueger said Georgia could taper GOP anxiety on the American Health Care Act, the Obamacare repeal-and-replace effort currently making its way through the Senate.
A Morning Consult/Politico poll released on Wednesday found that just 35% of respondents approve the AHCA. Conversely, 50% disapprove the legislation. Despite the bill's unpopularity, Senate Majority Leader Mitch McConnell (R-KY) has indicated he plans to vote on it before July 4.
Compass Point's Isaac Boltansky in a note held a Democratic win would have pushed Republicans to move the ball forward on tax reform "as political concerns could have catalyzed a strategic shift away from [healthcare] to taxes." House Speaker Paul Ryan (R-WI), Treasury Secretary Steven Mnuchin and Vice President Mike Pence on Tuesday all renewed calls to tackle tax reform before the end of 2017.
Boltansky said Handel's victory "simply maintains the current legislative landscape," in other words, continued work on healthcare and tax reform efforts surfacing in the fall.
Republicans are on track to win all five special elections in Republican-held districts this year, including the November race to replace Jason Chaffetz in Utah, Height Securities said in a note on Wednesday. For those comparing the Russia investigation to Watergate, there is some historical departure. "Democrats swept a handful of special elections in 1974, presaging Richard Nixon's downfall stemming from the Watergate scandal," analysts wrote.