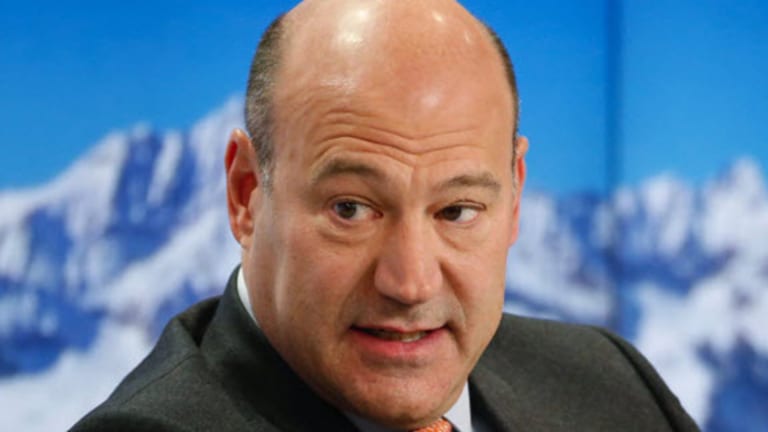 Wall Street Weighs Prospect of One of Its Own as Fed Chair
What would it mean to have a former Goldman Sachs executive as head of the Federal Reserve? We may soon find out.
What would it mean to have a former Goldman, Sachs & Co.  (GS) - Get Goldman Sachs Group Inc. (The) Report executive as head of the Federal Reserve? We may soon find out.
Gary Cohn, director of the National Economic Council and former president and COO of the Manhattan-based investment bank, is President Donald Trump's top candidate to replace Janet Yellen at the Fed, Politico reported Tuesday evening, citing four people close to the process. Wall Street on Wednesday weighed the implications of having one of its own at the helm of the United States central bank.
Watch:Who Is Gary Cohn?
Cohn wouldn't be the first Fed chair to come from a business background. Truman appointee Thomas McCabe was an industrialist whose only previous central banking experience was director of the Philadelphia Fed. Carter pick G. William Miller came from a corporate background as well, though he remained at the body only a little over a year. Bill Dudley, current president of the Federal Reserve Bank of New York, is a Goldman alumnus.
"We've had Wall Street transplants running regulatory agencies for a while, and they've done an admirable job in their roles," said Jack Ablin, chief investment officer at BMO Private Bank.
In fact, having a Wall Street insider as Fed chair may have considered an asset in the past. "Neither Ben Bernanke nor Janet Yellen had a Rolodex on Wall Street," Ablin said. But post-financial crisis, having insider status may carry more negative connotations. "It's unlikely we're going to make the same mistake two times in a row. I'm not convinced that having a Wall Street insider at the helm of the Fed adds a lot of value," he added.
Watch:Goldman Sachs Alumni Aren't Just in the Trump Administration - They're Everywhere
Cohn, 56, does not have a track record on monetary policy but is viewed as a pro-growth figure who generally prefers gradual rate hikes.
"He will still be tilting towards the more dovish side of things, similar to Fed Chair Yellen, and will be patient with regards to any rate hikes, considering a lot of the Trump agenda is made a lot easier with low interest rates," Mark Heppenstall, chief investment officer at Pennsylvania-based Penn Mutual Asset Management
But it's unlikely his confirmation hearing would be smooth sailing. His ties to the banking industry could sound alarm bells among Democrats, and dovish leanings could generate resistance among hawkish Republicans. His background as a Democrat who favors free trade could irk economic nationalists.
And perhaps most problematic would be the perception is that he is too close to Trump. Cohn is currently one of the central figures in Trump's orbit, and the president has shown a willingness to reach out to agencies that are intended to be independent (for example, James Comey at the FBI).
"It's less of the Wall Street side and more of the Trump insider status," said Ablin. "We heard candidate Trump constantly complaining about the Federal Reserve and how it's influencing things, and so perhaps having a Trump confidant at the Fed could impair its perception of independence."
Arthur Burns, Fed Chair under Richard Nixon and Gerald Ford, was perceived as being influenced by politics. "More than anything, he defined the role as subservient to the president," Wharton financial historian Peter Conti-Brown recently told TheStreet.
But Cohn has a generally good reputation. "He seems like a straight shooter," said Heppenstall. "The spotlight on the Federal Reserve is such that it's going to be very hard for him to do anything that wouldn't be appropriate when the sun is shining on it."
Cohn at the head of the Fed might be generally positive for monetary policy, in Wall Street's eyes, it may be a negative for tax reform, said Compass Point Research analyst Isaac Boltansky in a note on Wednesday. Cohn and Treasury Secretary Steven Mnuchin are heading the White House's efforts to enact a major overhaul of the U.S. tax code, and Cohn's exit to the Fed could be a bad sign on that front.
"Assuming a regular nomination timeline, the White House should aim to announce its Federal Reserve Nominee in October, which would provide sufficient time for confirmation in advance of Dr. Yellen's term as chair ending in February," Boltansky wrote. "Legislative tax reform efforts will still be in the early stages this fall and if Mr. Cohn is taken off the board as a nominee, the White House would lose a powerful force in the conversation."
The dynamic could be mitigated if Yellen agreed to hold her post past its February expiration to give Cohn extra time to complete tax reform efforts.
"Our sense is that the market would view Mr. Cohn taking the helm at the Federal Reserve positively, but that enthusiasm would likely be short-lived as Wall Street digests the impact of losing the Trump administration's fiscal field general and a steadfast voice of reason in the West Wing," Boltansky wrote.
More of What's Trending on TheStreet
Ford Has a 23-Year-Old Whiz Kid Helping to Shape Its Future
10 Skinny Wallets to Help You Forget You Spent All Your Money on Amazon's Prime Day