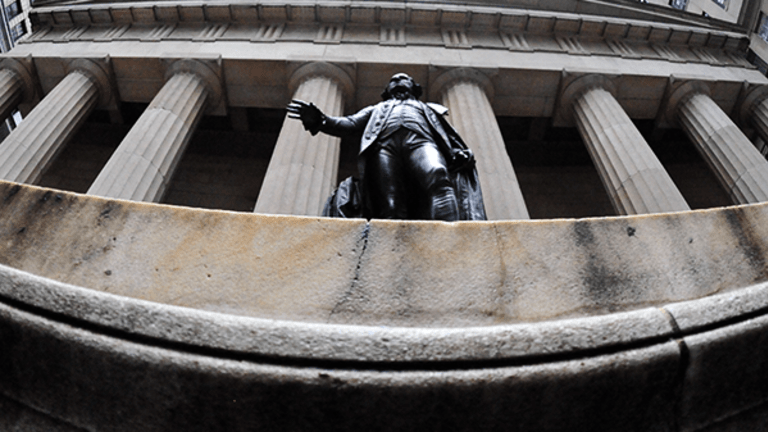 Wall Street Spent $2 Billion on Election 2016
Wall Street has been doing some big-time election spending.
Editors' pick: Originally published March 7.
Wall Street has been doing some big-time election spending.
The financial sector spent more than $2 billion in the 2015-2016 election cycle, according to a new report from Americans for Financial Reform, a progressive nonprofit advocating for financial reform. The findings, first reported by Politico's Ben White on Wednesday, indicate Wall Street spent more than $2.7 million a day in reported expenditures on campaign contributions and lobbying. It works out to $3.7 million per member of Congress.
"The entire apparatus of government operates in an environment flooded with millions of dollars in Wall Street cash on a daily basis," said Lisa Donner, executive director of Americans for Financial Reform, in a release announcing the 62-page report that details the spending of 460 financial sector companies and trade associations.
The financial sector is the largest contributor to federal candidates and parties and the third-largest spender on lobbying.
Individuals and entities associated with the financial sector gave $1.2 billion in federal candidates during the latest election cycle. Of the nearly $700 million in financial sector contributions from individuals and PACs, 55% went to Republicans and 45% to Republicans.
Marco Rubio (R-FL) appears to be Wall Street's favorite Congressman. The Florida Senator who made an unsuccessful run for the Republican presidential nomination raked in $8.7 million from financial companies in the last election cycle. According to AFR's data, he was the top getter of donations from the securities and investments industry and from real estate.
It comes as little surprise Rubio is well-liked among Wall Streeters. Billionaire hedge fund managers Paul Singer and Ken Griffin gave millions of dollars to the pro-Rubio Conservative Solutions PAC during the GOP primary season.
The other top Congressional recipients of financial sector donations last election cycle were Ted Cruz (R-TX), who got $5.5 million, Chuck Schumer (D-NY), $5.3 million, and Rob Portman (R-OH), $4.2 million, in the Senate and Paul Ryan (R-WI), $5.7 million, and Kevin McCarthy (R-CA), $3.4 million, in the House of Representatives.
Financial companies spent almost $900 million on lobbying, behind the health sector, which spent $1.0 billion, and what the AFR defines as "miscellaneous business" companies and trade associations, a group that includes the U.S. Chamber of Commerce. There were more than 2,000 registered lobbyists working for the financial sector in 2015 and 2016.
The National Association of Realtors was the biggest spender on lobbying and contributions in the 2015-2016 election cycle, with their PACs and employees giving $118.6 million. Hedge funds were also major players, including Renaissance Technologies, which gave $53.5 million, Paloma Partners, $41.3 million, and Singer's Elliott Management $28.0 million. Michael Bloomberg's Bloomberg LP gave $25.5 million, and George Soros' Soros Fund Management $24.6 million.
Big banks gave as well. Individuals and entities associated with Wells Fargo (WFC) - Get Wells Fargo & Company Report contributed $14.8 million, with Citigroup (C) - Get Citigroup Inc. Report  spending $13.7 million and Goldman Sachs (GS) - Get Goldman Sachs Group, Inc. (GS) Report $12.4 million.
To be sure, there is nothing particularly nefarious about Wall Street's political contributions. Individuals are permitted to give up to $2,700 to a federal candidate per election by the Federal Elections Commission and up to $5,000 per year to political action committees. Super PACs can accept unlimited contributions.
AFR notes that its data does not contemplate "dark money," contributions that are not required to be reported by law. In other words, the amount Wall Street is spending is likely higher.