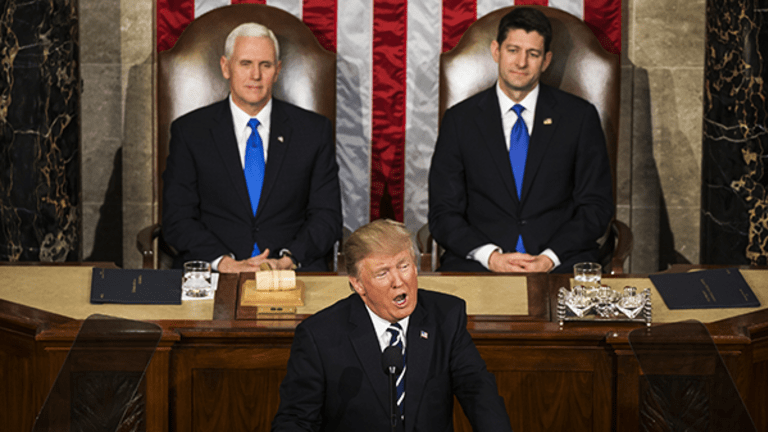 Wall Street Slump May Be Overreaction to Trump
If Wall Street appeared to overestimate Trump's ability to get things done previously, are they underestimating them now?
U.S. stocks have tumbled in recent days on concern President Trump won't be able to deliver on his ambitious agenda, much as they soared in the wake of his election as investors discounted how difficult it is to maneuver in Washington, no matter who is in charge. But if Wall Street investors overestimated Trump's ability to get things done previously, they may be underestimating him now.
"Optimism has unwound," said Joseph Gagnon, senior fellow at the Peterson Institute for International Economics who formerly served at the Federal Reserve and U.S. Treasury Department. "If anything, I think it's gone too far back down."
Capitol Hill Republicans' failure to strike a deal on health care reform has sown doubt among investors who see Friday's Obamacare repeal debacle as a forecast of what is to come on tax reform. Trump ran on a promise to enact a 15% corporate tax rate and 10% repatriation holiday, and House Republicans put forth a slightly less generous but still meaningful blueprint. Wall Street now appears concerned the tax cuts it's been banking on might not be coming.
The Dow Jones Industrial Average is down more than 600 points from its March 1 peak and on Monday marked its longest losing streak since August 2011. The S&P 500 last week posted its worst week since November.
Not all agree such pessimism is warranted.
"My sense is that the market may be underestimating the probability of tax cuts," said Gagnon.
Goldman Sachs analyst Alec Phillips in a note late Monday said the passing of some tax legislation still looks probable, though it's more likely to look like a tax cut than a comprehensive overhaul of the corporate and individual tax systems.
"The abandoned health vote was a clear political setback for the Trump Administration and congressional Republicans," he wrote. "However, we do not think it presents as much of a fiscal setback as some have argued, because the health bill and tax bill would have dealt with different aspects of the tax code and because it never seemed very likely that health legislation would produce much net savings."
Regardless of whether it's merited, markets certainly are reacting.
"People gave a certain credence to Trump's assertions, and now, I think the emperor's clothes have been removed," said Michael Klein, professor at The Fletcher School at Tufts University and founder of economics website EconoFact.
The health care failure isn't the first time Wall Street has responded to Trump, perhaps a bit too much.
Futures markets crashed on Election Night when it became clear Trump would beat rival Hillary Clinton, only to settle once he mentioned infrastructure in his victory speech. Stocks rallied the next day and through much of early 2017 as investors bet on the promise of tax reform and deregulation represented by Republicans in control of the House, Senate and White House.
Stocks wavered ahead of Trump's address to a joint session of Congress on February 28 on nerves over the direction of an administration bogged down by allegations of Russia ties, spats with the media and unruly Twitter habits. But when Trump delivered a gaffe-free speech, investors rewarded him, with stocks posting their best day of the year.
"Markets move on news, which literally means what's new," said Klein, who served as chief economist at the Office of International Affairs at Treasury from 2010-2011.
Deutsche Bank's Jim Reid in a note on Tuesday pointed out the market's fluctuations Monday could indicate the markets are relaxing into Trump and perhaps already pricing in the unlikelihood of some of his more radical policies.
"After a bad start to the U.S. session it felt like the market had its own sugar hit as the day wore on yesterday," he wrote. "Indeed whether you're shocked at the fact that the S&P 500 only fell -0.10% yesterday (after being as low as -0.94% intra-day) perhaps depends on how much you think Trump's most radical policies were priced into markets. There is an argument for saying that such trades weren't actually priced in much anyway."
Major U.S. indexes were in positive territory mid-morning Tuesday.