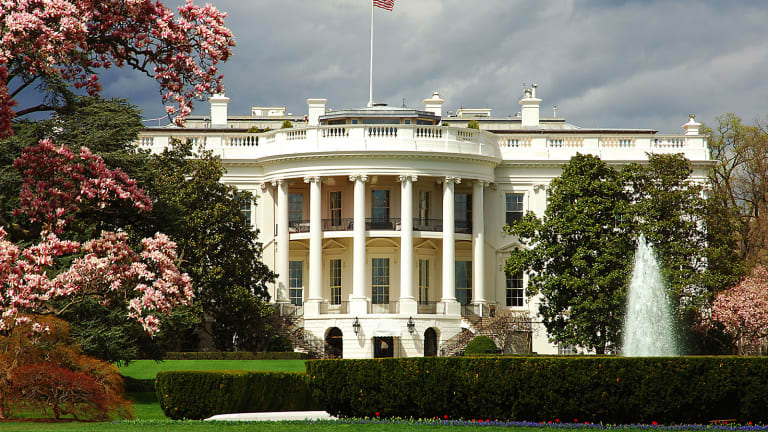 Amid an impending showdown over President Trump's border wall and funding the government, Wall Street thinks the odds of a shutdown come Saturday are slightly worse than the chances were that Trump would get elected.
The White House and Congress head back to work on Monday with just five days to strike a deal on a spending bill in order to avoid a partial government shutdown on April 29. Rhetoric has ratcheted up in recent days on the White House's insistence that money for a wall at the U.S.-Mexico border be included in legislation -- something Democrats say there's no way they'll agree to. 
Isaac Boltansky, an analyst at Compass Point Research, said in a note on Monday that the odds of a shutdown at the end of this week are 20%. "Our expectation is that lawmakers will clear a short-term extension this week and then pass a broader package in May that pushes the funding fight into the fall," he said.
Washington, D.C.-based Height Securities in a Monday note gave a shutdown this week slightly higher odds at 25% in a Monday note. That's in line with Alec Phillips at Goldman Sachs (GS) - Get Goldman Sachs Group, Inc. (GS) Report , who in a note last week said the chance of a shutdown on April 29 are about one-in-four.
"There is a risk of a partial federal shutdown, but we believe the risk is fairly low next week, rising slightly if the debate is pushed into May, and rising further still later this year," Phillips said.
Wall Street's odds on a government shutdown are in line with another marker: the betting markets. U.S.-based prediction market PredictIt has chances of a shutdown on May 1, the first weekday after the current spending bill expires, at 22%.
To be sure, an event having 25% odds doesn't mean it won't happen. Prior to the election, Nate Silver's FiveThirtyEight gave Donald Trump a 28.6% chance at beating Hillary Clinton.
PredictIt is also taking bets on whether President Trump will tweet the word "shutdown" by Wednesday. Thus far, he has avoided using the exact word, though he has been tweeting about the wall.
Former House Speaker Newt Gingrich in an appearance on ABC News' "This Week" on Sunday said he doesn't think Trump "worries a lot" about what might happen next Saturday.
"He's very patient strategically. He has enormous energy tactically," he said, adding that he believes Congress will pass a one-week extension on the current spending bill to buy themselves some more time. "They're all going to fudge around."
White House budget director Mick Mulvaney told Fox News' Chris Wallace on Sunday that the administration doesn't want a shutdown but does wants its priorities funded -- including the border wall. "We don't understand why the Democrats are so wholeheartedly against it," he said.
Trump may be able to get Democrats on board with increased spending on border surveillance, which would allow him to say he's upping security while at the same time avoiding the poison pill wall. Chief of Staff Reince Priebus hinted as much in an interview with NBC's Chuck Todd over the weekend.
"I think that as long as the president's priorities are adequately reflected in the [spending bill] and it allows us to get moving with an increase in military spending and a rebuilding of our military, as he promised in one of your bullet points, and there's enough as far as flexibility for the border wall and border security, I think we'll be okay with that," he said.
If lawmakers fail to reach an agreement, the government will begin a partial shutdown on April 29, Trump's 100th day in office.