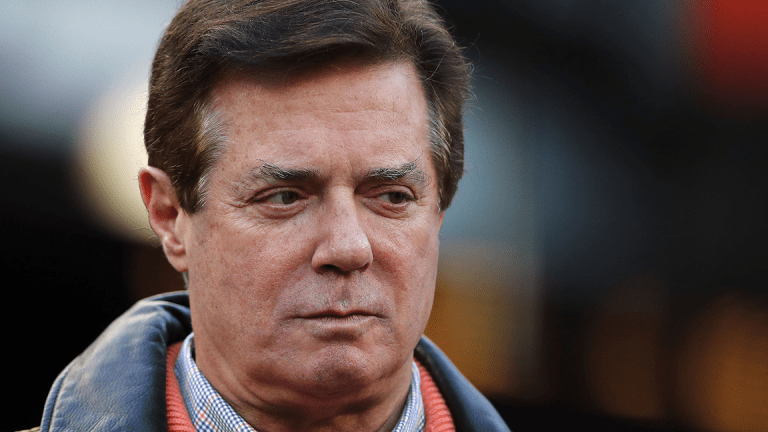 Manafort Indictment Draws Tepid Response From Wall Street
Wall Street is taking a cautious view of federal indictments handed out to Paul Manafort and Rick Gates on Monday.
What charges. 
Stock markets mainly ignored news that President Donald Trump's former campaign chairman, Paul Manafort, and an associate were indicted on federal charges that include conspiracy against the United States, money laundering and making false statements.
The Dow Jones Industrial Average fell less than 1 percent while the Nasdaq Stock market rose to a another record. The 12-count indictment against Manafort and his long-time associate, Rick Gates, mark the first criminal allegations to come from Special Counsel Robert Mueller's investigation into Russian meddling in the 2016 election and potential coordination between the Trump campaign in Russia. It remains unclear what the implications may be for the White House and the president himself.
Trump weighed in on the indictment on Twitter on Monday morning, distancing himself from Manafort and attempting to turn attention to Hillary Clinton and Democrats. Trump and his allies have spent time in recent days attempting to turn the spotlight to the Democrats following revelations that Democratic Party lawyers partially funded the now-infamous Trump dossier, a collection of 17 memos on Trump and Russia. The dossier's funding originated with Republicans.
"This latest announcement presents Trump with few good options, and it is certain to intensify the scrutiny on his business dealings, campaign, and personal ties as the nation moves closer to the midterm elections," wrote Height Securities analyst Trevor Hanger in a note.
Traders may focus on whether today's indictments could eventually lead to evidence that may implicate Trump, his son-in-law Jared Kushner, or other Trump allies, Capital Alpha Partners president Chuck Gabriel wrote in in a note on Monday. Gabriel also brought up the possibility that pressure from Republicans to shut down the Mueller investigation will grow.
Concerns have heightened that Trump might fire Mueller, as he did former FBI Director James Comey, or issue pardons for those charged, as he did former Arizona sheriff Joe Arpaio.
Mueller's office also announced on Monday that George Papadopoulos, a former Trump campaign aide, pleaded guilty earlier this month to lying to the FBI in January about his outreach to Russian officials.
Republican Senator Rob Portman (R-OH) when asked about those concerns by NBC's Chuck Todd on Sunday said he hopes Congress will encourage the Senate Intelligence Committee, which is looking into the Trump-Russia matter, and support the Department of Justice and Mueller.
"Let's let him get to the bottom of it," he said. "I mean, as you know, I've been involved in this issue with quite a while in terms of the disinformation that the Russians are doing, in terms of their meddling and every American should be focused on that."
Compass Point analyst Isaac Boltansky cautioned in a note on Monday that the Manafort-Gates indictment is likely just the beginning of an investigation that is far from over. "The Mueller investigation began over five months ago, but the average length of special prosecutor investigation[s] is three years, so history suggests that we are still closer to the beginning than the end," he wrote.
The indictment charges that Manafort, who spent five months on the Trump campaign, laundered more than $18 million to buy properties and services and Gates transferred more than $3 million from offshore accounts. It alleges Manafort used his hidden overseas wealth "to enjoy a lavish lifestyle in the United States, without paying taxes on that income" and that both men repeatedly provided false information to bookkeepers, tax accountants and legal counsel, among others.
Besides investigating Russian influence of the 2016 election and possible coordination, Mueller has also reportedly been investigating whether Trump obstructed justice in firing Comey.
The indictment arrives amid what may be an action-packed week for the White House, and could overshadow story lines the administration would rather highlight. Republican lawmakers plan to unveil their primary draft of tax legislation on Wednesday, and Trump has said he will announce his pick for Federal Reserve chair this week. He will travel to Asia at the end of the week, kicking off what will be his most important foreign trip as president yet.
"Any fresh questioning of the President might dilute his ability to sell tax reform at a particularly key juncture, i.e., as the GOP Hill majority tries to march in lock-step, in the House then Senate, to enact tax reform before year-end," Gabriel wrote.
More of What's Trending on TheStreet: