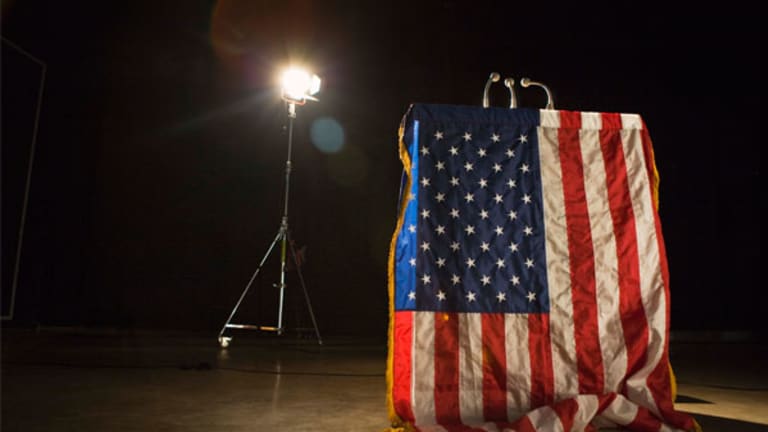 Wall Street Fixer Goes to Washington
From John Mack to Hillary Clinton, Tom Nides is an expert at making himself useful to powerful people.
NEW YORK (TheStreet)--To many members of Occupy Wall Street, the Tea Party, or others who believe Washington has been hijacked by corporate interests, the career of Deputy Secretary of State Tom Nides may not seem especially unusual.
As the most-trusted aide to then-CEO John Mack at
Morgan Stanley
(MS) - Get Morgan Stanley (MS) Report
and
Credit Suisse
(CS) - Get Credit Suisse Group AG Sponsored ADR Report
, Nides handled everything from renegotiating multimillion dollar pay guarantees to pushing for more generous maternity leave on behalf of the women who reported to him.
During the 2008 crisis, he helped convince the
Securities and Exchange Commission
to institute a temporary ban on short selling in the hope it would reverse a hair-raising decline in Morgan Stanley's share price, according to the book "Too Big To Fail." (Nides says the book exaggerated his role.)
Now Nides, 50, is effectively the chief operating officer of the U.S. State Department, reporting to Hillary Clinton, whose 2008 presidential campaign he helped finance. His biggest current project is managing the transition of U.S. troops out of Iraq, which Nides says is the largest such transition since the Marshall Plan in 1947. President Obama recently announced U.S. forces will be out of the country by the end of the year, as the State Department steps up its operations there.
The examples of high-powered careers combining government service and Wall Street money-making are bipartisan and far too many to count.
Goldman Sachs
(GS) - Get Goldman Sachs Group, Inc. (GS) Report
drew negative attention in 2008 and 2009 for its extensive network of government connections, though that doesn't stop Goldman from picking off the government's
best
and
on a regular basis.
For his former Wall Street colleagues, however, Nides is a bit of an anomaly. Wall Street and Washington are far too cozy for many people, but Wall Street's top executives don't see it that way.
Paul Taubman, who oversees Morgan Stanley's investment banking business and was an early supporter of Barack Obama's 2008 presidential campaign, describes the relationship between Washington and Wall Street as "more polarized than it's ever been."
"Tom is helping to show everyone that you can move even in the current climate from business into government and not have the scarlet letter on you," Taubman says. "I think the fact that he was so warmly embraced in D.C. notwithstanding the fact that he spent a long time on Wall Street gives hope to a lot of people that ultimately talented people can come back and serve their country."
Even before the 2008 crisis turned Wall Street bankers into public enemy number one, convincing the lords of finance to try their hand at government wasn't always such an easy task.
John Mack, now Morgan Stanley's chairman, says he was "approached" about a government position several years ago but turned it down.
Morgan Stanley's Chairman sent Domino's pizza to Nides' house on Yom Kippur.
"A few years later I said to the Vice President, 'Dick, I made the right decision, didn't I?' He said, 'absolutely.'"
Mack declined to say what the position was, though he told
TheStreet
in an
he would consider working in government in the future.
Mack points to former Securities and Exchange Commission chairman Harvey Pitt as an example of the dangers of leaving the private sector to work in government. Pitt lasted just 15 months as chairman and was forced to resign amid what
The New York Times
described as "a series of political missteps."
Mack, on the other hand, contends Pitt was an innocent bystander who got blown away by the fallout from the Enron accounting scandal.
"You think his reputation was enhanced or hurt going down there? I would argue it was hurt," Mack says of Pitt.
For his own part, Pitt writes via email that despite what he describes as "small-minded, politically motivated attacks," he believes his experience as SEC Chair has helped him in his career, though he originally took the job out of a belief that "public service is everyone's obligation."
Nides makes similar comments in explaining his motivation for taking the State Department job. Having been fortunate enough to make lots of money, he says he is a big believer in "giving back."
"Arguably I had one of the best jobs on Wall Street, and to leave there to come to the State Department? I don't need to be here to get my next job," he says.
It isn't likely to hurt, though. Taubman believes Nides wants to provide "a bridge between the public and private sectors," something that will make him a great asset to the private sector assuming he returns to business, which he says he would like to do.

"Increasingly, large complex organizations require senior executives to be able to navigate both worlds because they're so interdependent,"Taubman says.
Among Nides' responsibilities is attracting investment to Afghanistan and Iraq, as the U.S. tries to help put those economies on a stable footing. At a September gathering of U.S. and Indian chief executives including
JPMorgan Chase
(JPM) - Get JPMorgan Chase & Co. (JPM) Report
boss Jamie Dimon,
PepsiCo.
(PEP) - Get PepsiCo, Inc. Report
CEO Indra Nooyi,
Tata Group
Chairman Ratan Tata and
Honeywell
(HON) - Get Honeywell International Inc. (HON) Report
CEO David Cote, Nides gave a presentation on business opportunities in Afghanistan.
Deputy Treasury Secretary Neal Wolin says Nides' private sector experience is an important asset in this context: "Having some understanding of what the private sector is going to think and how are they going to react and what they're going to find attractive and enticing is an important thing and there aren't a lot of folks in government who can do that. That's an important capability that Tom has."
Morgan Stanley CEO James Gorman describes Nides as "a really caring guy."
While Nides is happy to see
Kate Spade
locating some production facilities in Afghanistan, he says business activity outside the mining sector is scarce.
"This is not Shanghai. We've got a little work to do," Nides says.
Nides is also "taking the lead on something that's very important to the President, which is how do we help the U.S. regain market share in tourism," according to Jeffrey Zients, Chief Performance Officer of the United States--a position in the Office of Management and Budget created by President Obama.
Zients says the U.S. global market share in tourism has fallen from 17% to 12%, in part because of backlogs processing tourist visa at U.S. consulates in places such as China, India and Brazil.
"Tom jumped on that, is deploying information technology, thinking through how to increase staffing, how to increase productivity overall and is having a measurable impact," according to Zients.
Nides' career trajectory is in large part a testament to his skill at navigating the complex web of social relationships to be found in any large organization. However, it is also a testament to the fact that, for the right person, at least--an entry level job in Congress or the White House can be at least as valuable as an Ivy League degree in getting to the top of corporate America.
Raised in Duluth, MN, Nides' mother was a school teacher. His father, who sold investments for
American Express
(AXP) - Get American Express Company Report
, ran into financial trouble at 60, having to "start over," as Nides puts it, when Nides was 10 years old. The youngest of seven children, Nides concedes he "didn't lack for attention." He had enough self-confidence as a teenager to secure then-Vice President Walter Mondale
as graduation speaker at his high school
.
U.S. Chief Performance Officer Jeffrey Zients says Nides is "taking the lead on something that's very important to the President, which is how do we help the U.S. regain market share in tourism."
After finishing college at the University of Minnesota, Nides helped out on Mondale's 1984 presidential campaign. He then went to work at the Democratic Congressional Campaign Committee for Tony Coelho, who later became majority whip in the House of Representatives. Nides moved up to working for former House Speaker Tom Foley, and then as chief of staff to U.S. Trade Representative Mickey Kantor, who says Nides played a critical role in getting the needed Congressional support for the North American Free Trade Agreement.
Nides then spent two years at
Fannie Mae
(FNMA.OB)
running human resources, before joining Mack, who had become a friend, at Morgan Stanley when Mack was a rising executive in charge of the firm's fixed income department.
Nides followed Mack to Credit Suisse and then in his eventual return to Morgan Stanley. During two periods when Mack was out of a job, Nides served stints at Fannie Mae and PR firm Burson Marsteller, where he was CEO for nine months.
While he never brought in revenues, Nides proved himself valuable enough at Morgan Stanley to earn several million dollars a year, including $9 million in 2010. His decision to join the government allowed him to receive a cash bonus of $8.25 million--more than five times that of CEO Gorman, who, like other executive officers named in Morgan Stanley's proxy, had to settle for the rest of their bonus in the form of a "long-term incentive award," that will be paid out over several years.
While on Wall Street, Nides was a top fundraiser for Secretary of State Clinton's presidential campaign.
According to regulatory filings, Nides earned $17 million from 2008 to 2010, three of the most difficult years the nation has seen in many decades. Was his contribution really worth that much? Will he concede that people on Wall Street are overpaid? His voice rises a couple of octaves as he searches for an answer.
"I've been very lucky, okay? I've been very fortunate. I think I've had good mentors. I think I've worked pretty hard; I think I'm a pretty honest guy; I think I've got decent values, but am I going to say
'Oh my God, I'm worth every dime everyone's paid me?'
That's ridiculous. None of these people are, including myself."
One former Wall Street colleague compares Nides to Winston Wolf, the "problem solver," played by Harvey Keitel in the movie
Pulp Fiction
, who helps a pair of assassins dispose of a bloody corpse in 40 minutes without so much as wrinkling his tuxedo.
Nides had his hands in everything from compensation to implementing strategy to interdepartmental disputes. "Any kind of sensitive personnel issue--Tom cleaned it all up," the executive says, "and no one ever knows he was there."
Nides' sense of humor endeared him to many people he has worked with, not least Mack, who describes a prank he once played on his trusted aide.
"In 2007 prior to the meltdown in '08 he came back from
Yom Kippur
he said 'You know my children drove me crazy, John. I'm fasting. You know they're young enough they don't have to but they're coming in, they're eating pizza in front of me, they're eating ice cream. They drove me crazy.'
Deputy Treasury Secretary Neal Wolin says Nides understands "what the private sector is going to find attractive and enticing"
"So next year, it happened to be during the crisis, he goes to
Yom Kippur
service and he's fasting and at 12 o'clock the doorbell rings and its Dominos pizza. And then for the next 8 hours I sent a pizza to him every hour on the hour," says Mack, who concedes that while Nides enjoyed the joke, other Jewish friends of his found it disrespectful, an effect Mack hadn't considered.
The transition of power at Morgan Stanley from Mack to James Gorman led to a promotion for Nides, and Morgan Stanley's newest CEO says Nides played a crucial role in helping the firm survive the 2008 financial crisis.
"During a financial crisis ordinarily those with financial expertise would drive themselves into the center of the debate and drive the debate. He was uniquely capable to put himself in the center and add value doing something when the main subject matter was actually not his forte," Gorman says.
Since Nides left Morgan Stanley, the two men remain in contact.
"One doesn't make many real friendships in business, meaning that they sustain long after you've left the firm you're at. It's just hard to do and I would regard Tom as being--it's just highly likely that we will stay friends through the rest of our lives," Gorman says.
Indeed, it is remarkable how many powerful people seem to have a soft spot for Nides, which is not to say there is anything remotely soft about him.
While at Credit Suisse, Nides helped broker negotiations in which star executives
famously gave back $421 million in bonuses
to help the Swiss bank recover from the bursting of the tech bubble.
"The first time I met Tom Nides it cost me and my partners $100 million, and I still like him," says Bennett Goodman, one of those star executives, who is now at the
Blackstone Group
(BX) - Get Blackstone Group Inc. Class A Report
.
"He's really good at disarming people and sort of charming them and then taking control," says Ambassador Patricia Haslach, Iraq Transition Coordinator at the State Department. "He's very impressive. I've never really worked for anybody quite like him."
Beyond stating a clear desire to return to the private sector, Nides claims he doesn't know what he wants to do next.
This claim is not entirely believable. Ask Kantor about Nides' future, and the former U.S. Trade Rep. is a bit more guarded.
"I literally wouldn't talk about that because we do discuss that," Kantor says.
Whatever it is, it will likely make Nides oft-repeated description of himself as "just a lucky kid from Duluth, Minnesota," sound even less plausible than it already does.
--
Written by Dan Freed in New York
.
Disclosure: TheStreet's editorial policy prohibits staff editors, reporters and analysts from holding positions in any individual stocks.