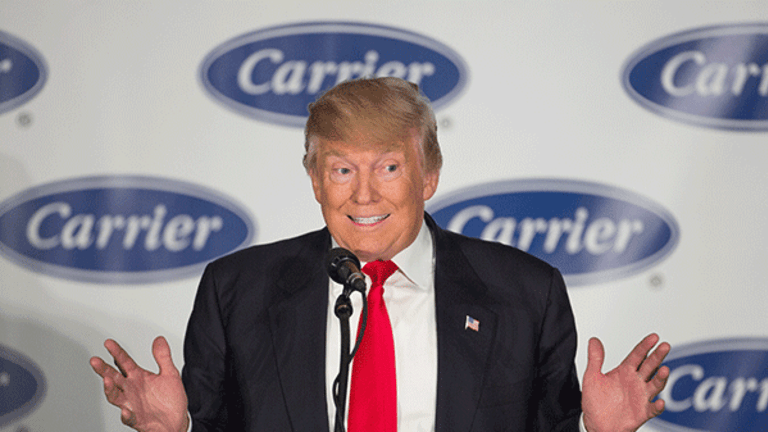 What to Expect From 5 of Donald Trump's Biggest Promises
Here is a look at the effect that the incoming administration could have on employment benefits, among several other things.
Donald Trump's victory in the presidential race came as a surprise to most political analysts and observers, and much is expected to change in the coming years with a Republican in the White House.
For the past eight years, significant changes have been difficult to implement as neither party held control. But the balance of power has shifted as Congress now has a Republican majority, which could lead to a dramatically different landscape for the economy and markets.
Below are a few topics, discussed during the president-elect's campaign, that could dramatically impact the housing and investing markets.
1. Employment benefits, taxes and wages. Trump advocated for increased employee benefits during his campaign.
As promised at one point during the campaign, the federal minimum wage of $7.25 per hour could rise to $10, though his choice for Labor Secretary, Andrew F. Puzder, has criticized the minimum wage. However, the decision will be left to individual states.
Trump plans to implement six-week paid maternity leave of $300 a week and guaranteed paid leave for new mothers. He has also called for a big tax break to reduce childcare costs by making them tax deductible and adding a new tax credit of $1,200.
Lowering individual taxes and simplifying tax codes are Trump's main priorities, aimed to stimulate the economy. He has proposed across-the-board income tax reduction for middle-income families and wants to increase the standard deduction to $30,000 for joint filers from $12,600 to ensure that families earning less than that would owe no income taxes.
Additionally, Trump has proposed reducing the corporate tax rate to 15% from 35% and has floated the idea of applying that lower rate not just to large corporations but also small-business owners.
Overall, the stock market is likely to endorse Trump's presidency and proposals once it recovers from the initial shock and period of uncertainty. His plans to construct an accommodating regulatory environment, focus on small business, improve trade agreements, lower taxes and secure borders bodes well for the economy, sustaining low inflation and increasing job opportunities.
2. Government-sponsored enterprises and the U.S. housing market. The Federal Housing Finance Agency is an independent federal agency responsible for regulating GSEs such as Fannie Mae and Freddie Mac. Fannie and Freddie are the dominant players in the mortgage industry and can benefit the market by making affordable credits more available to qualified borrowers.
Trump and other Republicans lean toward privatizing GSEs.
3. Interest rates and the Federal Reserve. It is no secret that Fed Chief Janet Yellen isn't a favorite of Trump's. Despite his criticism of her during his campaign, the market thinks that she is committed to raising rates.
The Fed recently raised benchmark rates for the second time in a decade. By doing so, the increased federal funds rate will raise credit card and mortgage rates as well.
With rising rates, the stock market typically shifts to a slightly less attractive place for investing. Investors are likely to favor bonds over risky investments, as bonds have always been considered safe havens during times of crisis.
As a result, bond yields will likely remain low in the near future.
As for fiscal policy implementation, Trump's proposals, such as infrastructure investment, reducing corporate tax rates and simplifying the tax code are thought to be beneficial for bonds.
4. Making America great again. This was one of Trump's campaign slogans, but the nation is sharply divided and in need of healing and unity more than ever.
He promises a great deal of change, and with that may come surprising results for the mortgage industry as well as others. Pay close attention to Trump's actions, as they will have an immediate and drastic effect on several industries.
5. Reform or repeal of the Affordable Care Act, the Dodd-Frank Act and the Consumer Financial Protection Bureau. Trump criticized all three during his campaign, and all are expected to be altered considerably or repealed altogether.
Trump said on Nov. 29 that he will nominate Tom Price as the Secretary of Health and Human Services. Price is a critic of the ACA and wants to abolish it. This mandate should happen quickly as premiums continue to rise and insurers begin to leave the marketplace.
Dodd-Frank is likely to be another law on the chopping block. Many Republicans dislike Dodd-Frank's complexity and regulations because they don't think that it is the solution to improving the financial system.
Another target of the dismantle efforts is the CFPB, created under Dodd-Frank in 2010 to impose new regulations on debt collection and mortgage-servicing companies, among others. It is likely that the new Congress will change the structure of the bureau.
This article is commentary by an independent contributor. At the time of publication, the author held no positions in the stocks mentioned.