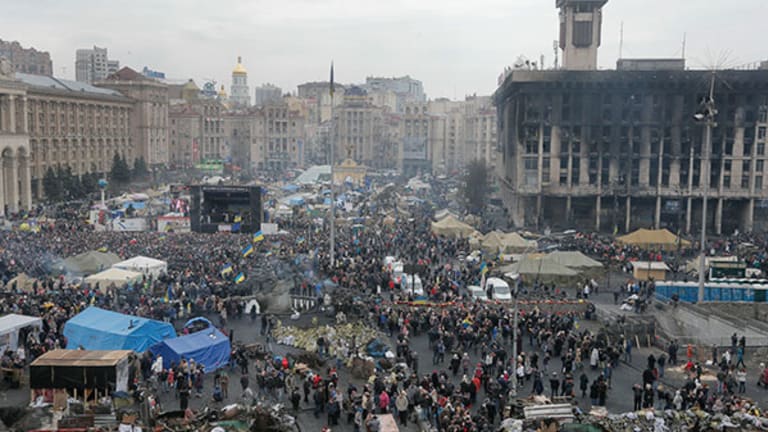 Ukraine Won't Become a Cold War Throwback
Despite the ongoing turmoil in Ukraine, experts say that the country is unlikely to become a cold war throwback where the U.S. and European Union face off against Russia.
This story has been updated from 3:09 pm EST on 2/27 with comments from American University's Keith Darden amid new developments in Ukraine.
NEW YORK (TheStreet) - The ongoing turmoil in Ukraine has prompted speculation about a potential flashpoint between East and West, particularly after Russian President Vladimir Putin began moving 150,000 troops into Western Russia, a stone's throw from Kyiv.
On Friday, the situation further escalated when armed men occupied the Sevastopol airport in the country's Crimea region. The Ukrainian government said the armed men were Russian naval forces even as Russia's Black Sea fleet, which is based in Sevastopol, denied its forces were involved.
The BBC reported that another airport in the regional capital of Simferopol, had also been occupied by armed men also thought to be members of a pro-Russian militia. Ethnic Russians form the majority of the population in Crimea.
Yet even as the situation in Ukraine grows increasingly tense, political observers said the country is unlikely to become a Cold War flash point.
"We will not see much of a Western response beyond the warning rhetoric that we already hear," wrote Joerg Forbrig, senior program officer at The German Marshall Fund, in an email to TheStreet on Thursday. The Berlin-based policy expert pointed to the brief conflict between Russia and Georgia in 2008 which saw Russia gain control of Abkhazia and South Ossetia.
"The Georgia example of 2008 should serve as reminder that there is little the West can and will do to shield its Eastern neighbours [sic] against Russian interference," Forbrig said.
On Wednesday, NATO defense ministers issued a joint statement vowing "to support Ukrainian sovereignty and independence, territorial integrity, democratic development, and the principle of inviolability of frontiers."
Months of civil unrest and increasingly violent confrontations culminated in last week's ouster of President Viktor Yanukovych. In November, Yanukovych had rejected a trade agreement with the E.U. in favor of closer economic ties with Russia, sparking a massive protest movement known as 'Euromaidan' centered on Kyiv's Maidan Square. Tensions, however, remain high between pro-European and pro-Russian factions within the country. On Thursday gunmen seized government buildings in Crimea.
The U.S. and E.U. will be closely watching how events in the Crimean peninsula unfold. The region is also of critical importance to Moscow thanks to the Russian naval base in Sevastopol.
Keith Darden, associate professor at the School of International Service at American University in Washington D.C., said that the west will be urging the Ukrainian government to show restraint.
"I expect them to urge moderation on the part of the central government in Kyiv," he explained, in an email to TheStreet late on Thursday. "Temporary periods of provincial autonomy are entirely tolerable, and the US and EU would do well to keep all sides from taking any extreme actions."
Darden, however, noted the potential challenges in Crimea, citing Ukraine's controversial abolition of a language law that allowed the country's regions to choose Russian as an official second language. "The cancellation of Ukraine's tolerant language law was a mistake that cannot be repeated in the government's approach to what is happening in Crimea," he wrote. "If Kyiv does not spark conflict, it will not happen."
The Marshall Fund's Forbrig will be watching to see whether events in Crimea will be mirrored in other parts of Ukraine with significant Russian populations.
"The key question will be if secessionist movements will be limited to Crimea or spread to other parts of the country," he wrote. "If Crimea 'only' is at stake, the West will do very little. If the problem spreads and threatens to tear apart Ukraine as a country, the West will be pressed to find stronger responses. After all, Ukraine borders four EU and NATO members."
Andrew Wilson, a senior policy fellow at the European Council on Foreign Relations in London, sees a return to a cold war scenario in Ukraine as unlikely. "We would have to make several mistakes in a long sequence to get there," he told TheStreet during a phone interview on Thursday. "It would take some mismanagement to fall all the way down that particular hole."
Wilson said that, with Ukraine moving towards planned elections, E.U. and U.S. political support is crucial given Russia's unwillingness to recognize the legitimacy of the new Ukrainian authorities. The expert notes that the E.U. and U.S have already sent a "dual message" to Russia about Ukrainian sovereignty, but must carefully avoid escalating the situation.
On Tuesday E.U. foreign policy chief Baroness Ashton pledged to support Ukraine's new leaders, and urged Russia to let the country move forward "in the way it chooses," according to Reuters.
Speaking at NATO headquarters in Brussels on Thursday Defense Secretary Chuck Hagel said that he expects other nations to respect Ukraine's sovereignty, the New York Times reports, and is closely watching Russia's military exercises.
The U.S., however, has avoided overtly confrontational rhetoric over Ukraine, says Jeffrey Mankoff, deputy director and fellow at the Center for Strategic and International Studies in Washington D.C. "The Obama administration has been talking about how there needs to be a solution that includes all the interested players, including Russia," he told TheStreet on Thursday.
Forbrig also notes that the ethnic Russian majority in Crimea will likely swing a referendum on the peninsula's future in Russia's favor, making a "classic" military intervention by Moscow less likely. This situation, however, may change if Ukraine's central government steps in to prevent secession and Crimea's fiercely anti-Russian Tatar minority opposes Russian ambitions, he added.
As well as a test of foreign policy, Ukraine also poses major economic challenges as it seeks $35 billion in foreign aid over the next two years. The E.U.'s Ashton provided no details about financial assistance during her visit to Kyiv this week, but said that Europe would work with the IMF, adding that the fund would make its own assessment of the situation.
"It's a political reality," said Mankoff. "Given the economic austerity in the E.U., there's no way that the member states could come up with a rescue package of the size that Ukraine needs - the IMF was the only way they could get at this package."
In a statement released on Thursday. IMF Managing Director Christine Lagarde said that the Fund is "ready to respond" and will send a fact-finding team to Kyiv in the coming days.
The Euro was up 0.73% against the dollar by mid-afternoon on Friday.
--Written by James Rogers in New York.
>Contact by Email.