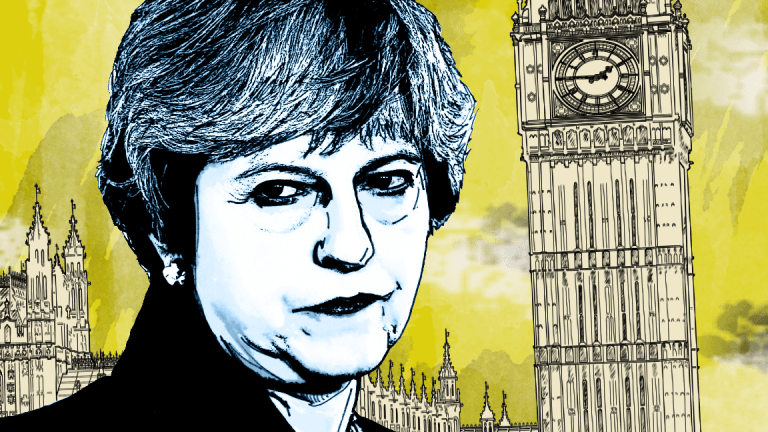 UK Prime Minister Theresa May Faces Leadership Crisis as Brexit Minister Resigns
British Prime Minister Theresa May could face a leadership challenge following the resignation of a key cabinet minister late Sunday that threatens to derail the government's already chaotic Brexit negotiations.
Enter crisis.
British Prime Minister Theresa May is facing her biggest political crisis since last year's general election following the shock resignation late Sunday of a key member of her government just hours after brokering a deal that designed to form a united front in the country's EU exit talks.
David Davis, one of the most senior lawmakers in May's cabinet and Britain's chief Brexit negotiator, abruptly resigned late Sunday, saying he could no longer represent the country's EU exit strategy in good faith. He will be replaced by former Housing Minister Dominic Raab.
Davis' departure came just 48 hours after an all-day crisis meeting at May's countryside retreat, known as Chequers, during which her cabinet appeared to agree a Brexit proposal that would have sought a trade relationship with Brussels based on some existing rules but enough freedom to negotiate new bilateral partnerships with economies around the world.
"In my view, this policy has got a number of weaknesses," Davis said in his resignation statement. "I would be front and centre in delivering this policy, explaining it to the House, persuading the House it is right, and then going out and delivering it with the EU."
"Frankly, just as it was known what the policy was, it was also known I had concerns about it. It would not have been a plausible thing to do and I wouldn't have done a good job at it," he added.
The pound, which fell 0.25% in early Asia trading following the Davis departure, has since stabilized against the U.S. dollar to 1.3345 as investors bet on the potential for a leadership challenge to Prime Minister May, which could come as early as today. Investors also see the prospect for a different approach to Brexit under either a new leadership or, in the case of a fresh general election, a new government. 
May has struggled for months to align the interests of her fractured Conservative party towards a united stance on Brexit, give that pro-Remain lawmakers wish to maintain access to the EU Single Market (which would demand the freedom of movement of people between the UK and the bloc) and those who wish to exit the EU entirely and cut new trade deals with the U.S. and China.
Friday's agreement was meant to address both of those concerns, but early indications from the meeting, which haven't been made public, suggest May's deal did little to satisfy either side, with the deal only allowing for partial access to the Single Market while at the same time essentially preventing the U.K. from brokering new trade deals elsewhere.
May's popularity with the broader public will also be tested this week by a controversial visit by U.S. President Donald Trump, who is set to arrive in London on Friday for a series of high-level meetings -- under tight security -- that include an audience with Her Majesty Queen Elizabeth II.
May is also running short in time, having triggered the so-called Article 50 mechanism last year which essentially gives the U.K. a "hard deadline" of March 2019 to leave the bloc, with or without a deal. EU officials have said they need details of Britain's exit strategy by October at the latest if they wish to meet the Article 50 deadline, and have consistently warned that major issues on trade, security and the fate of the 3 million-plus EU citizens living in the U.K. have yet to be resolved. 
U.K. businesses have also grown increasingly frustrated with the government's approach, which they say has created an atmosphere of uncertainty that has harmed investment and cast doubt over future business plans that could ultimately costs thousands of jobs.
Last week, Ralf Speth, the CEO of Jaguar Land Rover, said Britain's biggest carmaker urgently need "greater certainty to continue to invest heavily in the UK and safeguard our suppliers, customers and 40,000 British-based employees."
"A bad Brexit deal would cost Jaguar Land Rover more than £1.2 billion ($1.6 billion) in profit each year. As a result, we would have to drastically adjust our spending profile; we have spent around £50 billion in the UK in the past five years - with plans for a further £80 billion more in the next five," Speth said.