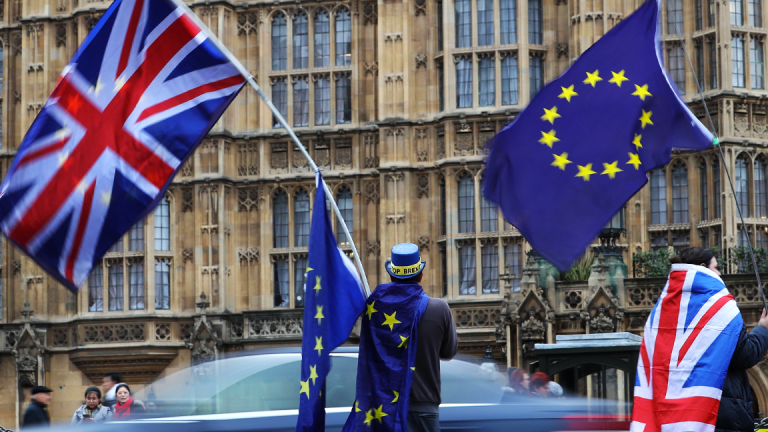 UK PM May Faces Brexit Showdown in Parliament as Economy Continues to Lag
UK Prime Minister Theresa May faces a series of votes in Parliament, starting Tuesday, that could either cement her leadership or trigger fresh elections as the country struggles to define its EU exit ambitions.
UK Prime Minister Theresa May faces a series of votes in Parliament, starting Tuesday, that could either cement her leadership or trigger fresh elections as the country struggles to define its EU exit ambitions.
U.K. lawmakers will vote on a series of amendments to the so-called "Brexit Bill" Tuesday that could either cement the leadership of Prime Minister Theresa May as she attempts to negotiate the country's exit from the European Union or potentially trigger the collapse of her Conservative government and spark calls for fresh national elections. 
Formally known as the EU Withdrawal Bill, the complicated set of legislative procedures that would kick-in once Britain leaves the EU next year also includes several changes to May's original submission, including a demand from the House of Lords, Britain's upper house, to give lawmakers a "meaningful" vote on what happens if the government can't reach a deal with Brussels, which observers have deemed the so-called "hard Brexit".
"Whatever we do, we're not going to reverse (Brexit)," lawmaker David Davis, May's chief negotiator, told BBC radio Tuesday. "A meaningful vote is not the ability to reverse the decision of the referendum."
It does, however, have the potential to reverse the path of the sitting government, which lost its majority last year when May called a snap election that she hoped would bolster her negotiating position and quell rumblings in her party, and elsewhere, the Brexit uncertainty is damaging the economy. The Prime Minister emerged from that election with a mere 13-seat majority in the 650-seat House of Commons, which is held up by an arrangement with the 10 Democratic Unionist Party lawmakers agreed shortly after. 
With the resignation of a prominent Conservative Member of Parliament, Philip Lee, earlier today, May can now only garner a maximum of 325 votes to win the reading of each amendment, including both the "meaningful vote" demand and one that would commit the U.K. to remaining inside the European Customs Union and accepting the same trade tariff agreements as the other 31 member states. Any "rebels" within her party, or a fallout with the DUP, would likely mean defeat for May and calls for either an internal party leadership challenge or fresh elections. 
"If the government does lose the vote on the customs union, it would come as a major defeat on its flagship policy. But while Theresa May would no doubt be weakened by the results, it might not prove fatal," said ING's James Smith. "Even so, a heavy defeat would undoubtedly lead to calls for a fresh snap election, although we still think the chances of this materialising remain relatively low. Two-thirds of MPs would need to vote in favour of an early vote, and while numerous Conservative lawmakers on both sides of the Brexit divide are clearly frustrated with the government's Brexit approach, it's not clear they'd actively trigger a fresh election."
Still, the political complexity reflects the broader economic questions with respect to Britain's post-EU future, as investors wonder if the country will remain inside the single market, the Customs Union or exit completely in order to strike new bi-lateral trade deals that Brexit proponents have argued will delivery faster and more sustainable growth over the long term.
Regardless of the merits of that debate, the immediate term prospects for the U.K. economy appear weak: the pound has fallen more than 10% against the U.S. dollar in the two years since the Brexit referendum, a move that has stoked inflation, crimped wages and slowed economic growth. In fact, first quarter GDP, at 0.1%, was the weakest it's been for five years, and early indications suggest the second quarter won't be much better.
Manufacturing output slowed to a 2012 low in April, according to fresh data released this week, and wages continue to rise at a slower pace than inflation, creating a so-called "income squeeze" that has consumer spending, one of the economy's most-important inputs, essentially unchanged over the past six months.
The pound's post-referendum correction hasn't supported exports, either, with Britain's goods trade deficit rising to £14 billion ($18.7 billion) n April, the second largest ever, as aircraft, machinery and pharmaceutical sales slumped. The year-to-date picture is modestly better, with a deficit of £6.7 billion, but that hardly compensates for the hit to both consumer spending and the broader services economy.
It also creates a tremendous complication for the Bank of England, which has attempted to guide markets towards a rate hike, only to be pulled back at the 11th hour as underlying inflation and spending data disappoints. That was the case again Tuesday, when the Office for National Statistics said 146,000 new jobs were created ni April, but wages only rose 2.5% from the same period last year. 
"Unemployment remains very low which should be lifting wages more due to the tightness of the labour market but instead earnings growth fell a little from a month earlier, said Oanda's Craig Erlam. "Alone this isn't a major concern for the (Bank of England) but coming at a time when inflation is also dropping back towards target, it makes it more difficult to justify the need of a rate hike this year, particularly at a time of such uncertainty due to Brexit."