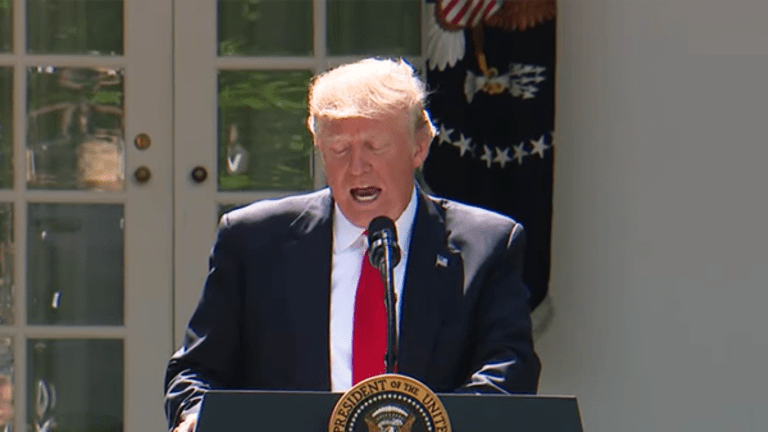 U.S. to Pull Out of Paris Climate Agreement -- Here's How the Stock Market Is Reacting
The United States will withdraw from the Paris climate agreement, President Trump confirmed on Thursday afternoon.
The United States will withdraw from the Paris climate agreement, President Trump confirmed on Thursday afternoon. The widely anticipated decision comes in spite of a broad push from American companies, business leaders, politicians and even many in the president's own inner circle to remain in.
The Dow Jones Industrial Average ticked slightly higher around 3:40 p.m. as Trump spoke.
"In order to fulfill my solemn duty to protect America and its citizens, the United States will withdraw from the Paris climate accord," Trump said while speaking at the White House on Thursday. He said he will begin negotiations to reenter the agreement or reach a new one that he deems "fair" to the United States.
"The Paris Accord is a BAD deal for Americans, and the President's action today is keeping his campaign promise to put American workers first," talking points distributed by the White House ahead of the announcement said. "The Accord was negotiated poorly by the Obama Administration and signed out of desperation."
Former President Barack Obama in a statement released as Trump spoke heralded the Paris accord as the "first-ever global agreement to set the world on a low-carbon course and protect the world we leave to our children." He struck a hopeful tone while lamenting Trump's decision. "Even in the absence of American leadership; even as this Administration joins a small handful of nations that reject the future; I'm confident that our states, cities, and businesses will step up and do even more to lead the way," he said.
Trump pledged to quit the nearly-200 nation agreement on the campaign trail, but after his election, hope surged that he might change his mind. Speculation he would indeed withdraw began to swirl last week in the wake of the G7 summit in Europe, and Axios on Wednesday reported that Trump had decided to leave. 
Hundreds of companies came out in support of the Paris climate agreement, sealed in December 2015. More than 300 businesses in November signed an open letter calling on Trump and Congress to stay in the pact, including Nike (NKE) - Get NIKE, Inc. Class B Report , General Mills (GIS) - Get General Mills, Inc. Report , Tiffany & Co. (TIF) - Get Tiffany & Co. Report , eBay (EBAY) - Get eBay Inc. Report  , Gap (GPS) - Get Gap, Inc. ReportApple (AAPL) - Get Apple Inc. Report , Microsoft (MSFT) - Get Microsoft Corporation Report and Facebook (FB) - Get Meta Platforms Inc. Class A Report were among those signing onto an ad sponsored by sustainability advocate Ceres backing the agreement. The group has also gotten the support of over 280 investors representing more than $17 trillion of assets.
Tesla's  (TSLA) - Get Tesla Inc Report Elon Musk and Apple's Tim Cook made last-minute pleas with Trump to stay in the agreement, which his daughter, Ivanka, top economic adviser Gary Cohn and Secretary of State Rex Tillerson also supported.
A number of oil and gas companies backed the accord as well, including Chevron (CVX) - Get Chevron Corporation Report , Royal Dutch Shell undefined and BP (BP) - Get BP Plc Report . Exxon (XOM) - Get Exxon Mobil Corporation Report in March sent a letter to the White House urging it to stay in the Paris agreement, and CEO Darren Woods penned a personal letter to the president addressing the matter, the Financial Times reported last week.
Exxon shareholders on Wednesday voted in favor of a proposal asking it to publish an annual assessment of how the goals set out in the Paris agreement could affect its business. Management had urged shareholders to vote against it.
The process for leaving the Paris agreement is not immediate. The U.S. will not be able to initiate the exit until November 2019, and after that, rules mandate a one-year notice period, meaning all wouldn't be said and done until November 2020, after the next U.S. presidential election. Trump could also pursue a burn-the-whole-house-down option of attempting to quit the United Nations Framework Convention on Climate Change, which negotiated Paris and other climate deals, but at the moment, that does not appear to be the plan.
The fallout of the U.S. exiting the Paris agreement, of which only Nicaragua and Syria are not a part, could be damaging to American businesses, experts have warned, including threatening a potential climate change trade war in the coming years. 
"How you can describe this as an America first foreign policy is completely beyond me, it's certainly not an America first business policy," said Andrew Light, a distinguished senior fellow at the World Resources Institute.
Updated with comments from Trump and Obama.
Read More Trending Articles:
16 Stocks to Own as the U.S. Economy's Expansion Turns 8 Years Old