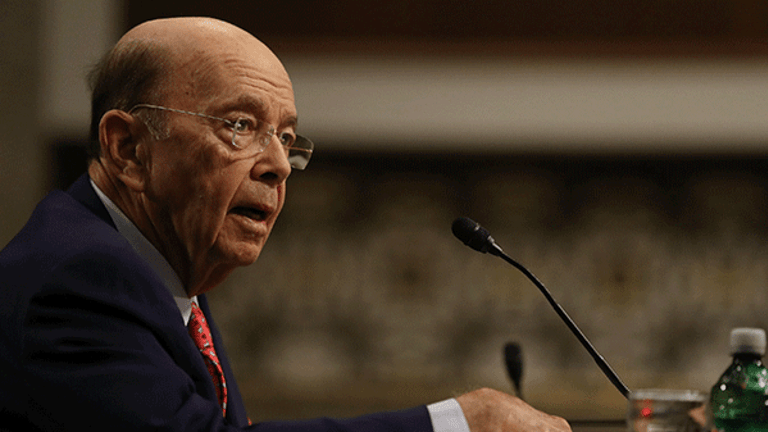 U.S. Slaps Dumping Duties on Canadian Lumber as NAFTA Fight Looms
The U.S. Commerce Department has rolled out a new round of tariffs on Canadian softwood lumber as the Trump administration posters ahead of NAFTA negotiations later this year.
The U.S. Commerce Department has rolled out a new round of tariffs on Canadian softwood lumber as the Trump administration postures ahead of NAFTA negotiations later this year.
Commerce will impose anti-dumping duties of up to 7.72% on Canadian lumber, the department said on Monday. When combined with countervailing duties rolled out in April, duties on Canadian lumber will range from 30.88% to 17.41%. U.S. stocks were little changed on news of the tariffs, which were well below what the petitioners requesting the investigation had asked for.
"The United States is committed to free and fair trade, as seen today with the preliminary decision to exclude softwood lumber from the Canadian Atlantic Provinces in the ongoing antidumping and countervailing duty cases," said Commerce Secretary Wilbur Ross in a statement. "While I remain optimistic that we will be able to reach a negotiated solution on softwood lumber, until we do we will continue to vigorously apply the AD and CVD laws to stand up for American companies and their workers."
Canada-based lumber exporters such as Canfor Corporation, Canadian Forest Products Ltd., Resolute FP Canada Inc., Tolko Marketing and Sales Ltd. and Tolko Industries Ltd., West Fraser Mills Ltd. and Canfor Wood Products Marketing Ltd. will be affected.
U.S. producers asked the Commerce Department to investigate subsidies to Canadian competitors soon after President Donald Trump's election last November, alleging a dumping margin of 20.12% to 53.08%.
While the combined duties are short of the margin requested, "a 30% tax on an import is going to be pretty meaningful," said Height Securities LLC analyst Stefanie Miller. "The occurrence of duties matters more than how big they are, and I think that's probably because they're calculated to offset the degree of whatever the problem is as it's particularly applicable to the industry."
U.S. lumber stocks were mixed at market open Tuesday in the wake of the Commerce Department's announcement. Washington-based lumber company Weyerhaeuser (WY) - Get Report  fell by about 1% soon after trading started, while shares of timber real estate investment trust Potlach (PCH) - Get Report  edged slightly higher.
Homebuilders PulteGroup (PHM) - Get Report , Toll Brothers (TOL) - Get Report , and D.R. Horton (DHI) - Get Report all opened higher; Lennar (LEN) - Get Report and NVR (NVR) - Get Report declined.
"The homebuilders definitely care but for the most part have believed that these costs will be passed along to the end users -- in this case, the home buyers," Miller said. "The belief for the most part is that the costs will just be passed along the whole supply chain."
The Canadian government hit back at the duties, promising to "vigorously defend Canada's softwood lumber industry, including through litigation" in a statement. As Reuters notes, the bilateral dispute is the fifth over lumber in less than 40 years.
Miller said the White House's very public rollout of the Canadian lumber duties is a way of flexing its muscles ahead of renegotiations of the North American Free Trade Agreement. The Trump administration has also issued warnings to Canada over dairy.
"There's a much more public sort of intention with everything that's going on [compared to the Obama administration]," Miller said. "The numbers matter a little bit less than just the fact that this is something that's happening under Trump and it's happening ahead of NAFTA, that political activity is as important if not more important than how this will actually impact the lumber industry when it comes to the goals of this administration."