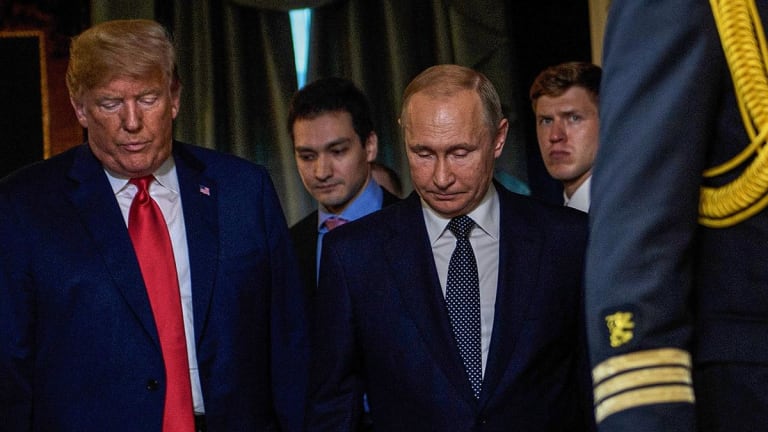 U.S.-Russia Relationship on the Mend After Trump Meets Putin
Trump and Putin host a press conference after their private meeting.
From Helsinki, with love.
President Trump met with President Vladimir Putin of Russia in a private meeting in Finland Monday. The two hosted a joint press conference after the meeting, where they discussed a slew of topics. 
Putin reiterated that Russia never interfered in the election and Trump said that he had asked Putin about it, but doesn't condemn Moscow's conduct.
Prior to the meeting, Trump tweeted that the U.S.-Russia relationship had never been worse. 
The Russian Foreign Ministry, prior to the Putin-Trump meeting, retweeted and liked Trump's tweet. They added:
Trump reiterated that the relationship was bad, but that the relationship changed "as of four hours ago." 
When asked by Reuters whether or not Trump holds Russia accountable for the weak relationship with Russia, Trump said that he holds both countries responsible. Mueller's probe is "a disaster for our country."
Trump was very clear with the press that there was no collusion and that he won the election "fairly." He also stated that he ran a "great" election and "that's why I'm president today."
Reuters followed up and asked Putin whether he would consider extraditing the 12 Russian officials who were indicted last week in Mueller's probe into the 2016 election. Putin said that he didn't know about the situation, but that Trump had brought it up in the meeting. Putin said that he "will look into the issue of the 12 indicted Russians."
Putin gave Trump a soccer ball halfway through the press conference. Trump then tossed the soccer ball into the crowd and it was later seen in Melania Trump's lap.
"I think it's a disgrace that we can't get Hillary Clinton's 33,000 emails," Trump said. He also brought up the "missing DNC servers." He then said, "I don't know see any reason why" Russia would interfere.
"Does the Russian government have any compromising material on President Trump or his family?" Asked a journalist. Putin laughed, and said that he didn't even know that Trump had been in Moscow, but did not directly deny the existence of such material.
Trump ended the press conference denying any allegation that Putin had "compromising material" on Trump, saying that it would have been out a long time ago.