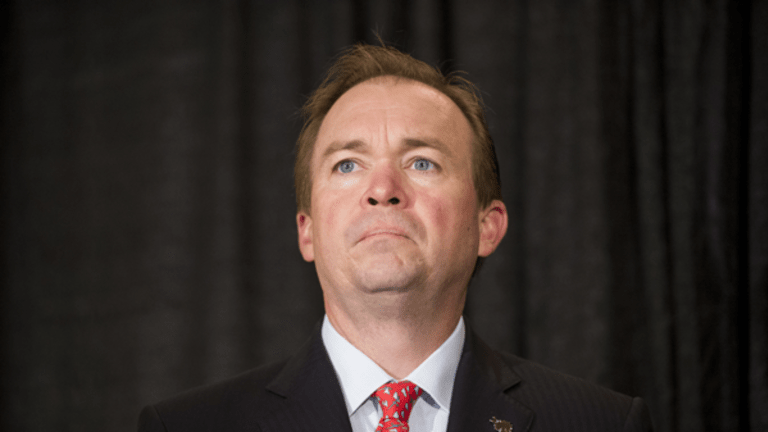 A fight over whether to fund a wall at the U.S.-Mexico border could shut down the government next week.
Office of Management and Budget Director Mick Mulvaney said on Thursday that money for President Trump's proposed border wall must be part of the spending bill Congress must pass by April 28 to avoid a shutdown of the federal government. Democrats, however, aren't going for it.
The former South Carolina congressman said in an interview with the Associated Press that the wall is a "tremendous priority" for the Trump administration and will be a top request on the White House wish list for spending legislation.
"We want wall funding. We want (immigration) agents. Those are our priorities," Mulvaney said. "We know there are a lot of people on the Hill, especially in the Democratic Party, who don't like the wall, but they lost the election. And the president should, I think, at least have the opportunity to fund one of his highest priorities in the first funding bill under his administration."
Matt House, spokesman for Senate Minority Leader Chuck Schumer (D-NY), shot back at Mulvaney's remarks.
"Everything had been moving smoothly until the administration moved in with a heavy hand," he said. "Not only are Democrats opposed to the wall, there is significant Republican opposition as well."
Democrats have been resistant to funding a border wall. They've warned that including funding for it, or defunding Planned Parenthood, would be "poison pills" in any budget legislation. To get a spending bill through the Senate requires 60 votes, and Republicans have 52 seats, meaning at least eight Democrats will have to get on board.
The deadline for Washington lawmakers to approve a federal government budget is April 28, leaving members of Congress with just a handful of days when they head back to work on Monday to reach an agreement. Throwing a wrench in the process even more is the GOP's renewed push to tackle health care before the end of Trump's first 100 days in office -- April 29, the same day a shutdown would begin if there's no budget agreement.
The federal government has had 12 shutdowns since 1982, lasting an average of five days. The last time it happened was in 2013. The government shutting down with the same party in control of the presidency and both houses of Congress would be a major embarrassment for the GOP.
Despite heated rhetoric from Republicans and Democrats, many on Wall Street continue to believe the odds of a government shutdown next week are low.
Compass Point LLC's Isaac Boltansky said in a note on Friday that he gives the odds of a government shutdown at about 20%, though headline risk will likely intensify in the days ahead. "Our expectation is that lawmakers will return from recess, clear a short-term extension, and then pass a funding package in early May that punts the issue to the fall," he said.
Height Securities gave a shutdown next week 25% odds in a Friday note, forecasting that a deal will include a funding boost for "border security" funds rather than funds specifically earmarked for a border wall and some additional supplemental funding for the military, though short of the full $30 billion request.
Goldman Sachs (GS) - Get Goldman Sachs Group, Inc. (GS) Report policy analyst Alec Phillips said this week the government has about a one-in-four chance of shutting down on April 29, arguing the real red flag won't arrive until October.
If the government does shut down, it won't do so completely. Instead, it will come to a partial halt -- national parks would close, and many federal employees would be furloughed. Others, however, would stay on, and the U.S. mail would continue. 
"A shutdown is never a desired end and neither is it a strategy," Mulvaney told the AP on Thursday. The clock is ticking for lawmakers to at least temporarily figure it out.
Correction: This story previously identified Chuck Schumer as Senate Majority Leader. He is the Senate Minority Leader.