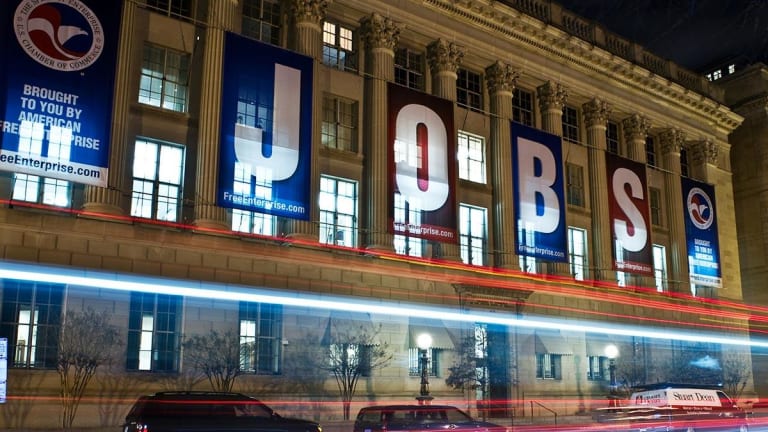 Chamber of Commerce Slams Trump Tariffs as 'Wrong Approach'
Canada isn't the only ally President Trump alienated with tariffs.
Canada isn't the only ally President Trump has alienated with tariffs.
The U.S. Chamber of Commerce, traditionally a supporter of Republican presidents, is starting a campaign denouncing Trump's tariffs as "the wrong approach to address unfair trade policies."
"Tariffs are beginning to take a toll on American businesses, workers, farmers, and consumers as overseas markets close to American-made products and prices increase here at home," U.S. Chamber President and CEO Thomas J. Donohue said in a statement. "Tariffs are simply taxes that raise prices for everyone. Tariffs that beget tariffs that beget more tariffs only lead to a trade war that will cost American jobs and economic growth."
Focused on how retaliatory tariffs are affecting American businesses, the Chamber also released a news analysis documenting the tariffs' affect on the American economy state by state. On Sunday, $16.6 billion in retaliatory tariffs from Canada on whiskey, ketchup and soup among other goods went into effect, with $34 billion in tariffs on 54 goods including American cars and soybeans from China slated to begin on Friday.
This is not the first time President Trump and the business federation have knocked heads. Donohue criticized the president's "zero tolerance" immigration policy that resulted in children being separated from their parents last month, calling it a "direct contradiction" to American values.
The Chamber's condemnation of President Trump's trade policies comes after several businesses including Harley-Davidson, Mid-Continent Nail and Jack Daniel's have already said tariffs have hurt their bottom lines.
"The administration is threatening to undermine the economic progress it worked so hard to achieve," Donohue said in a statement. "We should seek free and fair trade, but this is just not the way to do it. It's time to reverse course and adopt smarter, more effective approaches for addressing trade concerns with commercial partners."