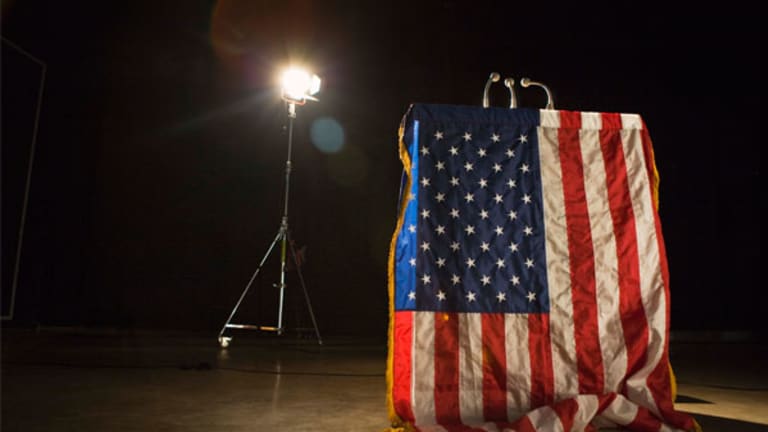 Twitter's Invisible Dominance at the Convention
Twitter's presence at the Republican National Convention appears thin, but it's everywhere.
TAMPA, Fla. (
) --Hidden behind four rows of
Bloomberg
terminals in a far corner on the third floor of the Tampa Convention Center,
Twitter
employees sit at their computers tapping away in silence.
Twitter is everywhere at the Republican National Convention, but it has eluded the gaudy representation flaunted by its digital peers.
The popular social media company shares a sliver of space with
Facebook
(FB) - Get Meta Platforms Inc. Class A Report
directly behind
Bloomberg's
news center, but Twitter's spokeswoman is quick to point out that the company has a substantial presence amid the activities.
Perhaps its biggest contribution is the
which is a destination on Twitter that packages for users the most relevant tweets across the Web about this week's Republican convention.
"We flagged the event that we could do this, and they
Republican National Committee gave us their blessing," said Rachael Horwitz, a Twitter spokeswoman.
Twitter has only hosted two previous event pages -- one for NASCAR's Pocono 400 race on June 10, and the other for the Summer Olympic Games in conjunction with
NBC
.
The company will run the RNC event page through Mitt Romney's acceptance of the nomination, and then switch things to the Democratic National Convention scheduled next week.
Horwitz said Twitter wanted to give consumers, journalists and others a one-stop locale for all breaking news and interesting tidbits related to the GOP festivities.
To populate the event page timeline with the most pertinent tweets, Twitter's editorial staff first selected what it considered the top politicians, reporters, experts and pundits on politics.
With the help of users marking their tweets with the hashtag #GOP2012, Twitter algorithms worked from its base of pre-selected tweeters to curate the best information being sent into the twitter-verse.
The final product, if one visits the page, is a smattering of smart, humorous and behind-the-scenes tweets that range from influential figures to prime-time observers.
Facebook mashed its footprint on the convention floor by setting up
around the Tampa Bay Times Forum, and
Google
(GOOG) - Get Alphabet Inc. Class C Report
has pasted its presence on the
between Republican speeches.
Twitter has its logo printed on an eight-and-a-half- by 11-inch sheet of computer paper that directs passersby to its post, and broadcasts a marquee of tweets (interspersed with Google+ comments) that occasionally scroll around the convention floor.
In addition to the RNC event page, Twitter has tracked user sentiment toward Romney and Barack Obama, and other notable politicians.
The "Twindex" as Horwitz referred to it, rates individuals on a scale of 1 to 100, with 50 being neutral.
At this moment, Bridget Coyne, a member of Twitter's government, news and social innovation team, jumps into the conversation and begins to rattle off a number of statistical morsels.
Ann Romney vaulted her Twitter sentiment to 83, up from a previous 45, after her crowd-pleasing speech.
New Jersey Gov. Chris Christie, Tuesday's key-note speaker, jumped to 57, up from 46.
Former Pennsylvania Sen. Rick Santorum's rating moved sideways at 51.
Romney bumped up a couple points to 42, while Obama rose just one point to 29. A large part of the sentiment is based on how much these figures are part of the "conversation," said Coyne. In other words, next week during the DNC, Obama could have a much higher Twindex rating than Romney simply because the focus will be on the president's nomination.
The micro-blogging company doesn't have an imposing physical presence in Tampa, but Horwitz's first point may best frame its reach on this convention: Users sent 1.8 million tweets about Election Day in 2008 -- today, that's the average quota in six minutes. Even Romney's body man is tweeting
The tapping back here doesn't sound like much, but no one in Twitter's corner seems concerned.
-- Written by Joe Deaux in Tampa, Fla.
>Contact by
.