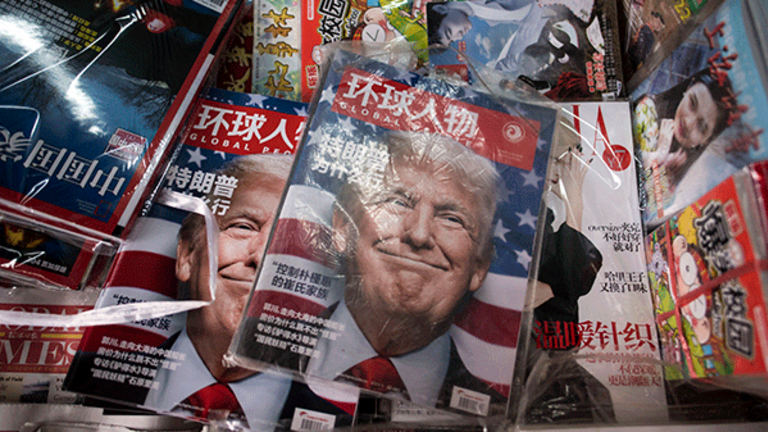 U.S. Steel Likely Won't Be Saved by Trump's 20% Tariff on China
President Donald Trump is caught between a rock and a hard place on the steel industry and China.
President Donald Trump faces a dilemma when it comes to the steel industry and China: If he imposes tariffs on imported steel, he could spark a trade war that will do little in the way of boosting the U.S. steel sector he aims to help. If he doesn't, American steel stocks that have been buoyed by investor optimism about tariffs are likely to crash.
Trump is considering tariffs in the 20% range on imported steel, Axios reported on Friday, citing administration sources. Top advisers have warned the president such a maneuver could lead to a trade confrontation with China and damage relationships with other countries, but a handful of "America First" aides appear to have his ear, at least for the time being. Axios didn't identify the people who are advising the president either way.
The report comes ahead of a highly-anticipated "Section 232" review of steel imports expected from the Commerce Department soon. The document was initially expected to land this month but will probably be delayed until after Trump meets with G20 leaders in Germany next week. Section 232 of the Trade Expansion Act of 1962 authorizes the Commerce Secretary to conduct investigations to determine the effects of imports of any item on national security.
"The premise of that report we will use as an opportunity to talk with many of our trading partners around the world about what's going on in steel," National Economic Council Director Gary Cohn said in a briefing with reporters on Thursday.
Whatever Trump decides to do will likely be damaging to the U.S. steel industry, said Gordon Johnson, a steel analyst with Axiom Capital, in an interview Friday with TheStreet.
It's unclear what U.S. tariffs on Chinese steel imports would accomplish given that domestic steel imports from China have already fallen drastically since before Trump took office. According to Johnson, China is the source of 2.1% of U.S. steel imports through April of this year and 2.6% of steel imports in all of 2016. That's down from 15.1% in 2008. By comparison, the U.S. imported about eight times more steel from Canada through April than it did from China.
Trump's focus on Chinese steel perpetuates a pattern for the president who often focuses on problems that have already been solved. He campaigned on accusations that China is a currency manipulator, even though the country hasn't manipulated its currency for quite some time. Earlier this week, he accused Amazon (AMZN) - Get Report of avoiding "internet taxes," likely referring to state sales taxes, which Amazon has been collecting from all 50 states since March.
Still, the steel industry has long been expecting action from Trump on China and would be disappointed if he were to pull back, Johnson said. Moreover, demand for steel in the United States is already weak, and if tariffs are not imposed, U.S. steel prices could drop.

"It's really a lose-lose situation. I believe the market right now is buying on the rumor, selling the news," he said. "All the market is pricing in is the positivity associated with Section 232 and U.S. steel prices going higher, but that doesn't factor in the rest of the world, and what their reaction will be [to a tariff]."
United States steel stocks including Nucor (NUE) - Get Report , Steel Dynamics (STLD) - Get Report and U.S. Steel (X) - Get Report traded up on Friday in the wake of Axios' report, with Steel Dynamics rising the most, about 2%.
The world's reaction could very well be retaliatory tariffs imposed on U.S. products, including steel, in Western Europe, China and Russia. That would be bad for the U.S. steel industry and the greater U.S. economy, Johnson argued. The U.S. exported about 8.9 million metric tons of steel in 2016, making it the 8th largest steel exporter. China is the largest.
If the White House does not make a decision before Trump heads to Europe, G20 leaders could use the opportunity in meetings with the often fickle president to try to sway his thinking on steel. Trump is slated to meet with Russian President Vladimir Putin, whose country stands to be affected by any blanket tariff on U.S. steel imports given that the country had exported nearly 1 million metric tons of steel to the U.S through April.
"Trump has a penchant for being swayed by world leaders on things he seemed ironclad on," Johnson said.
The president changed his mind about withdrawing from the North American Free Trade Agreement after speaking with Canadian President Justin Trudeau and Mexican President Enrique Pena Nieto. He decided against declaring China a currency manipulator after meeting with President Xi Jinping.
The president appears to have already wavered on the steel tariffs. Commerce Secretary Wilbur Ross finished the Section 232 report three weeks ago, Johnson said, and saw pushback from others in the White House once they saw what he was proposing.
Once Trump does make a decision, action could be swift.
"The question will be what does the president do with the recommendations," Ross said in a June 19 interview with Bloomberg. "The president being the president, I don't think he'll dilly-dally."
Visit here for the latest business headlines.