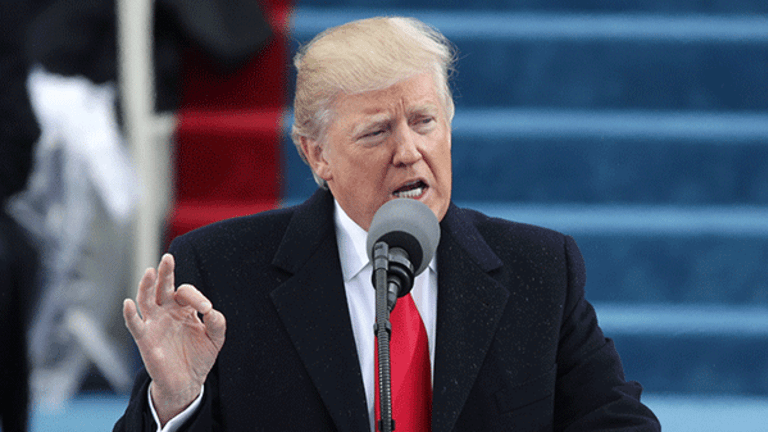 Trump Wants 20% Tax on Mexican Imports to Pay for Wall
President Donald Trump has a new plan to pay for his wall to Mexico: a 20% tax on all imports from the country.
Updated with comments from Lindsay Graham, Sean Spicer, Reince Priebus and Steve Rosenthal.
President Donald Trump might have a new plan to pay for his wall to Mexico: a 20% tax on all imports from the country, though the White House now says the idea is one of a "buffet of options."
Press Secretary Sean Spicer said aboard Air Force One on Thursday while returning from a Republican retreat in Philadelphia that the president has been in close contact with both houses of Congress in moving forward on a plan to enact a 20% tax on all imports from Mexico to foot the bill for a wall at the border.
"It clearly provides the funding and does so in a way that the American taxpayer is wholly respected," he said.
Spicer said the idea is to use comprehensive tax reform to tax imports from countries with which the United States has a trade deficit, like Mexico. According to the Office of the United States Trade Representative, America's trade deficit with Mexico in 2015 was $58 billion.
"When you look at the plan that's taking shape now, using comprehensive tax reform as a means to tax imports from countries that we have a trade deficit from, like Mexico," he said. "If you tax that $50 billion at 20% of imports -- which is, by the way, a practice that 160 other countries do -- right now our country's policy is to tax exports and let imports flow freely in, which is ridiculous. By doing it that [way] we can do $10 billion a year and easily pay for the wall just through that mechanism alone. That's really going to provide the funding."
Imported goods from Mexico were $295 billion, rendering it the United States' third largest supplier of goods. Vehicles ($74 billion), electrical machinery ($63 billion), machinery ($49 billion), mineral fuels ($14 billion) and medical instruments ($12 billion) were the biggest import categories.
The press secretary said the practice of taxing imports is common in other countries. "We are probably the only major country that doesn't treat imports this way," he said. 
The Mexican peso fell more than 1% in midday trading on Thursday, rebounding slightly later in the day but still down about 0.90% at market close.
The iShares MSCI Mexico Capped Index ETF (EWW) - Get Free Report , which tracks stocks traded on the Mexican stock exchange, ended the day down 2.3%. The ProShares Ultra MSCI Mexico Capped IMI ETF (UMX) that tracks the Mexican equity market fell more than 5%.
Constellation Brands  (STZ) - Get Free Report fell 2.6%. The maker of Corona and Modelo beers, both brewed in Mexico, sold $3.44 billion worth of beer in the U.S. in 2016, according to the company's fiscal 2016 year-end report, which came out in February. That would yield a border tax of about $688 million, based on the 20% tax Trump has proposed.
Spicer's comments were met with some confusion on Thursday afternoon.
NBC News' Peter Alexander tweeted later in the day that the press secretary had told him the 20% tax was not a policy proposal but an example of options of how to pay for the wall. He said chief of staff Reince Priebus said the tax was one of a "buffet of options."
Trump spokespeople did not immediately return request for comment.
"I do not think anyone knows what Trump is talking about," said Steve Rosenthal, senior fellow at the Urban-Brookings Tax Policy Center.
He said perhaps it could be the pending Republican cash-flow tax, sometimes referred to as the border adjustability tax, which would collect a 20% tax on imports and rebate a 20% tax on exports. 
"That's my best guess, given Trump uses the same rate as [Speaker of the House] Ryan," Rosenthal said. "But Trump also questioned Ryan's plan the other day, so it's hard to say where Trump will end up."
The announcement is a culmination of two days of back-and-forth between the Trump administration and the Mexican government.
Trump signed an executive order on Wednesday mandating the construction of a wall at the U.S.-Mexico border for which he says the U.S. government will initially pay to later be refunded by the Mexican government.
Mexico insists it will not pay for the wall.
"Mexico does not believe in walls. I have said time and time again, Mexico will not pay for the wall," said Mexican president Enrique Pena Nieto in a video address on Wednesday evening.
Trump on Thursday morning tweeted that Pena Nieto should cancel a planned meeting in Washington, D.C. next week if Mexico is unwilling to pay for the wall. Pena Nieto took the dare, announcing midday on Twitter that he would not attend.
Trump foreshadowed the tax counter maneuver while addressing Congressional Republicans in Philadelphia on Thursday.
"We're working on a tax reform bill that will reduce our trade deficits, increase American exports and will generate revenue from Mexico that will pay for the wall if we decide to go that route," he said.
House Speaker Paul Ryan and Senate Majority Leader Mitch McConnell said they expect to budget $12 billion to $15 billion for Trump's wall project while speaking with reporters on Thursday in Philadelphia.
As to how to get Mexico to pay for it and whether the president should tone it down with the country, McConnell said, "I don't have any advice to give the president about that issue."
South Carolina Lindsey Graham, a Republican known for his wit, reacted to Thursday's tax frenzy on Twitter.
"Border security yes, tariffs no," he wrote, noting that "any tariff we can levy they can levy."
He also got in a dig at Trump. "Simply put, any policy proposal with drives up costs of Corona, tequila or margaritas is a big-time bad idea. Mucho Sad," he wrote.