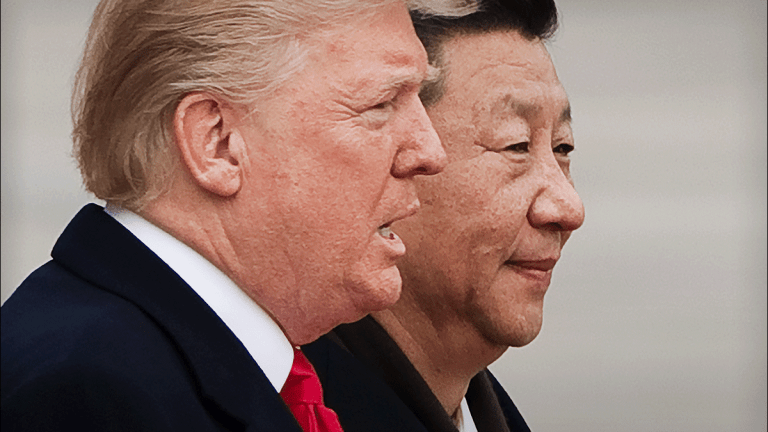 Trump: We're 'Talking' With China, Apple Has Point About Tariffs
'We are doing very well with China, and talking!' wrote the president over Twitter on Sunday, before also saying Apple's CEO makes a good 'case' about tariffs.
Hours after a key White House official said talks with China over the trade war could continue within two weeks by teleconference, President Donald Trump said over Twitter on Sunday that the two nations are "talking."
"We are doing very well with China, and talking!" wrote the president, later posting that "Our economy is the best in the world, by far. Lowest unemployment ever within almost all categories. Poised for big growth after trade deals are completed. Import prices down, China eating Tariffs. Helping targeted Farmers from big Tariff money coming in. Great future for USA!"
Later, president Trump also said that Apple's (AAPL) - Get Apple Inc. Report CEO Tim Cook had a point about how tariffs could harm the company.
Since the South Korean company Samsung would not see its competing electronics products subjected to tariffs, the import tax could hurt Apple, Cook told Trump, according to Reuters. 
"I thought he made a very compelling argument, so I'm thinking about it," Trump said, according to the news service.
Trump's comments and earlier twitter posts follow news show rounds from earlier Sunday with White House chief economic adviser, Larry Kudlow, who rejected fears of a looming recession, while also saying that talks by phone would continue between officials in Beijing and Washington.
"Deputies both for the U.S. team and the Chinese team will be having a lengthy teleconference call, maybe more than one, in the next week or two to work out some new ground rules and topics which we believe will then lead to a visit from the China team to Washington, D.C., which will then allow us to continue to negotiate forward. My point is this. We are still talking to China. We are acting in our own interest. As I said, President Trump is defending the American economy. And he was not happy with the progress. So he slapped on the new -- we're putting tariff pressure on China. They are bearing the greatest part of the economic burden here. However, importantly, the talks are continuing. The negotiations are continuing," he told NBC News' "Meet the Press With Chuck Todd."
After pushing back an earlier tariff deadline, the U.S. is planning to further increase tariffs on $300 billion worth of additional imports from China beginning on Sept. 1 and Dec. 15, in an escalating trade war with the nation.