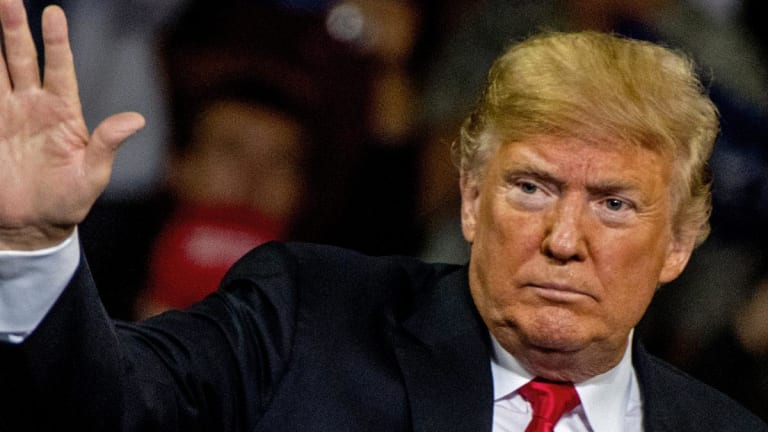 Trump: Trade Talks Going Well with China
The president says progress is being made in trade talks. Also on Thursday: The president reportedly is interested in buying Greenland.
President Donald Trump said on Thursday that China wants to make a trade deal with the U.S. and progress is being made in talks with Beijing.
Trump told reporters he had a call scheduled with Chinese President Xi Jinping, but he did not say when, and he added: "I think we're having very good discussions with China."
The president said he did not think China would retaliate against additional U.S. tariffs. However, China said on Thursday it would respond to more tariffs. Trade negotiators from both countries are scheduled to talk in Washington in September.
Trump, speaking to reporters ahead of a campaign rally in New Hampshire, said Thursday he has been speaking with Senate Majority Leader Mitch McConnell about background checks legislation on guns. "I've been speaking to everybody about it and we don't want to see crazy people owning guns, but I also want to remember that mental illness is something nobody wants to talk about," he said. "These people are mentally ill and we need to study that also."
The president said the U.S. needs to consider building more mental institutions. "We can't let these people be on the streets," he said.
Also on Thursday, the Wall Street Journal reported that in "conversations with aides, the president has-with varying degrees of seriousness-floated the idea of the U.S. buying Greenland." According to the report citing people familiar with the discussions, "Some of his advisers have supported the concept, saying it was a good economic play, two of the people said, while others dismissed it as a fleeting fascination that will never come to fruition. It is also unclear how the U.S. would go about acquiring Greenland even if the effort were serious."
Journal White House Reporter Michael C. Bender tweeted:
In meetings, at dinners and in passing conversations, Mr. Trump has asked advisers whether the U.S. can acquire Greenland, listened with interest when they discuss its abundant resources and geopolitical importance, and, according to two of the people, has asked his White House counsel to look into the idea.