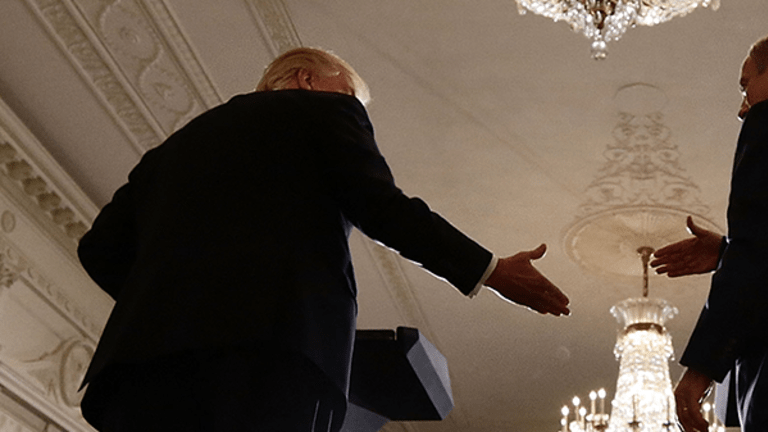 Trump Touts $3 Trillion Stock Market Rally at Joint Congressional Address
Wall Street is bullish on Trump, and the president knows it.
Updated with Wednesday's market reaction.
Wall Street is bullish on Trump, and the president knows it -- he touted the stock market rally during his Congressional address.
"The stock market has gained almost $3 trillion in value since the election on November 8th, a record," he said in prepared remarks delivered to a joint session of Congress on Tuesday, the 40th day of his presidency. He also highlighted the forces behind what has been dubbed the "Trump rally" -- tax reform, infrastructure spending and regulatory rollbacks -- though he did not give especially new or specific details on any.
"To accomplish our goals at home and abroad, we must restart the engine of the American economy -- making it easier for companies to do business in the United States, and much harder for companies to leave," he said in a speech where he attempted to strike a unifying tone and spoke of the 250th year of America's founding, a milestone still nine years away.
Major U.S. indices have hit record highs since Trump's election in anticipation of profit-boosting and pro-growth policies. Markets hit new records on Wednesday following the address, with the Dow Jones Industrial Average trading above 21,000.
Trump discussed tax reform, the central pillar of Wall Street's optimism, and focused on corporate rates, which he complained are the highest of anywhere in the world. He campaigned on a plan to reduce the corporate tax rate to 15% from 35%, while House Republicans have proposed 20%.
"My economic team is developing historic tax reform that will reduce the tax rate on our companies so they can compete and thrive anywhere and with anyone. At the same time, we will provide massive tax relief for the middle class," he said. "We must create a level playing field for American companies and workers."
Trump has said he will release a tax package in March, though Treasury Secretary Steve Mnuchin and Speaker of the House Paul Ryan have set an August deadline. Thus far, House Republicans are the only body with a detailed plan put together.
The president renewed his campaign-trail pledge for a $1 trillion investment in infrastructure, which he said he will request from Congress. He said it will be financed through public and private capital but provided no insight into what legislation might look like.
"This effort will be guided by two core principles: buy American, and hire American," he said.
In a maneuver that is quite common to Trump, he spoke of specific companies -- Intel (INTC) - Get Intel Corporation Report , General Motors (GM) - Get General Motors Company Report and Ford (F) - Get Ford Motor Company Report , among others. He boasted that they will "invest billions of dollars" and "create tens of thousands" of new jobs in America. Many of those companies have recycled jobs and investment announcements or said their plans are not directly related to Trump. Ford announced today it plans to cut more than 1000 jobs in Wales amid declines in global demand.
Trump on two occasions mentioned Lockheed Martin (LMT) - Get Lockheed Martin Corporation Report , once by name, once indirectly in relation to the F-35 jet fighter, on which he said he was able to cut costs by hundreds of millions of dollars. (The Washington Post fact checkers give this claim four Pinocchios.)
Trump did not directly bring up his efforts to repeal, or, as he had previously said, "do a big number," on the post-2008 financial crisis reform statute, the Dodd-Frank Act. However, he alluded to the effort, noting that the White House recently approved an executive order that mandates the elimination of two older regulations for every one new rule approved. 
Executives at the largest U.S. banks likely breathed a sigh of relief after realizing that Trump did not make any mention of a so-called 21st Century Glass-Steagall Act, a variation of a Depression-era law that would effectively have broken up the largest U.S. financial institutions by separating their investment banking units from their commercial bank divisions. Trump had previously expressed support for the measure on the campaign trail, and Mnuchin said at his confirmation hearing in January that it is an issue the government will be looking at.
The lack of focus on the banking sector in the speech will likely be a boon -- at least in the short term -- to the share prices of the largest U.S. financial institutions, including Bank of America (BAC) - Get Bank of America Corp Report , J.P. Morgan Chase (JPM) - Get JPMorgan Chase & Co. Report , Goldman Sachs (GS) - Get Goldman Sachs Group, Inc. Report , Morgan Stanley (MS) - Get Morgan Stanley Report , Wells Fargo (WFC) - Get Wells Fargo & Company Report and Citigroup (C) - Get Citigroup Inc. Report .
Jaret Seiberg, analyst at Cowen Washington Research Group, noted that a move by Trump to mention a new Glass-Steagall provision would have suggested that the populist and conservative side of Team Trump would be influencing financial policy, a negative for the biggest banks. However, he added in a note released prior to the speech, that if there was no mention of Glass-Steagall in his speech it would suggest that the Trump administration's National Economic Council director Gary Cohn, a former Goldman Sachs president, "has more influence" and it would be a "positive indicator for the biggest banks."
President Trump offered an impassioned appeal for repealing and replacing the Affordable Care Act but was light on answers to the questions bedeviling Republican leaders struggling to craft the actual legislation that will carry it out.
Trump did endorse many of the overall ideas that GOP leaders have pledged to include in an eventual repeal and replace bill. He promised "a stable transition for Americans currently enrolled in the healthcare exchanges" set up by Obamacare. He also promised the new program would "ensure that Americans with pre-existing conditions have access to coverage."
Trump also wants to replace the ACA's coverage approach for covering individuals who buy health insurance on their own, which is to subsidize government approved policies. Instead, he called for tax credits and expanded Health Savings Accounts that will allow individuals to buy "the plan they want, not the plan forced on them by the government."
On Medicaid, one of the most difficult problems for Washington to address, Trump said no more than, "We should give our great state governors the resources and flexibility they need with Medicaid to make sure no one is left out."
Under a draft of House Republican leaders' discussions leaked last week, Medicaid spending would be rolled back significantly. In addition to eliminating Obamacare's planned 2020 expansion, the GOP draft also called for eliminating today's open-ended federal funding and states would get capped payments based on the number of Medicaid enrollees.
Some Republican governors are preparing their own plan for addressing Medicaid as well as health insurance exchanges.
The president endorsed long-standing Republican calls to reduce malpractice lawsuits against doctors and to increase consumer choice in the types of plans they buy by letting insurers sell across state lines. 
Finally, he called for Washington to "work to bring down the artificially high price of drugs and bring them down immediately."
Trump has previously called on Health and Human Services Secretary Tom Price to unveil the administration's healthcare reform plan in two to three weeks and Republican leaders in Congress are looking to the White House for help uniting the GOP behind a common plan. But there are still huge issues to be worked out, including how large tax credits that will help individuals buy health insurance should be and how much the tax break employers currently get for providing health insurance to their employees should be rolled back.
The president also called for overhaul of "our slow and burdensome approval process at the Food and Drug Administration," which he said "keeps too many advances . . . from reaching those in need."
He highlighted the story of Megan Crowley, now a 20-year-old Notre Dame sophomore, who was in the audience. Crowley was diagnosed with Pompe Disease, a rare and debilitating illness, when she was 15 months old and she was not expected to live past 5 years. However, her dad John founded a company to that helped develop the drug that kept her alive. 
"If we slash the restraints, not just at the FDA but across our government, then we will be blessed with far more miracles like Megan," he said.