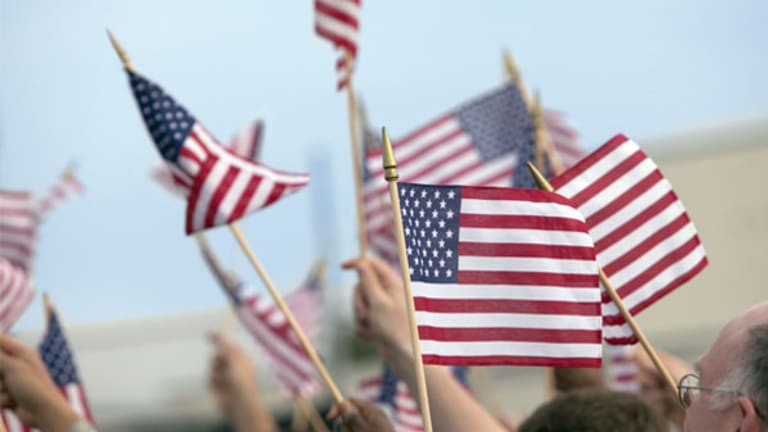 Trump to Promote 'America First' at Davos Meeting for Global Elite
Donald Trump is likely to promote policies that helped lead to the world wars of the 20th century, German Chancellor Angela Merkel says.
President Donald Trump will be arriving at the World Economic Forum in Davos, Switzerland, on Thursday, Jan. 25, amid expectations that he will address the gathering of politicians, CEOs and celebrities to promote his message of "America First."
The visit is coming the same week Trump imposed tariffs on U.S. imports of washing machines and solar panels in a bid to aid American manufacturers. At Davos on Wednesday, Jan. 24,  Commerce Secretary Wilbur Ross signaled that the U.S. was prepared to accelerate efforts to build trade barriers that it deems inimical to the national interest.
"There have always been trade wars," Ross said at a press conference, as reported by CNBC. "The difference now is U.S. troops are now coming to the ramparts."
Trump, who is expected to address the gathering on Friday, Jan. 26, the last day of the meeting, is likely to highlight the booming U.S. economy and his recent tax overhaul while again criticizing trade practices he sees as unfair. Some of his protectionist views are opposed to those promoted by the leaders of countries including India, Germany and Italy, who are also at the Davos meeting.
Trump has largely piled scorn on the traditional Republican endorsement of open markets. After his election, he pulled out of the 12-country Trans-Pacific Partnership and since then has threatened to quit the the North American Free Trade Agreement and slap tariffs on foreign steel and aluminum.
Indian Prime Minister Narendra Modi, who delivered the forum's opening speech on Tuesday, said that there was a "worrying trend" against globalization and toward isolationism, CNBC reported.
German Chancellor Angela Merkel and Italian Prime Minister Paolo Gentiloni on Wednesday both said they were concerned about a return to nationalism and protectionism, with Merkel indicating that they contributed to the world wars of the 20th century and raised questions about whether current leaders had learned anything from history.
"We are seeing nationalism, populism and in a lot of countries a polarized atmosphere," Merkel said, according to Reuters. "We believe that isolation won't help us. We believe we need to cooperate, that protectionism is not the answer.
"Have we really learned from history, or haven't we?" Merkel said.
Germany and Italy, which along with Japan formed the Axis nations that fought the Allied partners including the U.S., Britain and its empire, the Free French and the Soviet Union in World War II, were all led by nationalist, right-wing governments. "America First" itself is a slogan that has its roots in a pre-World War II movement that opposed U.S. entry into the war.
Gentiloni warned against steps to undermine the foundations of multilateral cooperation, when asked about Trump.
"It is totally legitimate, understandable, the desire for political leaders to defend their own citizens, their own companies, their own economy," he said, according to Reuters. "I respect that, but obviously there is a limit."
French President Emmanuel Macron will speak later on Wednesday. Trump will attend a reception hosted by the WEF after he arrives Thursday, according to national economic adviser Gary Cohn. Trump's speech to the group comes Friday.
Asked about how Trump's "America First" agenda could appeal to Davos's globalist attendees, Cohn told reporters "the president believes we can have truly win-win agreements. America first is not America alone."
Trump's delegation includes six cabinet secretaries, his son-in-law Jared Kushner, and advisers on trade, aid, and health. Chief of Staff John Kelly is't attending the forum, nor is First Lady Melania Trump.
At Davos, Trump is planning to meet with Prime Minister Theresa May of the United Kingdom, Prime Minister Binyamin Netanyahu of Israel, President Kagame of Rwanda, chairman of the African Union, and President Alain Berset of Switzerland, U.S. national security adviser H.R. McMaster told reporters.
More of What's Trending on TheStreet: