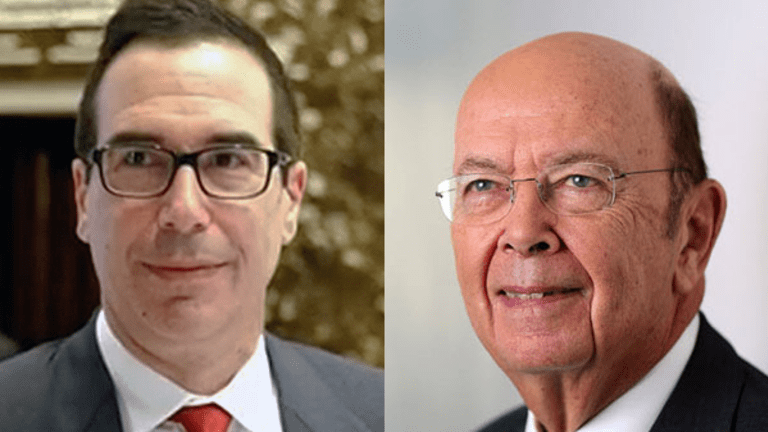 Trump to Nominate Mnuchin as Treasury Secretary, Ross as Commerce Secretary
President-elect Donald Trump has nominated ex-Goldman Sachs partner Steve Mnuchin as Treasury Secretary -- the latest in an emerging list of divisive administration picks.
President-elect Donald Trump will nominate former Goldman Sachs partner Steve Mnuchin as U.S. Secretary of the Treasury, he announced on Wednesday morning. The pick may be broadly positive for regional bank stocks and some big insurance companies, analysts said. 
Trump confirmed plans to nominate Mnuchin as well as billionaire investor Wilbur Ross as Secretary of Commerce and Chicago Cubs co-owner Todd Ricketts as Deputy Secretary of Commerce. In a statement, his camp said the team "will be instrumental in implementing the President-elect's America First economic plan." 
Mnuchin, who served as Trump's campaign finance chairman, had confirmed his nomination and Ross' in a joint appearance on CNBC's "Squawk Box" earlier in the day. Various outlets reported the picks on Tuesday evening. 
Mnuchin, 53, who has no history of public service, would be the third former Goldman Sachs executive to become Treasury Secretary, following in the footsteps of Henry Paulson, a George W. Bush appointee, and Robert Rubin, a Clinton nominee. In the announcement statement, Trump called Mnuchin a "world-class financier, banker and businessman" who played a key role in his economic plan.
Mnuchin co-founded hedge fund Dune Capital Management after leaving Goldman Sachs in 2002. He joined a collection of other investors including billionaire John Paulson, to acquire IndyMac, a California-based bank that failed in 2008 during the financial crisis and was seized by regulators. The institution was renamed OneWest and later sold to CIT Group Inc. ( (CIT) - Get CIT Group Inc. Report ) in a $3.4 billion deal was approved by regulators to create a "systemically important" financial institution, despite opposition to the deal by a number of Californians.
Jaret Seiberg, analyst at Cowen Washington Research Group, said Mnuchin's experience at OneWest and CIT Group suggests he understands the challenges regional banks are confronting. "We believe this choice should be broadly positive for regional banks," Seiberg said.
Mnuchin could quickly get behind Republican-backed legislation to raise a $50 billion threshold at which a big bank automatically becomes designated a "Systemically Important Financial Institution." Banks designated as SIFIs are subject to tougher liquidity requirements as well as an obligation to draft living wills explaining how they would unwind themselves in bankruptcy. The move would be a positive for a number of regional bank SIFIs, including Zions Bancorp ( (ZION) - Get Zions Bancorporation, N.A. Report ), Comerica ( (CMA) - Get Comerica Incorporated Report ) and Huntington Bancshares Inc. ( (HBAN) - Get Huntington Bancshares Incorporated Report ), which would find themselves below the threshold.
Mnuchin would need to quit a couple corporate board positions if he was confirmed by the Senate to take the position, according to a review by relationship mapping company BoardEx, a service of The Deal's parent, TheStreet.
If chosen, Mnuchin would need to resign from the boards of both Sears Holdings Corp. ( (SHLD) ) and CIT Group. Mnuchin would also need to resign from his position as chairman and CEO of Dune Capital.
In addition, before taking on the new role, Mnuchin would need to either sell investments or place them into a blind trust. Mnuchin owns about $100 million in CIT Group stock, according to pay research firm Equilar, which he would need to sell or put into a blind trust.
As Treasury Secretary, Mnuchin would become chairman of the Financial Stability Oversight Council, a panel of regulators charged with identifying future risks to the economy. One of the council's main obligations is to designate financial institutions outside of the mainstream banking sector as SIFIs. The post-2008-crisis Dodd-Frank Act set up the FSOC and its designation authority after the near-failure and tax-payer-backed bailout of American International Group Inc. ( (AIG) - Get American International Group, Inc. Report ), a mega-insurance company that escaped serious regulatory oversight in the build-up to the financial crisis. One regulatory analyst in Washington told TheStreet that he believed Mnuchin would effectively end the council's efforts to designate new financial institutions as systemically important. He added, however, that the it is unlikely he will eliminate the FSOC altogether.
The prospect of Mnuchin as Treasury Secretary is likely a boon for the remaining non-bank SIFIs, AIG and Prudential Financial ( (PRU) - Get Prudential Financial, Inc. Report ). Isaac Boltansky, analyst at Compass Point in Washington agreed that FSOC will be far less active under Trump. "From a practical perspective, we believe the odds of additional SIFI designations under the current framework are extremely low and that the existing SIFI insurers are likely to be de-designated in the years ahead," he said.
Democrats had already put out statements in anticipation of Mnuchin's installation into the position. They derided the choice, arguing that Mnuchin's appointment is another example of Washington's revolving door between government and Wall Street that helps ensure that the largest financial institutions remain too-big-to-fail.
"Candidate Trump pledged to tame Wall Street and drain the swamp in Washington, D.C.," said Bart Naylor, Financial Policy Advocate, at Public Citizen. "Instead, President-elect Trump spent last week pouring more sludge in the swamp by naming K Street lobbyists."
The Communications Workers of America, a labor union, said in a statement that it is difficult to think of a nominee who "better embodies the culture of Wall Street greed than the former Goldman Sachs partner."
Ross, the 78-year-old private equity billionaire at the helm W.L. Ross & Co. known best for restructuring failed companies in industries including steel, has been speculated as Trump's Commerce Secretary pick for some time. His appointment would require him to step down from a number of public and private company boards, including ArcelorMittal (MT) - Get ArcelorMittal SA Report , the Bank of Cyprus, Exco Resources (XCO) , Sun National Bank (SNBC) and Nexeo Solutions (NXEO) - Get Nexeo Solutions, Inc. Report . It will also require him to sell his investments or place them into blind trusts.
Trump in a statement called Ross "a champion of American manufacturing" and "one of the greatest negotiators I have ever met."
The president elect said Ross' second-in-command, Ricketts, will help the administration cut waste and streamline government, touting the "incredible job he and the Ricketts family did in the purchase and turnaround of the Chicago Cubs." The complement marks quite a turnaround from Trump, who on the campaign trail attacked the Ricketts following reports the family had donated to an anti-Trump super PAC.