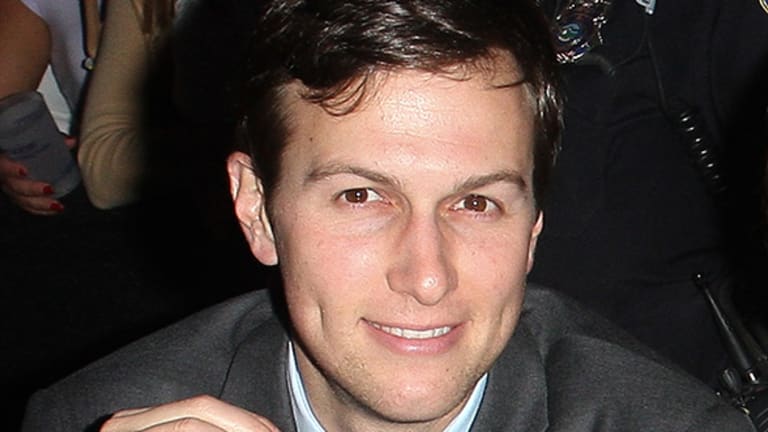 Trump Names Son-in-Law Jared Kushner to White House Position, Ivanka Trump to Exit Businesses
Donald Trump will name his son-in-law as a senior adviser to the White House, inviting a fresh round of criticism from observers.
Donald Trump named his son-in-law, Jared Kushner, as a senior adviser to the president, inviting a fresh round of criticism just a day before Cabinet hearings are set to kick off on Capitol Hill. His daughter, Ivanka Trump, plans to exit her business positions as well, but there is no indication yet that she will join the White House.
Trump's transition team announced the decision on Monday afternoon, confirming reports that such a move was in the works. Kushner, who turns 36 on Tuesday, will join chief staff Reince Priebus and chief strategist Steve Bannon in forming the president-elect's leadership team.
"Jared has been a tremendous asset and trusted adviser throughout the campaign and transition and I am proud to have him in a key leadership role in my administration," Trump said in a statement. "He has been incredibly successful, in both business and now politics. He will be an invaluable member of my team as I set and execute an ambitious agenda, putting the American people first."
Kushner said he is "energized" and "humbled" by the opportunity.
The statement makes no mention that Kushner, who married Ivanka Trump in 2009, is Trump's son-in-law. It notes that he will not take a salary in the position. 
Forbes estimates the net worth of Kushner, his brother, Josh, and parents, Charles and Sheryl, to be at least $1.8 billion, more than half of which is held in real estate.
Ivanka Trump, 35, plans to step away from the Trump Organization and her eponymous fashion brand, various outlets reported on Monday. She will not take a White House position for now.
Kushner emerged as an important voice in Trump's presidential bid, essentially becoming his de facto campaign manager. Since the real estate's surprise victory in November, questions have persisted about what Kushner's role will be. He has been named to the president-elect's transition team, and he and Ivanka plan to move to Washington, D.C., leaving the business of running the Trump Organization to Trump's two eldest sons, Donald Jr. and Eric.
While President-elect Trump has remained defiant in refusing to separate himself from his business interests entirely, Kushner, the owner of real estate and development company Kushner Companies Inc. and of publisher Observer Media Group LLC, is taking steps to distance himself from his private endeavors.
Kushner's lawyer, Jamie Gorelick, a partner at WilmerHale, told the Associated Press that he has explored stepping away from his real estate business and consulted federal officials about resolving potential conflicts of interest.
"Mr. Kushner is committed to complying with federal ethics laws and we have been consulting with the Office of Government Ethics regarding the steps he would take," she said in a statement. "Although plans are not finalized, Mr. Kushner would resign from his position at Kushner Companies and divest substantial assets in accordance with federal guidelines."
She also said that Kushner would recuse himself from matters that would have a direct effect on his remaining financial interests.
Norm Eisen, a former ethics adviser to President Obama who has become a vocal critic of Trump's conflicts of interest, commended Kushner's reported action on Twitter.
"Sounds like Kushner taking our recommendations -- good, Trump [should] do the same!" he said.
That's not to say that Kushner is entirely in the clear. He will need to get around federal anti-nepotism laws that bar officials from appointing relatives to government positions.
"If Mr. Kushner is going to take a job, there are a variety of legal complexities. He would need to look into a blind trust or other divestiture. He's doing that," Eisen said in a December interview with MSNBC. "There's a bigger issue as to Mr. Kushner, however. There's a federal anti-nepotism law. You cannot give a job to your son-in-law if you're the president. So, there will be legal issues there beyond just the conflicts of interest."
Some in Trump-world have sought to downplay the matter.
"The anti-nepotism law apparently has an exception if you want to work in the West Wing, because the president is able to appoint his own staff," said Trump adviser Kellyanne Conway in a December interview. "The president does have discretion to choose the staff of his liking."
Foregoing compensation may be a maneuver to calm nepotism concerns as well.
Representatives for Trump and Kushner did not return requests for comment.
Kushner will likely step away from his post as chairman and publisher of Observer Media, which he purchased in 2006, and from Kushner Companies, which has completed more than $14 billion in transactions and $7 billion in acquisitions since 2007, according to the firm's website.
Kushner will divest "substantial assets," including his stake in a joint venture with China's Anbang Insurance Group to develop a Manhattan skyscraper located at 666 Fifth Avenue, his spokesman, Risa Heller, told the New York Times over the weekend. He will, however, keep interest in other properties.
Ivanka Trump, who was initially anticipated to run the Trump Organization alongside her brothers, has given hints she is distancing herself from business endeavors for quite some time.
In November, she announced plans to separate her social media channels from those of her brands. Trump faced backlash for promoting a $10,000 bracelet she wore during a "60 Minutes" interview with her family after the election.
President-elect Trump will hold a press conference on Wednesday in which he is expected to provide details of his plans for his own business interests.
Many ethics experts say Trump must divest entirely from his business endeavors and place them into a blind trust to avoid conflicts of interest and violating the Emoluments Clause of the Constitution. Trump, thus far, has refused.