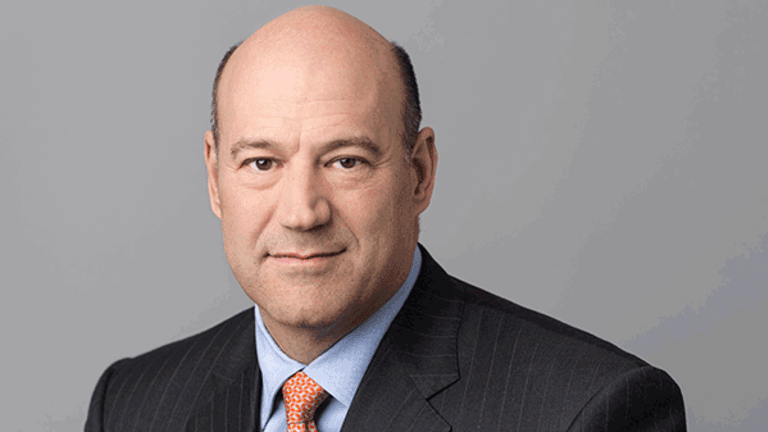 Trump to Meet with Goldman Sachs Exec Gary Cohn on Tuesday
Donald Trump will meet with Goldman Sachs president and COO Gary Cohn on Tuesday, his spokesman said in a press call.
Donald Trump will meet with Goldman Sachs (GS) - Get Report president and COO Gary Cohn on Tuesday, Trump's spokesman said in a press call.
The president-elect and vice-president elect, Mike Pence, will sit down with Cohn at Trump Tower in New York on Tuesday, according to Trump spokesman Sean Spicer. The 56-year-old business executive is the banking and securities giant's number-two leader behind CEO Lloyd Blankfein. Spicer did not comment on what the meeting would entail.
Cohn did not publicly come out in favor of any candidate during the 2016 election, but he has been active in donations. According to data from campaign finance website OpenSecrets, Cohn contributed to the National Republican Congressional Committee and GOP members of Congress like Kevin McCarty, Tom Cotton and Rob Portman, among others this election cycle. He also gave to Kelly Ayotte, the New Hampshire Senator who was critical of Trump during campaign season and lost her seat in November.
Goldman Sachs did not immediately return a request for comment.
Blankfein said publicly he was "supportive" of Hillary Clinton.
Cohn joined Goldman Sachs in 1990 and has been a partner there since 1994. Prior to Goldman, he served as a director at the London Metals Exchange and as a member of the board of directors and the executive committee of the New York Mercantile Exchange and the Commodity Exchange.
He is no stranger to the public stage. In Malcolm Gladwell's 2013 book David and Goliath, Cohn related his early-life struggles with dyslexia and his path to Wall Street.
Trump and Pence have held meetings and conversations with dozens of individuals regarding potential positions and roles in their administration since Election Day, including with leaders in business and banking. For example, on Tuesday, Trump will also meet with Marion Blakey, CEO of Rolls-Royce North America (RYCEY) . And on Monday, the president-elect sat down with Sandeep Lakhmi Mathrani, CEO of General Growth Properties (GGP) . JPMorgan  (JPM) - Get Report CEO Jamie Dimon was rumored to be in contention for Treasury Secretary, but according to Fortune, he formally declined the offer.
"He's taking people who've been successful in all different walks of life," said Trump spokesman Jason Miller in the Tuesday press call. "I think it's safe to say that the president-elect has fantastic relationships with a number of industry titans."