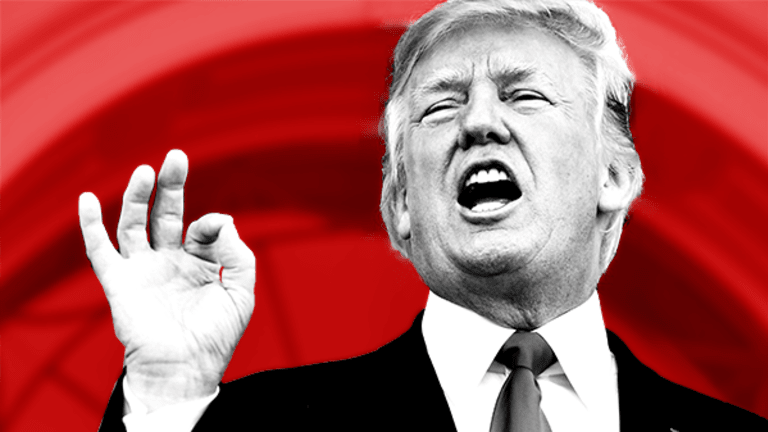 Trump Administration Ends DACA but Plan May Cost Nation Billions
The president's plan to end DACA could cost the U.S. economy more than $450 billion.
The Deferred Action for Childhood Arrivals (DACA) program, an Obama-era program that shields immigrants who were brought to the country as minors and allows them to remain in the U.S, is being rescinded, U.S. Attorney General Jeff Sessions said today. Though implementation of the controversial move may be delayed for six months to allow Congress to come up with a legislative solution, ending the program could cost the U.S. economy billions of dollars.
In an 11 a.m. EDT press conference on Tuesday, Sessions called DACA unconstitutional and claimed some of those children have stolen American jobs, without presenting any evidence. Sessions did not answer reporters' questions.
"The nation must set and enforce a limit on how many immigrants we admit each year and that means all cannot be accepted," Sessions said. "This does not mean they are bad people or that our nation disrespects or demeans them in any way. It means we are properly enforcing our laws as Congress has passed them."
President Trump issued a statement following the press conference, noting that permits for DACA recipients, or "Dreamers," will not begin to expire for another six months, and will remain active for up to 24 months while simultaneously urging Congress to take action.
"As President, my highest duty is to defend the American people and the Constitution of the United States of America," said the president. "At the same time, I do not favor punishing children, most of whom are now adults, for the actions of their parents. But we must also recognize that we are a nation of opportunity because we are a nation of laws."  
"In effect, I am not going to just cut DACA off, but rather provide a window of opportunity for Congress to finally act," Trump said.  
"We have confidence that Congress is going to step up and do their job," said Press Secretary Sarah Huckabee Sanders during the press briefing on Tuesday.
Former President Barack Obama said in a post on Facebook Tuesday afternoon that "this action is contrary to our spirit, and to common sense."
"Let's be clear: the action taken today isn't required legally. It's a political decision, and a moral question," Obama wrote. "Ultimately, this is about basic decency." 
Former Vice President Joe Biden took to Twitter to denounce the decision.
American businesses are also objecting to the news that the president is rescinding DACA.
"This is a sad day for our country," Facebook Inc. (FB) - Get Facebook, Inc. Class A Report  founder Mark Zuckerberg wrote in a post on Facebook Tuesday morning. "The decision to end DACA is not just wrong. It is particularly cruel to offer young people the American Dream, encourage them to come out of the shadows and trust our government, and then punish them for it."
Sundar Pichai, CEO of Google, a unit of Alphabet Inc. (GOOGL) - Get Alphabet Inc. Class A Report , said in a Tweet Tuesday that Congress needs to act now to defend DACA.
Apple Inc.'s (AAPL) - Get Apple Inc. (AAPL) Report CEO Tim Cook expressed his displeasure with the decision in an email to employees, which was first obtained by Buzzfeed's John Paczkowski. 
"I am deeply dismayed that 800,000 Americans -- including more than 250 of our own Apple co-workers -- may soon find themselves cast out of the only country they've ever called home," Cook wrote. 
"I want to assure you that Apple will work with members of Congress from both parties to advocate for a legislative solution that provides permanent protections for all the Dreamers in our country," Cook added.
Spanish television broadcasting company Telemundo said in a statement that in addition to the human effect of this decision, "repealing DACA will result in the loss of thousands of jobs in the United States and billions of dollars in economic growth over the next decade." The company echoed sentiments urging Congress to "act swiftly to preserve the rights of these valuable members of our community." 
The head of the U.S. Hispanic Chamber of Commerce, Javier Palomarez, also resigned from the president's National Diversity Council over the administration's decision to end DACA. 
"Let's lay the truth bare: President Trump has knowingly deceived the American people over the past seven months about his intentions to protect the innocent young men and women of the DACA program," wrote Palomarez. "The president misled our country by fabricating a position and making a promise, only to turn around and do the complete opposite," he added. 
Before the announcement, President Trump expressed in a Tweet that the DACA decision ultimately falls on Congress, telling Congress to "get ready to do your job."
President Trump has reportedly been conflicted over the DACA issue. Before he was a presidential candidate, he said it would be unrealistic to deport people who have lived in the U.S. for decades, especially children.
"You have people in this country for 20 years: They've done a great job, they've done wonderfully, they've gone to school, they've gotten good marks (and) they're productive," President Trump said in a 2011 interview. "Now we're supposed to send them out of the country? I don't believe in that."
As president six years later, Trump said in February that "we are going to deal with DACA with heart." But apparently, a recent conversation with Sessions solidified his decision. Sessions argued that Congress is responsible for writing the immigration law and persuaded the president to pass the issue onto Congress, according to Politico citing two unnamed sources.
DACA grants work permits to about 800,000 undocumented immigrants who were brought to the U.S. as children. A new study found that about 91% of DACA recipients are employed and ending the program means that the U.S. economy could endure a multibillion-dollar loss.
"Removing DACA recipients from the workforce will cost $460.3 billion in GDP loss over a decade," said an August report by the Center for American Progress (CAP) and FWD.us, a pro-immigration group co-founded by Zuckerberg. "It will cost employers $3.4 billion in unnecessary turnover costs, and would cut contributions to Medicare and Social Security by $24.6 billion over a decade."
The plan to rescind DACA drew fire last week from major U.S. corporations.
"Dreamers are vital to the future of our companies and our economy. With them, we grow and create jobs. They are part of why we will continue to have a global competitive advantage," said Apple's Cook, Amazon's (AMZN) - Get Amazon.com, Inc. Report Jeff Bezos, Berkshire Hathaway's (BRK.A) - Get BRK.A Report Warren Buffett, Zuckerberg and hundreds of other CEOs in an open letter to the President published late Thursday.
Amazon, Apple and Facebook are holdings in Jim Cramer's Action Alerts PLUS Charitable Trust Portfolio. Want to be alerted before Cramer buys or sells AAPL, AMZN or FB? Learn more now.
Former New York mayor Michael Bloomberg, CEO of Bloomberg L.P., said in a Tweet Tuesday morning before the announcement that his company is "lucky" to have Dreamers.
Recipients of DACA even tried urging Ivanka Trump and her husband Jared Kushner to help keep the program alive by holding a candlelight vigil outside their home on Monday.
"By every measure, DACA has been extraordinarily beneficial ... The economic benefits of this program are clear and profound, and the dire consequences of repeal would be devastating," the CAP and FWD.us report said.
-- This story has been updated to include reaction from Barack Obama, Joe Biden, Telemundo and Apple's Tim Cook.  
More of What's Trending on TheStreet: