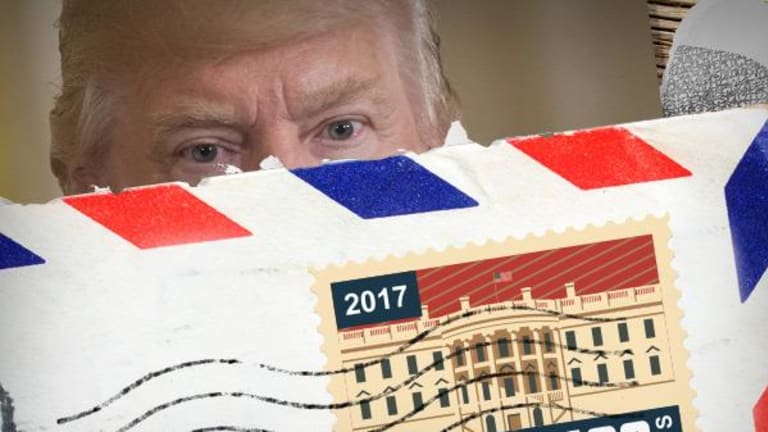 Trump to Deliver First Glimpse at Highly Anticipated Tax Plan
The White House will put forth a package of tax proposals on Wednesday, taking a first step in delivering to investors the corporate tax cuts they've been banking on.
The White House will put forth a package of tax proposals on Wednesday, taking a first step in delivering to investors the corporate tax cuts they've been banking on for months.
President Trump is expected to reiterate his campaign-trail call to cut the corporate tax rate to 15% from 35% as he unveils the broad outlines of his proposal for reforming the federal tax code. The announcement will mark the administration's most significant measure yet in tackling taxes, though actual legislation remains a long way away.
A 15% corporate tax rate is expected to be the centerpiece of Trump's blueprint, reports the New York Times. Most observers, however, say the rate is unrealistic.
Such a drastic reduction would slash federal revenue by $2 trillion over ten years, according to an analysis from the conservative-leaning Tax Foundation during the campaign. Even with dynamic scoring -- meaning you assume tax cuts lead to economic growth -- the government would still be out more than $1 trillion.
It's highly unlikely such a massive addition to the debt will be palatable on Capitol Hill, which is why most observers agree that a 22%-to-28% rate is ultimately what will end up in any legislation. But even so, it would be a major win for investors. An analysis from S&P Global Market Intelligence determined even a 10% decrease in the corporate tax rate could drive the S&P 500 up by 15% over the course of the year.
"Nobody thinks 15% will be the number, but they think it won't be 35% either," said Michael Mussio, president at wealth management firm FBB Capital Partners, which has $1 billion in assets under management. "Twenty-two to 28 is materially better than 35, particularly for small businesses and smaller U.S. companies."
The Russell 2000 index, which tracks small-cap stocks, has rallied nearly 5% over the past five days.
Trump campaigned on a pledge to enact a repatriation holiday of 10% for U.S.-based companies hoarding profits overseas. Such a measure could make an appearance on Wednesday, especially given the executive order the president signed last week that could resurrect corporate inversions. 
Trump will also seek to slash the tax rate on pass-through businesses and tax them at the corporate rate, reports the Wall Street Journal. Such businesses -- including small companies, some hedge funds and, notably, Trump's own businesses -- currently pay taxes through the individual income code.
On the campaign trail, the Trump team declined to indicate their plans for pass-through companies. On Wednesday, however, it appears they will have decided.
Markets rallied on Tuesday in anticipation of Trump's big tax announcement, which he previewed on Twitter over the weekend.
The Nasdaq passed 6,000 for the first time ever, and the S&P and Nasdaq marked their best two-day stretch of 2017.
But Wednesday's announcement will just be one step in what is likely to be a long negotiation on taxes. It will paint broad brushstrokes, avoiding the nitty-gritty, and is unlikely to include items like the border adjustment tax, which is part of the House Republicans' tax blueprint, while it will include the childcare tax credit promoted by the president's daughter, Ivanka.
"I'll wait as long as it takes [on tax reform]," said Jack Ablin, chief investment officer at BMO Private Bank. "But put it this way, I'm not going to embark on a hunger strike until it happens."
Editor's pick: This story was originally published on April 25 at 4:54 p.m. ET.