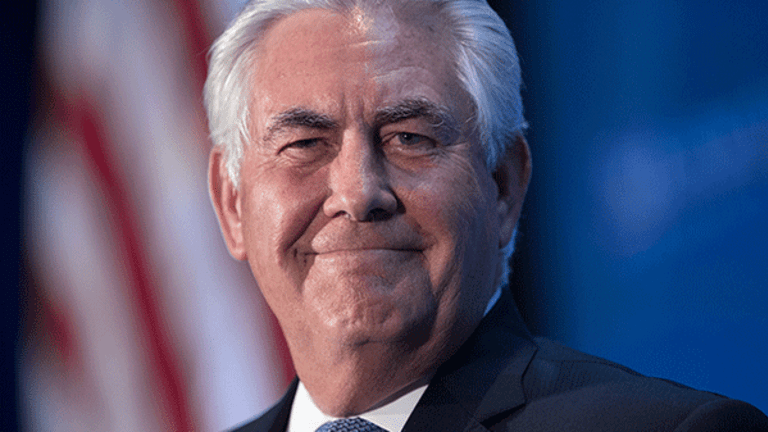 Trump Announces Secretary of State Nominee Is Exxon's Rex Tillerson
Donald Trump announces his intent to nominate Exxon CEO Rex Tillerson as secretary of state, just hours after deciding to delay a news conference on plans for his businesses.
Donald Trump announces his intent to nominate Exxon CEO Rex Tillerson as secretary of state, just hours after deciding to delay a news conference on plans for his businesses.
Donald Trump announced Tuesday morning his intent to nominate ExxonMobil  (XOM) - Get Report  Chairman and CEO Rex Tillerson as secretary of state, calling Tillerson's 40-year career at the oil and gas giant "the embodiment of the American dream."
Various news sources reported Monday night that Trump was likely to nominate Tillerson, and Trump himself teased the announcement on Twitter. 
Former Massachusetts Gov. Mitt Romney, who had also been in contention, indicated in a Facebook post on Monday evening post he hadn't gotten the job.
Tillerson will face a confirmation hearing in the Senate and is likely to draw tough scrutiny from the left and the right. Republican Sens. John McCain and Lindsey Graham are likely to oppose the executive, and numerous figures have expressed concerns over his ties to Russia and Vladimir Putin. 
Trump's secretary of state reveal comes just one day after the president-elect said that he would postpone his previously-announced news conference on plans to distance himself from his Trump Organization until a later date.
Trump initially promised to make an announcement on Dec. 15 but now wants more time as he's been busy filling out his cabinet and top administration posts.
Trump said in a series of tweets on Nov. 30 that he would hold a "major news conference" in New York in mid-December "to discuss the fact that I will be leaving my great business in total in order to fully focus on running the country."
Since then, the president-elect and top aides have largely deflected questions on what will happen to his business entanglements.
Trump's business dealings and potential conflicts of interest have become a growing matter of concern since his Nov. 8 election, and the Trump team's statements have done little in the way of calming nerves.
He has said he plans to transfer the management of his business empire to his three eldest children, Donald Jr., Ivanka and Eric, who are also part of his presidential transition team. 
In a series of tweets on Monday night, Trump indicated just Donald Jr. and Eric would be taking over management. Ivanka and her husband, Jared Kushner, are reportedly considering a move to Washington.
Trump is not, by law, required to liquidate his assets or place them into a blind trust.
He said in a meeting with the New York Times that the president "can't have a conflict of interest." While it is true that conflict of interest laws apply to everyone in the executive branch except the president and vice president, that does not mean he is in the clear entirely.
The president of the United States is still subject of the Emoluments Clause of the U.S. Constitution, which bars him or her from taking any type of "emolument" (compensation for labor or services) from foreign governments. Ethics lawyers on the left and right say Trump runs the risk of violating the clause should he choose not to divest completely -- something he appears unwilling to do.
Trump intends to keep a stake in his business, according to a recent report by the Times. When asked about the report in an interview with Fox News' Chris Wallace aired on Sunday, Trump said he wouldn't have anything to do with managing the company but balked on committing to exit it entirely.
"When I ran everybody knew that I was a very big owner of real estate all over the world. I mean, I'm not going to have anything to do with the management company. You know, when you sell real estate that's not like going out and selling a stock. That takes a long time," he said.
He emphasized that he "couldn't care less" about the company, repeating the same sentiment he invoked in an interview with 60 Minutes aired on Nov. 13. "Who cares?" he said at the time.
Trump spokesman Jason Miller said in a call with the press on Dec. 6 said the president-elect sold all of his stock holdings in June. The president-elect said in an interview with Today host Matt Lauer he had indeed sold his stocks. "I've never been a very big person for the stock market, frankly," he said.
In his May 2016 financial disclosure, Trump listed millions of dollars in investments in dozens of publicly traded companies. His transition team has not provided proof of the sales.
The new date for Trump's business announcement has not yet been set, according to Bloomberg, but aides said it will take place before his Jan. 20 inauguration. In the meantime, the president-elect has bought himself more time to figure it out.