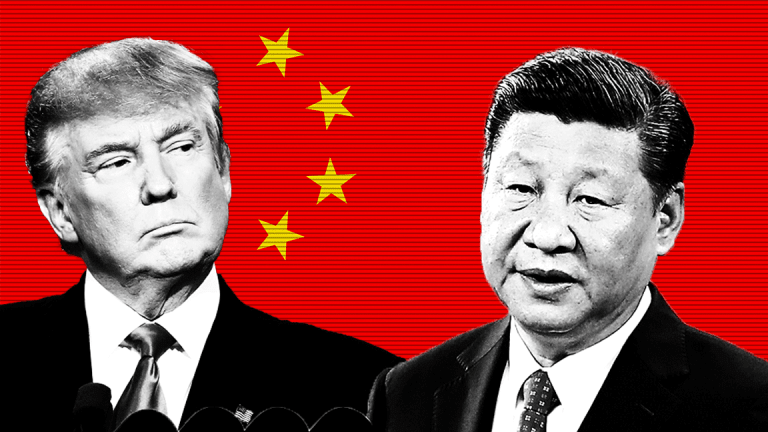 Trump Threatens to Impose 25% or Higher Tariffs on Chinese Goods
'If they don't want to trade with us any more, that would be fine with me,' president tells reporters.
President Donald Trump said Thursday that he might raise tariffs on billions of dollars of Chinese goods to 25% or more if trade talks with Beijing stall.
"I can always do much more or I can do less depending on what happens with respect to a deal," Trump told reporters in comments at the White House. "[This] can be lifted in stages ... and it can be lifted to well beyond 25%, but we're not looking to do that."
Trump disclosed plans earlier Thursday to levy 10% tariffs on Sept. 1 on an additional $300 billion of Chinese imports in a bid to push Beijing to reduce its huge trade imbalance with the United States:
Trump has previously said that he believes the Chinese might be stalling on trade talks to see if a Democrat wins the 2020 presidential election and offers more favorable trade terms.
He told reporters Thursday that he thinks Chinese President Xi Jinping "wants to make a deal, but frankly, he's not going fast enough. ... If they don't want to trade with us any more, that would be fine with me. We'd save a lot of money."
The president added that he wasn't fazed by the stock market's swoon earlier Thursday on word of his 10% tariffs.
"Our country is doing very well [economically]," Trump said. "The stock market -- it'll take a little hit, but  ... ultimately, it'll be much better because of what I'm doing."
But Putri Pascualy of investment firm PAAMCO Prisma said that "so far, trade-war fights have impacted the U.S. economy more than they've impacted the Chinese economy."
For example, she said the recent U.S. gross domestic product numbers showed a slowdown in business investment, primarily from the U.S. auto industry as manufacturers reportedly delay projects due to trade uncertainties.
By contrast, Pascualy said that Chinese growth statistics "have not shown an impact from tariffs. [There's] little incentive for the Chinese government to bow to the U.S. demands."
Save 76% with our Summer Break Sale. Join our premium site Real Money to become a smarter investor! Click here to sign up!
(This article has been updated with additional quotes from President Trump.)
Employees of TheStreet are restricted from trading individual securities.