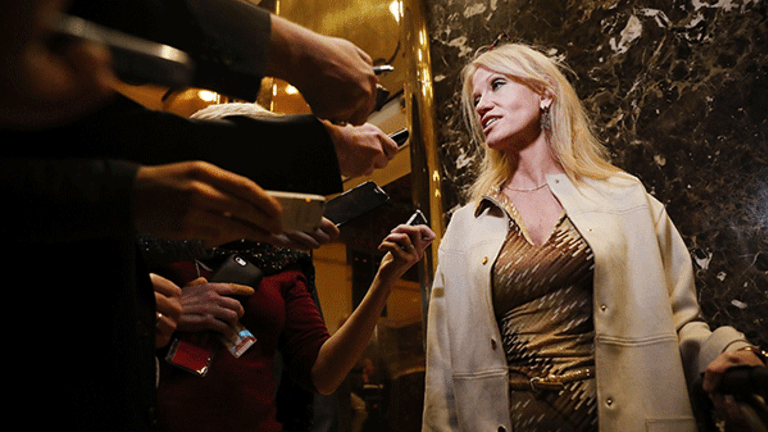 Trump Team Financial Disclosures Reveal Millions in Stock Investments
Not only are many members of the Trump administration incredibly rich, but they are active investors as well.
Not only are many members of the Trump administration incredibly rich, but they are active investors as well.
The White House on Friday made public the financial disclosure forms of about 180 staffers, providing a picture of the incomes, holdings and liabilities of figures like former Goldman Sachs (GS) - Get Goldman Sachs Group, Inc. (GS) Report executive Gary Cohn, former Breitbart News chairman Steve Bannon and Trump's son-in-law, Jared Kushner. Americans got a peak at the vast wealth of some of the figures in the Trump administration -- Cohn, for instance, is worth somewhere between $252 million and $611 million -- as well as where they're investing.
The disclosures provide a snapshot in time of staffers' holdings and might not necessarily reflect their current finances. Once an individual is tapped for a White House spot, he or she immediately begins receiving counseling to address potential conflicts. "It's resign, divest, and then recuse, in that order," a senior administration official explained in a press briefing last week.
In some cases, the disclosures clarify that divestitures have already taken place. In other cases, it is unclear whether they've happened or not.
Still, it's interesting to see what stocks those in Trumpland have picked out for their portfolios.
Kellyanne Conway, Trump campaign manager and now counselor to the president, is worth as much as $40 million. Most of her assets are in cash or money-market accounts, but she still appears to have holdings in a handful of stocks. She lists a stake of up to $15,000 in drug company Pfizer (PFE) - Get Pfizer Inc. Report as well as holdings in food companies Mondelez (MDLZ) - Get Mondelez International, Inc. Class A (MDLZ) Report and Kraft Heinz (KHC) - Get Kraft Heinz Company (KHC) Report and tobacco companies Altria Group (MO) - Get Altria Group Inc Report and Philip Morris International (PM) - Get Philip Morris International Inc. Report .
Press Secretary Sean Spicer apparently has a relatively sizable investment portfolio in rental properties and stocks. He reported thousands of dollars in income from rental properties with a combined value of at least $1.1 million and a handful of hefty stock investments as well, including up to $50,000 in stock of Coca-Cola (KO) - Get Coca-Cola Company Report and up to $100,000 in McDonald's (MCD) - Get McDonald's Corporation (MCD) Report .
He also reported up to $50,000 in each of Verizon (VZ) - Get Verizon Communications Inc. Report and AT&T (T) - Get AT&T Inc. Report , two companies that would benefit from the privacy rollback legislation currently making its way through Congress. Spicer lists a small stake of under $1,000 in Energy Transfer Partners (ETP) , the developer of the Dakota Access Pipeline that got the green light from Trump.
The disclosure from Cohn, director of the National Economic Council, has spurred significant chatter. He listed assets including $216 million in Goldman Sachs shares and stakes in 18 other publicly-traded stocks from which he planned to divest, according to Bloomberg. Holdings he listed include up to $1 million in Microsoft (MSFT) - Get Microsoft Corporation (MSFT) Report , Philip Morris and Reynolds American (RAI) (he appears to share Conway's affinity for tobacco companies), up to $500,000 in Intel (INTC) - Get Intel Corporation (INTC) Report , McDonald's and Mondelez, and up to $250,000 in IAC/Interactive Corp. (IAC) - Get IAC/InterActiveCorp. Report and Bank of America (BAC) - Get Bank of America Corp Report , among others. He also lists holdings in Facebook (FB) - Get Facebook, Inc. Class A Report of up to $100,000 and in Twitter (TWTR) - Get Twitter, Inc. Report of up to $50,000.
K.T. McFarland, deputy national security adviser under Trump and former Fox News analyst, listed a number of ETFs as well as individual stocks, including thousands of dollars in Google parent Alphabet (GOOGL) - Get Alphabet Inc. Class A Report , Jeff Bezos' Amazon (AMZN) - Get Amazon.com, Inc. Report and Warren Buffett's Berkshire Hathaway (BRK.A) - Get BRK.A Report as well as Apple (AAPL) - Get Apple Inc. (AAPL) Report , Mastercard (MA) - Get Mastercard Inc. (MA) Report and Exxon (XOM) - Get Exxon Mobil Corporation Report .
Stephen Miller, the 31-year-old senior adviser to the president, listed just one stock investment in his disclosure: a $1,000 to $15,000 position in Disney (DIS) - Get Walt Disney Company Report .
Kushner listed real estate and investments of up to $741 million, and while he resigned from 266 positions in different business entities, ethics experts continue to say he and Trump's daughter, Ivanka, run a high risk of conflicts of interest. Kushner lists a number of stock holdings in his disclosure, including in Boeing (BA) - Get Boeing Company Report and NextEra Energy (NEE) - Get NextEra Energy, Inc. Report , as assets that have been divested.
Bannon, who reportedly despises Wall Street over his father's crisis-era investment mistake, unsurprisingly does not make mention of specific stocks in his financial disclosure.
And the Ethics?
The stock holdings listed don't, at face value, represent a conflict of interest for administration officials -- as long as they refrain from involvement in any decisions that might directly affect their investments, or their holdings are small.
Ethics laws allow government employees to participate in matters related to publicly-traded companies as long as their holdings in those companies are valued at under $15,000. Anything more, and it begins to matter. They can also take part in deliberations that involve broad discussions - say, tax reform - but not "particular" matters involving more specific firms or parties -- for example, the internet privacy legislation that benefits companies like AT&T, Verizon and Comcast (CMCSA) - Get Comcast Corporation Class A Report .
The issue is not really identifying holdings but deciphering what an individual's actual job responsibilities are. If an adviser has a $50,000 stake in Time Warner (TWX) , is he or she involved in conversations about its AT&T merger?
"It's probably a matter of degree, and the extent to which the person is going to have decision-making authority," said Brendan Fischer, associate counsel at the Campaign Legal Center in Washington, D.C. "The size of the stock investment is certainly a factor, but also whether it's an industry or a company that's affected by the individual's position."
It's a challenge for government ethics officials to operationalize the conflict standard because they have to access information about job duties, which isn't always readily available. In many instances, it's just impossible to know who is involved in what discussions and when.
"These forms that were disclosed show you just one part of the data, it shows you what the financial interests are, or mostly what they are," said Washington University Law professor and ethics expert Kathleen Clark. "It shows you their financial interests, but what you can't tell from those forms is what the person's responsibilities are and to what degree those responsibilities overlap with those financial interests."
Editors' pick: Originally published April 4.