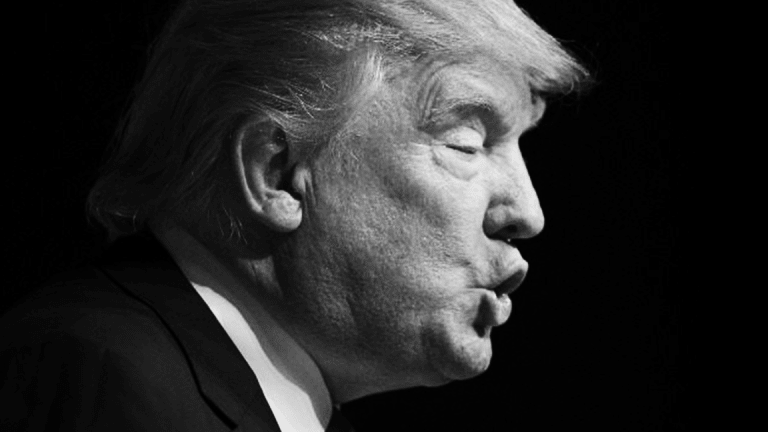 Trump Tax Plan Cuts Corporate Rate, Raises Lowest Rate, Leaves Lots Out
The Trump administration is proposing lowering the tax rate on top earners and corporations and increasing the bottom rate for the lowest earners in a tax framework released on Wednesday.
The Trump administration is proposing lowering the tax rate on top earners and corporations and increasing the bottom rate for the lowest earners in a tax framework released on Wednesday. The White House will attempt to cast the plan as one geared toward the middle class, though it will leave the details of rendering it as such up to lawmakers in Congress. And plenty of other specifics, too.
The group of Administration and Congressional leaders known as the "Big Six" unveiled their much-hyped tax framework on Wednesday, laying out in broad strokes their ideas for tax legislation. The proposal, which leaves hundreds of pages of details to be filled in, includes a reduction in the corporate tax rate to 20%, a 25% tax rate for certain pass-through entities, and three individual rates of 12%, 25% and 35% with corresponding income thresholds to be decided.
Much of Wall Street's post-election run has been predicated on optimism surrounding tax reforms (or, as it now appears, cuts) under Trump. Stocks rallied ahead of the release of Wednesday's framework. But detail-wise, there's much to be desired.
"Trump's tax plan is still only a nine-page skeleton -- and poorly designed," said Steve Rosenthal, senior fellow at the Urban-Brookings Tax Policy Center and veteran tax attorney in an email. "Given the months of study, and years of hearings, I expected more. But Trump is not Reagan, who undertook major studies...before tackling tax reform."
On the individual front, the framework seeks to consolidate seven tax brackets to three brackets of 12%, 25% and 35%. The current lowest bracket is 10%, but lawmakers argue that the increase will be countered by almost doubling the standard deduction to $12,000 for individuals and $24,000 for families.
The plan leaves the door open for committees to create a fourth higher bracket on the wealthiest taxpayers "to make sure that we achieve our goals of making this a middle-class tax cut that is at least as progressive as the current system," a senior administration official said in a briefing with reporters on Tuesday.
The framework, which President Donald Trump will travel to Indianapolis to announce on Wednesday, repeals personal exemptions for dependents, increases the Child Tax Credit and provides a $500 credit for non-child dependents. It eliminates the alternative minimum tax for individuals and businesses and scraps most itemized deductions, with the exception of those for home mortgage interest and charitable contributions. It also scraps the estate tax and gets rid of deductions for state and local taxes, a maneuver that would hit taxpayers in states such as New York and California hard.
On the corporate side, the framework calls for the corporate rate to be cut to 20% from 35% and allows businesses to immediately write off new investments for at least five years. A senior administration official touted the 20% rate reduction as a  "huge, huge move," despite the president's repeated calls for a 15% rate.
"Companies are going to look at the 20% corporate rate as a good thing; however, the big question is how lawmakers are going to get there," said Kyle Pomerleau, director of federal projects at right-leaning Washington, D.C. think tank the Tax Foundation, in an interview with TheStreet.
The framework calls for the partial limitation of net interest expensing without getting into specifics and preserves credits for R&D and low-income housing while calling for the repeal of other business credits and deductions.
"We're not trying to write a bill, we're trying to provide a framework, and we're trying to leave some of these details to the committees," said a senior administration official on a call with reporters discussing the plan on Tuesday.
But many experts remain skeptical.
The plan calls for a 25% rate for so-called "pass-through" entities (businesses conducted as sole proprietorships, partnerships and S corporates) that are currently taxed at the individual rate. It doesn't explain how lawmakers plan to ensure the change benefits small business instead of creating a new loophole hedge funds, advisers and others at the top of the income scale to restructure their activities through pass-throughs.
"It could create a cottage industry of advisers," said Bob Willens, a New York-based tax analyst and former managing director at Lehman Brothers, in an interview with TheStreet.
On the international front, the plan, as expected, lays out a plan to shift to a territorial system and a repatriation holiday for companies to bring back cash stashed abroad as a transition. The hope, GOP lawmakers say, is that the shift will discourage companies from shifting profits to tax havens and encourage them to create jobs in the United States. The problem is there are no guarantees that's how it will work.
"It grants huge windfalls to multinational corporations and high income, which opens new loopholes. The plan induces U.S. multi-nationals to shift jobs, investment, and profits off-shore -- and promises rules later to stem abuses," Rosenthal said.
The release of Wednesday's nine-page framework, which was put together by Steven Mnuchin, Gary Cohn, Mitch McConnell, Orrin Hatch, Kevin Brady and Paul Ryan, marks progress towards enacting tax legislation. But it is a step forward after 10 steps back -- it still provides far less detail than the 35-page plan laid out by House Republicans in 2016 and is hundreds of pages short of actual legislation.
"It's kind of interesting that we don't have many answers yet to a lot of these hard questions," Pomerleau said.
The overhauls being proposed amount to more than $5 trillion in tax cuts over the course of a decade, Pomerleau noted over the weekend. Goldman Sachs (GS) in a note was slightly more conservative, estimating the proposals could cost $4 trillion. The budget resolution instructions being considered reportedly include cuts of $1.5 trillion over a 10-year period.
"They have to consider base-broadeners to make this work," Pomerleau said.
Don't miss these top stories on TheStreet: